Nissan, in collaboration with the Arbor Day Foundation, will be putting down new roots across Europe.
Through a joint initiative to plant 20,000 trees in 2021, the partnership will benefit local communities and drive forward ambitions to combat climate change, reduce air pollution and ultimately enrich the lives of future generations.
Following a successful decade of LEAF, the world's first mass-market electric vehicle, Nissan has launched the project as part of its continued long-term commitment to address environmental challenges.
Sites across the UK, France, Germany and the Netherlands have been selected to benefit.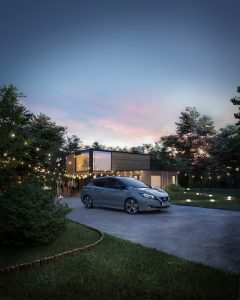 Projects include a flood reduction scheme to save a children's play area near London and the reconstitution of woodlands badly affected by bark beetles on the outskirts of Paris.
Each urban location endeavours to serve a bigger social need to make local environments better places to live for everyone.
Nissan's ambition will expand upon the initiatives under the Nissan Green Program and the company's ongoing work to minimise the carbon footprint of its products and operations aiming for carbon neutrality by 2050.
The manufacturer's commitment builds on its decades-long programmes to reduce emissions and provide electric vehicle technologies that support the environment and society.
Arnaud Charpentier, regional vice president for product strategy and pricing, said: "Since 2010, LEAF owners have prevented more than 2.5 million tons of CO2 from entering the environment – a remarkable achievement which will impact our environment for generations to come.
"We have a responsibility to ensure our innovations continue to enrich people's lives and have outlined clear targets to maintain this mission. By 2022 we plan to have a 40 per cent reduction in CO2 emission from all new cars and expect 50 per cent of our line-up to be electrified by early 2024."
The Arbor Day Foundation is the largest non-profit membership organisation dedicated to planting trees. With more than one million members worldwide, and with the help of partners, the foundation has planted more than 400 million trees globally over the past 50 years.
Read more: Nissan launches LEAF10 to mark EV's tenth anniversary
Read more: Nissan is the UK's most popular electric car and commercial vehicle brand