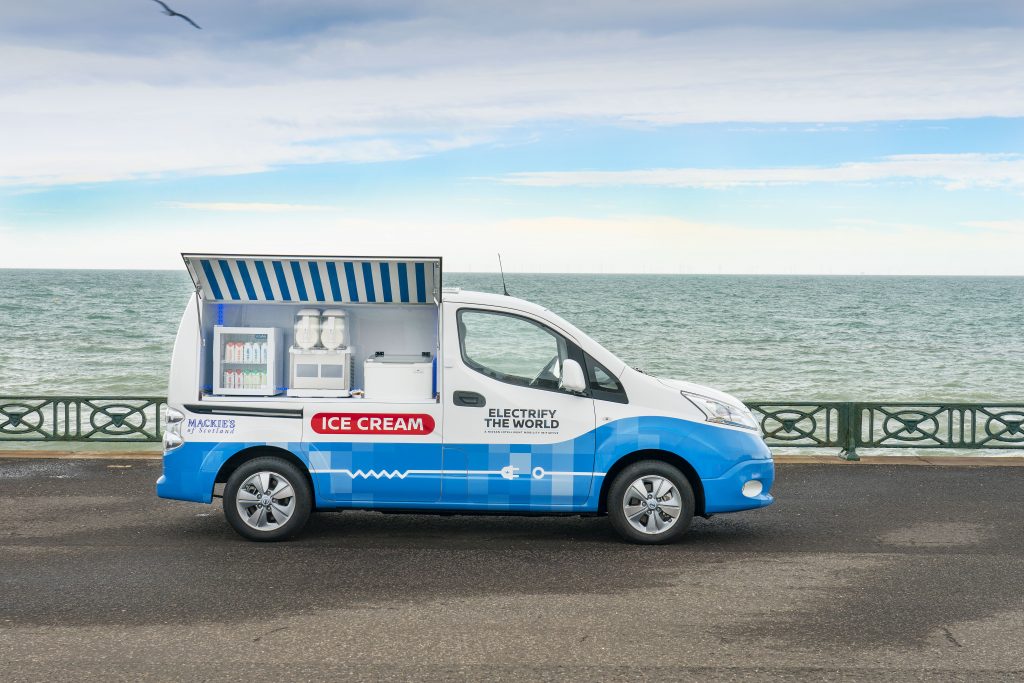 NISSAN'S all-electric, zero-emission ice cream van campaign has won both the 'Automotive Award' and the 'Media Relations Award' at the 2019 PRCA (Public Relations and Communications Association) National awards.
The judges clearly had a soft spot for the concept van, which combines a zero-emission drivetrain, second life battery storage and renewable solar energy generation. Nissan partnered with Mackie's of Scotland for the project. Mackie's ice cream is produced at its family-owned dairy farm by renewable wind and solar energy. The campaign demonstrated how a 'Sky to Scoop' approach can remove carbon dependence at every stage of the ice cream journey.
Most ice cream vans, particularly older models, have diesel engines which are kept running to operate the refrigeration equipment. These vehicles are criticised for producing harmful emissions, including black carbon, when left idling. Some UK towns and cities are now looking to ban or fine these vehicles. The 'Sky to Scoop' campaign presented a potential solution for vendors looking to reduce their carbon footprint, and offer customers a better experience.
David Jackson, communications director at Nissan Motor GB Ltd. commented, "We are absolutely delighted that our 'Sky to Scoop' campaign has received these two prestigious awards. This project is a working demonstration of how Nissan's Electric Ecosystem can remove carbon dependence at every stage of the ice cream process. The reaction to the project from both public and press has been amazing and we're very proud to see it recognised in this way."
The campaign was covered extensively across all major UK media channels. The story was covered by all national newspapers, with over 100 news articles published. The Ice Cream van was included in feature spots on BBCs 'The One Show' and ITVs 'This Morning' and widely reported on national radio.
The PRCA is the world's largest PR professional body, representing well over 30,000 practitioners. The association exists to raise standards in PR and communications, providing members with industry data, facilitating the sharing of communications best practice and creating networking opportunities.