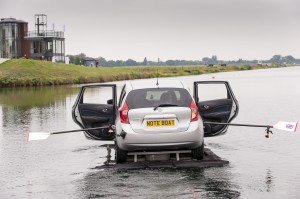 THE UK's motoring press descended on Eton to witness the new Nissan Note being launched in unusual fashion.
Not only were guests able to test drive the practical supermini, but they were invited to take a ride in a floating version of the same car.
Dubbed 'the Note Boat', it had been equipped with a rowing seat and oars and powered by Team GB rowers Polly Swann and Olympic gold medallists Helen Glover and Sophie Hosking.
The idea behind the event was to demonstrate the new Around View Monitor, a system of reversing cameras to help parking, but in this case, it acted as a virtual cox which gave the rowers a rear view while facing forwards.
The full size Note boat – minus engine – had been mounted to a floating platform and fitted with a small outboard connected to the steering wheel and throttle to help the rowers.
The floating Nissan was created by Mike Ryan, who was also responsible for the Top Gear aquacars used to cross the channel, working with Epic Experiences. It proved a huge success with journalists from titles including AutoTrader, Parkers, Autocar and AutoExpress.
The two-day event, which also gave journalists the opportunity to drive the face-lifted Micra, took place at Dorney Lake, also known as Eton College Rowing Centre, which was venue for all the rowing events during the 2012 Olympic games.