A Nissan service and repair centre in Buckinghamshire is charging ahead into an exciting new era, having been accredited as an electric vehicle specialist.
Yianni Motors, in West Wycombe Road, High Wycombe, gained the recognition thanks to the fact that workshop manager Richard Allen has become fully qualified as an EV technician.
This means that owners of electric Nissans such as the LEAF hatchback and the soon-to-be-launched Ariya SUV can relax in the knowledge that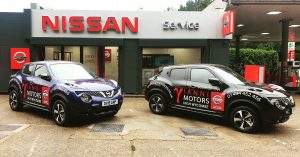 their vehicle is in safe hands when it's being looked after at the company's state-of-the-art workshop in West Wycombe Road.
Needless to say, the same high levels of care and attention are applied to Nissan vehicles with internal combustion engines, too.
Richard underwent intensive training to gain his new qualifications and now thoroughly enjoys carrying out servicing, MOT and warranty work on electric vehicles.
Yianni Motors was set up just over a year ago after a £400,000 investment from businessman Pany Yianni – and he has big plans for the future.
'We're looking ahead with confidence,' he said. 'Richard has been with Nissan all his life and so have I – Nissan is in our blood. Becoming an authorised EV repairer is the latest stage in our journey, and we have ambitious plans moving forward.
Right direction
'Our aim is to expand with Nissan and to have three sites in total – two full dealership sites plus our approved repair facility.'
Nissan has been in the forefront of EV research and development for many years now – the all-electric Leaf LEAF hatchback was launched a decade ago and the stunning new SUV Ariya is just around the corner.
Yianni is convinced the Japanese manufacturer is heading in the right direction. 'We're obviously going through a tricky period at the moment thanks to Covid-19,' he said. 'But you can see that electrification is the way forward.'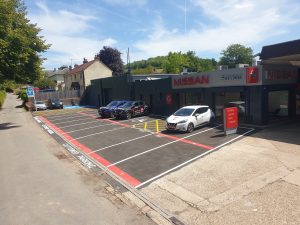 One of Yianni Motors' most important clients is the EV leasing specialists Drive Electric, based in Marlow, about five miles to the south of High Wycombe.
'We have got a very good rapport with the people at Drive Electric,' said Yianni. 'Every time they want something, we get on it straight away and get it sorted.
'Customer service is absolutely key. Our customers are the ones that pay the bills and we've got to keep them happy. We do a lot of business thanks to word-of-mouth recommendations and have around 30 five-star ratings on Google Reviews. On Nissan's Customer Voice programme, we are on over 96 per cent customer satisfaction.'
Our main picture shows Pany Yianni (right) with Richard Allen at Yianni Motors.