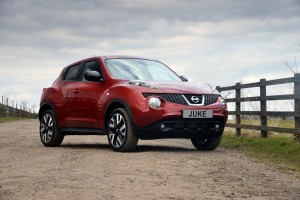 SALES records have been beaten for another year at Nissan, with 118,061 cars sold in 2013, an increase of 11.5 per cent on 2012 – itself a record year.  Including LCVs, Nissan sold 128,680 vehicles in the UK, up 11.0 per cent from 115,970 in 2012.
Key to these record figures was the performance of two British-built stars: the Juke and Qashqai.
Despite the imminent arrival of the second-generation model – which has just arrived in UK showrooms – the Qashqai continued its remarkable success story, notching up 50,211 sales, an incredible 9.9 per cent increase on 2012 and the first time the Qashqai has topped the 50,000 mark.
The figures consolidated the Qashqai's position as the UK's sixth best-selling car.
The Juke also enjoyed a stellar year, with sales up from 28,862 in 2012 to 37,488 in 2013 – a 29.9 per cent increase. Now in its third year, the British designed and built supermini crossover was boosted by the arrival of a Nismo version that added a sporting edge to the range.
The all-electric LEAF also had a busy year up from 699 sales in 2012 to 1,812 in 2013. As part of Nissan's growth plan for electric vehicles, European production of a revised LEAF started at Nissan's Sunderland production facility last April, with the model range growing substantially.
Nissan's remarkable sales success was set against the backdrop of a record year at Nissan's Sunderland manufacturing facility, which broke the 500,000 unit production barrier for the second year in a row, building an incredible 501,756 vehicles.
Nissan LCVs also proved popular with buyers in 2013, with 10,619 light commercial vehicles sold – an increase of 4.7 per cent. The NV200 and Navara were the two biggest sellers, notching up 4,230 and 4,484 sales respectively.
Intelligent planning
James Wright, Managing Director at Nissan GB, said: 'These figures prove that Nissan is continuing to reap the rewards of hard work and intelligent planning. For the Qashqai to break the 50,000 sales mark in its sixth year of production is testament to its remarkable design and value.
'I'm also immensely proud of our other British success stories, namely the Juke, new Note and LEAF. The Juke's performance proves that British buyers value bold and innovative design, while the Note and LEAF are welcome additions to the Sunderland stable.
'To break the 500,000 production barrier for a second year is incredible, especially as the plant has been busy integrating new facilities for new Note and LEAF. With the new Qashqai rolling off the lines, I'm sure that 2014 will be another year to remember.'