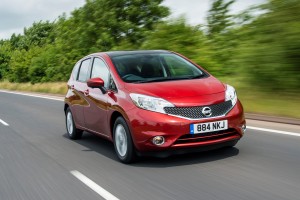 ADVANCED, accessible technology and dynamic design have arrived in the B-segment with the first deliveries of the innovative new Nissan Note starting this week.
Note production is now in full flow at Nissan's biggest European manufacturing plant in Sunderland.
With a full suite of advanced technologies normally found in the premium sector and a bold design accommodating a highly versatile cabin, the Note makes a highly compelling package for B-segment customers.
To date, Nissan has already taken more than 14,000 pre-orders for the new Note – an early indication that the new model is ready to exceed the expectations of a wide range of both new and existing Note drivers.
Thanks to its dramatically enhanced design, technology and quality, the new model is expected to be one of Nissan's best-sellers with sales anticipated to exceed more than 100,000 cars per year in Europe.
Purposeful technology
Geraldine Ingham, chief marketing manager for Nissan in Europe, said: 'New Note fulfils a really important role in our new product portfolio, combining smart design with purposeful technology that has never been offered in the B-segment before. We've used design and engineering innovation to make premium technologies accessible to everyone.'
Nissan Insider has covered the planning and preparation for the arrival of new Note throughout the summer months. Check out our 'New Note' section here.