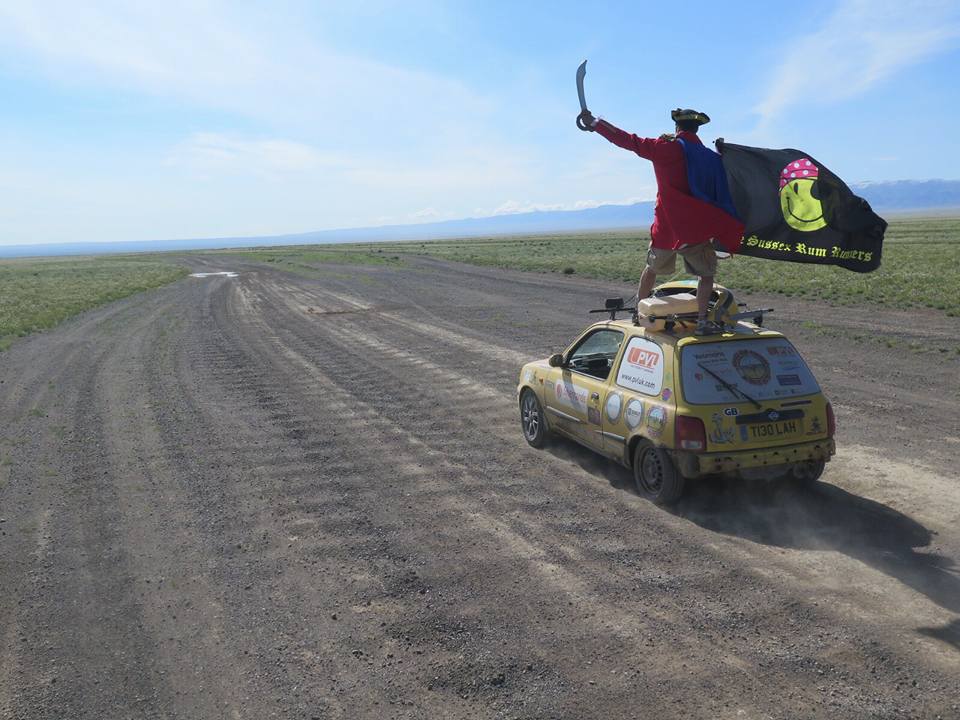 TWO friends from West Sussex have praised the robustness of their 'miracle Micra' for helping them complete one of the world's toughest road challenges.
Yeomans Nissan in Bognor Regis donated the yellow Micra to Steve Lilley and Alec Wilding for the Mongol Rally – a journey over mountains, deserts and tough terrain across Europe and Asia.
Named La-Lah by its previous owners after the Teletubbies' character, it proved to be a battle-hardened companion for the friends, taking them 10,000 miles across continents to the finish line in Russia.
Steve, a businessman from Felpham, West Sussex, said: "The rally was the most exciting, tiring, ridiculous and amazing thing I've ever done.
"When we left the launch at Goodwood we had no idea what was in store for us, but thankfully due to a bit of planning, loads of blagging and a lot of luck we managed to make it to the end with our car just about intact.
"We did break the rear bumper, a wing mirror, the fuel tank, the fuel pump, both rear shock absorbers, the dashboard lights and totally destroyed three wheels, but she still kept driving! It was amazing we completed the rally and it's all down to the miracle Micra."
Alec, 29, a paramedic from Worthing, said the highlight of the trip for him was the plucky Micra, La-Lah.
"We genuinely considered her as the third member of the team and after having spent five weeks living, eating and sometimes sleeping in her it was heart-breaking to see her taken to the scrap yard," he said. "We took some solace in the fact that we had shown her some amazing places."
The annual Mongol Rally, which launched from Goodwood on Sunday July 19, saw participants drive a small car across several countries, including France, Germany, Czech Republic, Slovenia, Croatia, Bulgaria, Iran, Turkmenistan, Uzbekistan, Russia and Mongolia. It took more than a month to complete.
The Micra was covered in graphics so it resembled a boat to match their pirate-themed team name, the Sussex Rum Runners, with the friends even creating a crow's nest to sit on top of the roof.
They were one of just 100 teams – out of 250 which started ­– to complete the rally. In doing so, they raised £1,920 for mental health charity, MIND.
Richard Taylor, Sales Manager at Yeomans Nissan in Arun Business Park, Bognor Regis, said: "Congratulations to Steve and Alec for completing the rally and raising so much money for charity. I'm glad we could supply them such a great little car for them to complete their journey in."