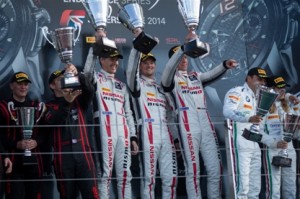 NISSAN GT Academy Team RJN celebrated after grabbing a Pro-Am race victory at Silverstone in the Blancpain Endurance Series at the weekend.
The current title-holders went into this year's championship with a new team, made up of the No.80 Nissan GT-R NISMO GT3 of Nissan regular Alex Buncombe, 2013 GT Academy USA winner Nick McMillen and 2013 German winner Florian Strauss. They crossed the line in first place after a tough three hours of racing, taking maximum points for the team's title defence.
The No.35 sister car driven by the 2013 European and Russian GT Academy winners Miguel Faisca and Stanislav Aksenov, along with Japanese racer Katsumasa Chiyo, finished in 10th place in the Pro-Am, pocketing the last of the points on offer at Silverstone.
Qualifying went according to plan for the team, right up until the end of the session when the quick runs of many drivers were interrupted by the session being red- flagged. Buncombe had managed to grab a lap quick enough for third place but Chiyo had to settle for 20th after not getting a run on his new tyres.
When the race got under way Buncombe was prevented from making one of his typically fast getaways.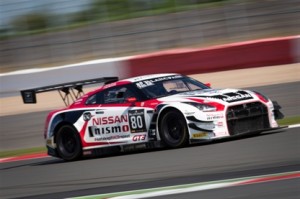 "What I thought was going to happen, did happen," he said. "I got boxed in behind the Porsche and I couldn't get past him until Stowe. By that time I had lost a couple of spots so I had to just get my head down and look after the tyres so that I could hand over a good car to my team-mates."
Chiyo made a great start in the No.35 GT-R and steadily made his way up the order during his run, finally pitting in 12th place overall. Aksenov was up next and he delivered a clean stint before handing over to Faisca. After a spin early on in his stint, the Portuguese Faisca recovered and brought the No.35 GT-R home in 10th place.
Second up in the No.80 car was Nick McMillen who had a fight on his hands for the lead with the No.38 Aston Martin.
"We knew we had the pace to win at Monza but it didn't work out for us there," said McMillen after the race. "I tried really hard to be consistent today and to be honest it didn't go as well as I'd hoped but it was a great team effort and I'm delighted to be taking the winner's trophy home with me."
The job of retaking the lead and taking the No.80 car to the flag fell to Strauss. The young German put in a top performance, keeping a cool head during a late race safety car period and cruising to the Pro-Am victory.
"I was in traffic during most of my run so I had to be very careful to avoid any problems," he explained. "We were close in Monza and definitely had the speed so I am very pleased that we achieved the win here today."
There is no time for Nissan to rest on their laurels, as the summer of #eatsleepRACErepeat moves up a gear next week with British GT racing at Silverstone and the Official Test Day, signalling the start of Le Mans 2014!