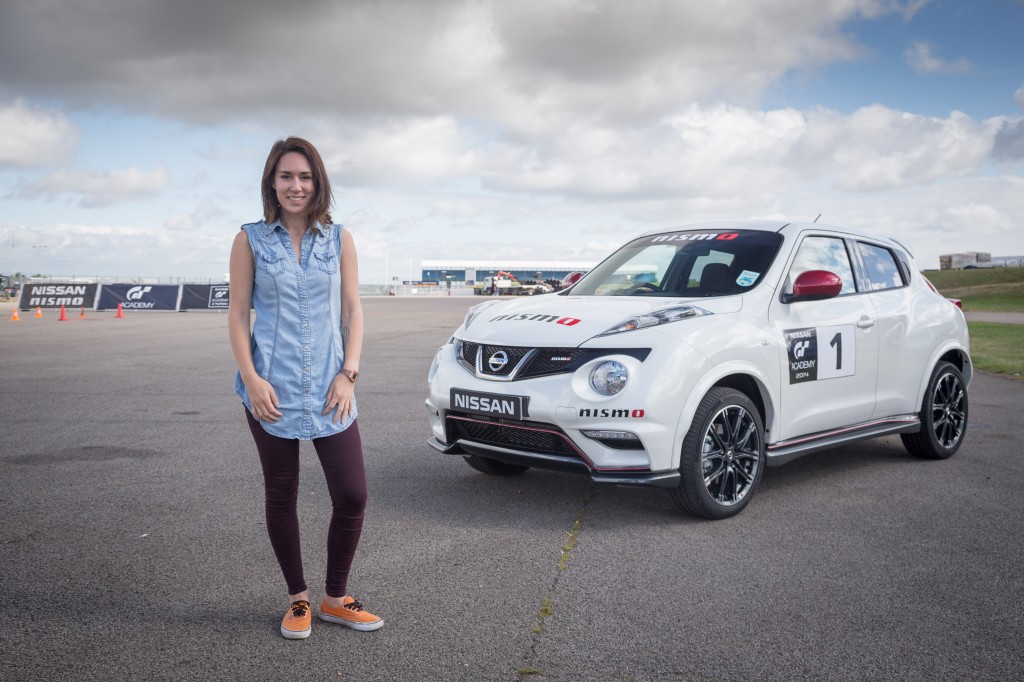 Nissan GT Academy has become a motorsport phenomenon, producing incredible talent such as Jann Mardenborough. Nissan Insider's Becca Chaplin was challenged to go head-to-head with the GT Academy national finalists and found out first hand that going from a sofa-surfing gamer to a bona-fide racing driver is a lot harder than it looks.
Turning up at Silverstone with nothing but a can-do attitude – and not really much of that – couldn't prepare me for what lay ahead. As someone who takes a great interest in motor racing, when it comes to experience I have nothing more under my belt than 10 laps in a rally car one rainy January.
Luckily, my opponents were in a very similar situation. However, the 28 likely lads I was up against each had a few million (small exaggeration) hours playing Gran Turismo in their bedrooms.
The day was designed to test the competitors in four different aspects: driving, gaming, fitness and media savvy. Unfortunately for me, my expertise lay in the media section, where I'd be acting as judge rather than competitor for seven of the hopefuls.
Our first challenge was to prove our driving skills. This meant completing a time trial around a series of cones designed to replicate tight corners, sweeping curves and pit stops. We had three test runs and then it was straight into the real thing. Penalties were awarded for any cones knocked over or for stopping short of the "pit box". I could use the excuse that my daily drive is a 1993 Mini Mayfair, which would cower in size next to the Juke Nismo I was competing in, but I can only blame myself for the 12 seconds of penalties I racked up.
Next was gaming and if I thought I was bad at driving in real life, virtual reality brought a whole new dimension to my lack of talent. I hope I can say, without fear of being caught cheating and receiving a 12-month ban, that none of my penalty points was counted in my final score because I was THAT BAD that it made no difference whatsoever. Thanks guys.
Only the gamers that pushed themselves for weeks made it to the national finals
Fitness was the next challenge of the day. The gamers needed to prove their bodies, as well as their minds, were fit enough for the gruelling endurance races they could be faced with in the future. This meant tasks such as the plank, push-ups, a sergeant jump and the dreaded beep test. I could walk away from this task with the satisfaction of knowing I had tried my best in some gruelling physical tasks.
However, I was given the opportunity to not participate in this and, as I quite like being able to breathe, I took them up on the offer and watched from a safe distance. These sofa-surfing gamers did prove that just because you spend hours every day playing PlayStation doesn't mean you aren't physically fit. All of the competitors really pushed themselves, with some managing the full five minutes of planking. It might not sound like a lot but give it a go.
They were also willing to give up any information about themselves when they faced the journalist's questions to make it to the next stage of the competition. Competitors who seemed extremely shy during the day came out of their shell at the prospect of points.
This GT Academy is tough from beginning to end, only the gamers that pushed themselves for weeks made it to the national finals and those who were willing to give it everything have now progressed to the next stage.
One thing is certain: I am not cut out to be a racing driver. I probably shouldn't be allowed to drive on the roads at all.