Nissan GB is joining The Valuable 500 community as part of its ongoing ambition to achieve zero emissions, zero fatalities and zero inequality in society.
Creating an inclusive, diverse and equal environment for all is ingrained in Nissan's brand values and joining The Valuable 500 community is a positive next step.
Launched by social entrepreneur and activist Caroline Casey at the World Economic Forum Annual Meeting in January 2019, The Valuable 500 aims to put disability on the global business leadership agenda. It believes that if business takes a lead, society and government will follow, meaning truly inclusive businesses can build truly inclusive societies.

Andrew Humberstone, managing director of Nissan Motor (GB) Ltd., pictured, said: "I am delighted Nissan GB is partnering with The Valuable 500 and that we are tabling disability inequality at the highest level within our organisation.
"Many of us have never been previously exposed to disability, and those that have, often find a unique set of challenges to deal with. We anticipate all sorts of things we'll have to deal with in life, but disability is not normally one of them, meaning we struggle to see life through the lens of those living with disabilities."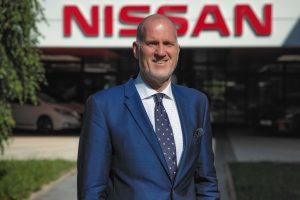 The Valuable 500 is calling for 500 of the most influential business leaders and their brands to ignite systemic change by unlocking the business, social and economic value of the 1.3 billion people living with disabilities around the world. As of today, 326 organisations have joined the Valuable 500.
Andrew added: "This is a key issue for us all, not just in business but in wider society and we never know when or how it will affect us: through a loved one, through an accident, through an illness, or naturally through old age. Nobody knows who is next. The sooner ableism is a thing of the past the better, not only for the 20 per cent of the population who are affected, but for all of us.
"Initiatives like The Valuable 500 give me hope that the infamous lens is being corrected, and that people with any disability will no longer automatically remain under the radar, ignored, or looked down upon. Instead, they will be looked at, listened to and valued, in exactly the same way as if we swapped shoes."
Inclusion is critical
Caroline Casey, Founder of The Valuable 500, added: "If we are ever to achieve true equality, we need to work together to create a society that is inclusive for all. Disability inclusion is critical to achieving this and it cannot be pushed aside in favour of another inclusion initiative.
"For businesses to grow and innovate, they must consciously unlock the talent and potential of this community who can significantly contribute new initiatives and provide diversity across the business.
"We are delighted to have Nissan sign up as a member of The Valuable 500, committing to placing disability on their global board agenda.
"We look forward to working with them going forward and hope that many other companies will follow their lead and commit to creating an inclusive working environment where everyone, no matter their circumstances, can thrive."
For more information on The Valuable 500, click here.