The Nissan LEAF has once again been recognised for providing the most accessible entry-point to all-electric mobility.
The second-generation model has been named Best Used Family Electric Car at the 2022 Carbuyer Car of the Year Awards.
Richard Ingram, Editor of Carbuyer and DrivingElectric, said: "The Nissan LEAF is the car that kick-started the electric revolution – yet it's the advanced second-generation model that takes our Best Used Family Electric Car title for 2022.
"With a spacious cabin and a usable range, the LEAF has the ability to dramatically reduce your running costs without the high purchase prices often associated with new electric vehicles."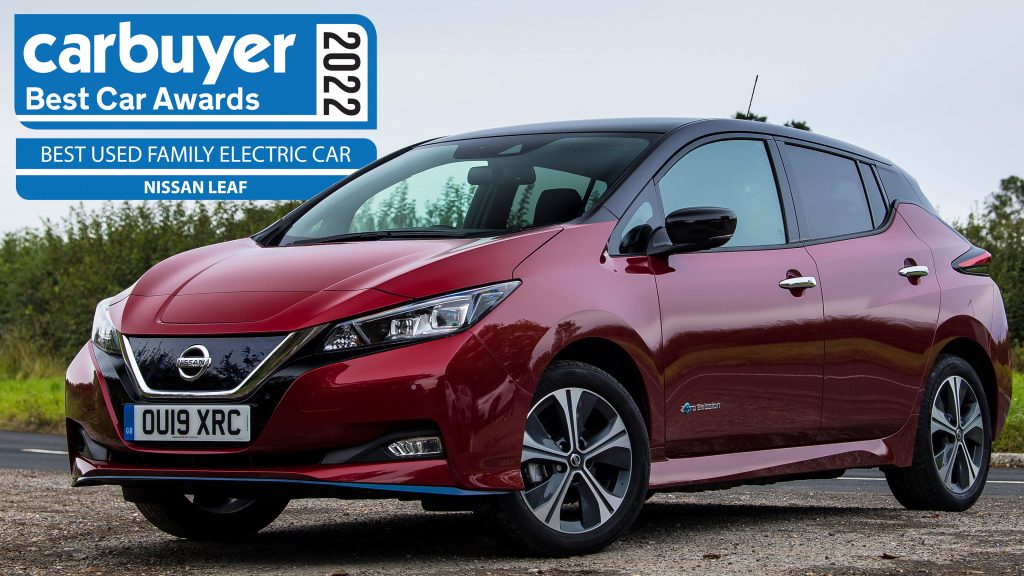 The annual Carbuyer Car of the Year awards celebrate the best cars on sale in the UK. A team of experts judge each vehicle on how they perform in specific areas, as well the overall package.
Each car shortlisted needs to impress in terms of costs, ownership, performance, comfort, safety and practicality.
Andrew Humberstone, Managing Director, Nissan Motor (GB) Ltd., commented: "The Nissan LEAF continues to be the ideal EV for thousands of used car buyers.
Seamless transition
"Thanks to its proven reliability and affordability, the LEAF delivers a seamless transition into all-electric driving with very few buyers ever going back to combustion engines as a result. We are very grateful to Carbuyer and the awards judges for this further recognition of the LEAF's class-leading credentials."
When it was launched in 2010, the LEAF was the world's first mainstream all-electric passenger vehicle, with the first UK customers taking delivery in early 2011. The second generation LEAF arrived in early 2018, and now offers two battery capacities – 40kWh and 62kWh – giving drivers a choice of range and performance specifications.
Recently Nissan confirmed it had passed 250,000 EV sales across Europe, with the Nissan LEAF responsible for more than 200,000 of these sales.
Previous Used Car Awards for the second-generation Nissan LEAF (2018>)
2021 – What Car? Electric Car Awards – 'Best Used Electric Family Car'
2021 – Electrifying.com Awards – 'Best Used Electric Car'
2020 – DrivingElectric Awards – 'Best Used Electric Car'
2020 – What Car? Used Car of the Year Awards – 'Used Electric Car of the Year'
2019 – DrivingElectric Awards – 'Best Used Electric Car'