NISSAN continues to grow its partnership with a training centre for UK firefighters.
The manufacturer has been working with the Fire Service College in Moreton-in-Marsh, Gloucestershire, and provides vehicles for training to ensure that crews have the necessary know-how and experience to deal with incidents involving electric vehicles.
The relationship stretches back to the launch of the first all-electric Nissan LEAF in 2010 with the most recent Nissan-supported training course taking place towards the end of September.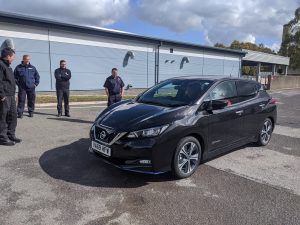 College instructor Antony Horseman said: 'Unfortunately, UK Fire & Rescue have limited exposure to alternatively-fuelled vehicles and for some responders, their first encounter could be at a road traffic collision.
'Nissan's support helps keep both emergency responders and members of the public safer.'
As well as learning everything there is to know about handling EVs in the event of an emergency, the firefighters become ambassadors for Nissan.
The courses that have run over the past few years have empowered hundreds of emergency services personnel who travel to Moreton-in-Marsh from all over the UK, and the Fire Service College is a training venue like no other.
'It's certainly an eye-opener,' said Tony Pryor, group insurance ratings manager for Nissan and its Alliance partner Renault. 'There's a stretch of motorway; a building that's used as a ship, full of corridors which are flooded for training purposes; plus a helicopter fire simulator.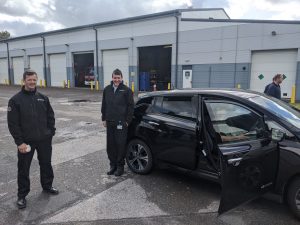 'Everyone at the college is great – they're really passionate about their work. It's a high-risk job and it's inspiring to see what they're willing to do to help people.'
So what are the cars loaned to the college actually used for?
Delegates practise casualty extraction from a simulated multi-vehicle pile-up and each course features an informative 'show and tell' session during which they are given a guided tour of the workings of a LEAF, explained Tony.
They are shown where various components are and how to remove them if necessary; where the battery is; and they're given information about the cables and charging process. Everyone gets behind the wheel for a short drive, too.
Tony has delivered around eight training sessions himself but having imparted his knowledge to tutors employed by the college, is happy to leave it to them. Nissan continues to loan vehicles to the establishment, however, and Tony remains on standby in case he is needed.
Asked if the relationship was set to continue, Tony told us: 'Yes, of course. We feel a sense of duty. These guys need to have the knowledge when it comes to incidents involving EVs and it's right that Nissan, as an EV leader, makes sure they have the tools and knowledge to do their job safely.'
Pictures taken with delegates observing social distancing guidelines.