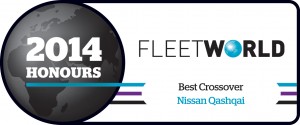 THE all-new Nissan Qashqai has underlined its appeal to fleet buyers and drivers with a top award from leading industry title Fleet World.
Continuing the awesome winning streak that has already seen it named Car of the Year by What Car? and Diesel Car magazines, the Sunderland-built model picked up the 'Best Crossover' honour at the Fleet World car awards earlier this week.
Presented in the grand surroundings of the RAC Club in London, the awards are among the most prestigious and respected in the fleet industry.
The magazine's panel of judges chose Qashqai as their clear winner for its outstanding all-round allure as a business car and for setting new standards in its segment.
Ross Durkin, deputy editor at Fleet World, said: "The original Qashqai was a tough act to follow, but its replacement takes the segment under 100g/km with conventional diesel engine technology, while taking design, quality and flexibility forward to new benchmarks."
But the night wasn't all about Qashqai. The groundbreaking e-NV200 electric van was also among the big winners, sparking a double celebration for Nissan.
It received the coveted Editor's Award in the van category for the work done in partnership with British Gas to pioneer the use of electric vehicles in the LCV market. Following a successful conclusion to the UK's largest electric commercial vehicle pilot, British Gas placed an initial order of 50 e-NV200s at the CV Show at the end of April, with a further 50 to be delivered by the end of the calendar year.
Ross Durkin, added: "This award reflects not only the technology and development of the vehicle manufacturer, but also the commitment of their development partner. The deal recently announced between Nissan and British Gas for the e-NV200 electric van gives a clear signal that industry is taking the EV market increasingly seriously. British Gas has played a pivotal role here and put its money where its mouth is."
Commenting on Nissan's double win, Barry Beeston, Nissan GB Corporate Sales Director, said: "Throughout every stage of its development we worked exceptionally hard to ensure the all-new Qashqai ticked all the boxes for fleet car operators and appealed to business car users every bit as much as private buyers.
"We managed to reduce running and servicing costs, achieve an RV uplift of 10 points against the old model and have introduced a range of safety technologies.
"We always though we had a real winner on our hands but this award from a title so respected in fleet circles, confirms we achieved our goals."
He added: "We're also delighted to see the e-NV200 honoured in this way before it's even officially launched.
"It's a model that will literally change the LCV landscape forever."