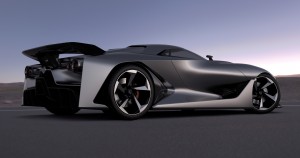 NISSAN has taken the virtual covers off its stunning vision of what a high-performance Nissan could look like in the future.
The NISSAN CONCEPT 2020 Vision Gran Turismo was created through close collaboration with the creators of Gran Turismo, the legendary PlayStation driving franchise.
It began life as a dream project for Nissan designers, who were given free rein to create a supercar for their own Gran Turismo fantasy garage.
Created by young designers at Nissan's European design studio in Paddington, the model was considered to have so much potential that it has benefited from input from an advanced engineering team based at Nissan Technical Centre in Atsugi, Japan.
As a result, NISSAN CONCEPT 2020 Vision Gran Turismo gives hints as to how a supercar of the future might look.
And in July, gamers and automotive enthusiasts can experience its performance first-hand when the model becomes available to download in Gran Turismo 6. See it in action below.