A consignment of 10 all-electric Nissan e-NV200 vans is arriving with one of the UK's greenest energy companies this month – with orders being prepared for even more to join the fleet.
The emission-free LCVs are the perfect fit for ScottishPower, which has an 'enormously strong' environmental ethos and is a world leader in wind power.
Six vans which will be used north of the border are being delivered via the Western Nissan dealership in Edinburgh, while others will be heading to areas such as Merseyside and Caernarfon. As well as serving Scotland, ScottishPower operates in the North-West of England and North Wales.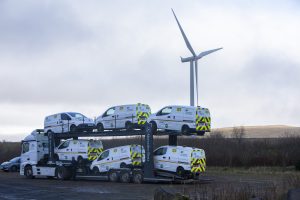 The e-NV200s will be joining more than 1,000 other operational vehicles on the ScottishPower fleet, which includes 25 Nissan LEAFs and even a new electric bus.
The company's Fleet Manager, John Moore, said: 'The e-NV200 suits our needs and fits with the ScottishPower approach of focusing on wind energy, smart grids and driving the change to a cleaner, electric future.
'The vans are excellent – the EV technology is superb and the range is very good. Range is key for us.'
Conversion work on the vans was completed in the first half of October before they were deployed in the field.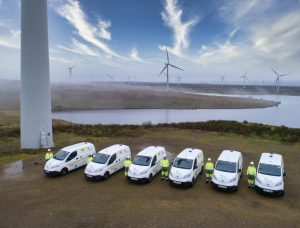 John explained that they would be used to maintain the infrastructure of ScottishPower's electricity distribution grid and that each vehicle would be based at one of the company's strategically-located depots in places such as Stirling, Dumfries, Edinburgh and Glasgow.
He added that he was preparing orders for even more e-NV200s. With a maximum payload of 705kg and the ability to carry 4.2 cubic metres of cargo, each one can travel up to 187 miles on a single charge.
The latest consignment are Acenta models with fast-charge capability and follow  a trial of the vehicle on the island of Anglesey, off the north-west coast of Wales.
John said Nissan had been incredibly helpful in introducing ScottishPower staff to EV technology. A two-day event was held last year at ScottishPower's Glasgow HQ to showcase e-NV200 and LEAF, allowing staff to try the vehicles for themselves and ask questions. The event was supported by the team from Western Nissan who supplied demonstrators and were on hand to provide advice and guidance.
'Nissan have been very supportive and it's been good working with them,' said John.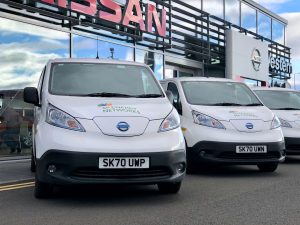 'Even those members of staff who were unsure about what the e-NV200 has to offer have come back with a big smile on their face after taking it for a drive! It's a vehicle that's certainly up to the job and we're delighted to add this latest consignment to our fleet.'
Nissan Corporate Sales Manager Karen Reid said: 'There is an ongoing increase in the popularity of the e-NV200 with corporate customers as they can see numerous benefits by adding this award-winning, zero-emission LCV to their fleet.
'Customers praise this vehicle for its range, fast-charging ability and payload and there is enough cargo space to accommodate two Euro pallets. We're sure ScottishPower will be delighted with their new vehicles and look forward to continuing to work with them in future.'