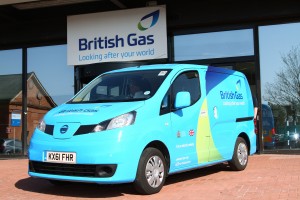 ENERGY giant British Gas has just finished putting the all-electric eNV200 van through its paces in a month-long trial – and the company says it was VERY impressed by the vehicle's performance.
British Gas announced the conclusion of its intensive trial on the opening day of the Commercial Vehicle Show in Birmingham. The company plans to make a substantial proportion of its 13,000 strong LCV fleet electric by 2015.
The cold weather testing programme was conducted in and around Nissan's Sunderland Plant and testing facility, aimed at getting feedback from various British Gas departments on the 100 per cent electric van driving experience.
With the rising cost of filling up at the pump, the 100 per cent electric eNV200 promises to help reduce fleets' running costs while also helping the environment by bringing CO2 down to zero at the point of use.
The recent test in Sunderland saw the zero-emission eNV200 run part laden to recreate the conditions of its working life. With temperatures dropping to -12 °C during testing, the UK weather didn't disappoint and neither did the eNV200.
During the testing, British Gas engineers, members of the fleet team and part of the management board plus eight members of GMB union successfully put the eNV200 to the test, demonstrating the pioneering van can be driven safely by staff across British Gas.
The company first tested the zero-emission eNV200 in 2012 when drivers praised the van for its driver comfort and generous payload.
The Nissan eNV200 is a breakthrough zero emission compact van combining certain attributes of two award winning models, the best-in-class EV power train from the LEAF and the class-leading cargo area within a compact body of the NV200.
Bringing electric vehicle benefits to the business world, the eNV200 offers effective running costs, sustainability and new business opportunities for drivers, such as night-time deliveries.
Vitally important
Colin Marriott, fleet general manager at British Gas, said: 'We have been very impressed with all elements of the Nissan eNV200. After our month-long test in 2012 which went well, the cold weather testing was vitally important to establish the van's characteristics in real-life working conditions.
'The drivers enjoyed the experience and the vehicle's performance and reliability. We will now continue further testing in 2013 and 2014 ahead of us deciding our future fleet mix.'
Jon Pollock, corporate sales director at Nissan GB, said: 'We're delighted that the next stage of testing for British Gas has been a success. Working with a large fleet operator like British Gas allows us to receive a range of feedback before the van launches in early 2014 and we look forward to continuing our close working relationship.'