The names of Nissan's three Dealer Ambassadors for the month of July have been revealed.
As ever, all have gone the extra mile to make life that little bit easier for colleagues – and have helped to ensure every customer has a positive dealership experience.
Our first July winner is Anthony Isaac, a service advisor at Wellington Nissan, Somerset.
Anthony is said to be a great asset to the team, receiving lots of positive comments and excellent feedback. A hard worker, he arrives every day before 7.30am and is more than happy to collect and return vehicles from customers' homes.
He also won praise for his 'fantastic' sales skills and regularly tops a league table at Wellington Nissan that records the upselling successes of service advisors. We were told: ''There is no-one that deserves the recognition of this award more.'' Well done, Anthony!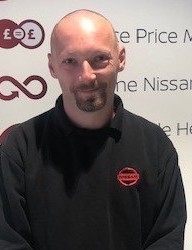 Our second winner for July is Krystian Duda, a master technician at Bristol Street Motors Nissan Derby.
Krystian joined the dealership a couple of years ago and has played a huge role in enhancing the effectiveness of the service department, due to his unrivalled Nissan knowledge and friendly rapport with customers.
One particular incident also led to Krystian's nomination for July – the assistance he provided to a distressed customer who had broken down shortly after a repair had been carried out on his Juke. Although not obliged to assist, Krystian took a loan car to the stranded driver after hours so he could fulfil an obligation to pick up a family member.
He then cleared the fault on the Juke and drove it back to the dealership where the ECU was subsequently replaced. To put it simply, Krystian turned a negative customer experience into a positive one and deserves the utmost credit!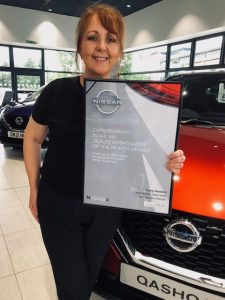 Our final winner for July is Mary Heston, Motability specialist at W.R. Davies Nissan (Telford), a colleague who quite simply provides incredible levels of care and support to her many customers.
We were told that Mary receives so many thank you cards that every few months, she has to bag them up to make room in her office!
Mary has attended the funerals of customers to support their families and delivered food to clients throughout the Covid pandemic. She even invited a lonely customer to her home for Christmas dinner!
Sales manager James Walters said: ''I am so lucky to have Mary. I would like to thank her for her unwavering support throughout the years. Long may it continue!''
Official recognition
The Dealer Ambassador of the Month Awards are open to everyone working in Nissan's UK retail network and recognise the lengths staff members go to in order to make the lives of their colleagues and customers that little bit easier.
As well as receiving official recognition, each winner is awarded 350 N-GAGE points.
The Awards continue throughout 2021. Senior staff are invited to nominate deserving team members through the Dealer Ambassador of the Month portal via N-GAGE.