ISHU Han, a Tokyo-based artist, has been named the Grand Prix winner of the 2020 Nissan Art Award.
Han received the award in a virtual ceremony towards the end of August. A jury of leading figures from the international art world selected his entry 'Where Are You Now' as the winner through an online judging process.
According to the jury, Han's work 'succinctly yet vividly visualises the feelings of confusion and solitude rampant in current society, transforming a personal experience into a universal and poetic statement'.
The Nissan Art Award is presented to emerging artists to further their careers, enhance their presence in the international art world and create a social environment where people familiarise themselves with art. It aims to celebrate new developments in Japanese contemporary art and help provoke debate.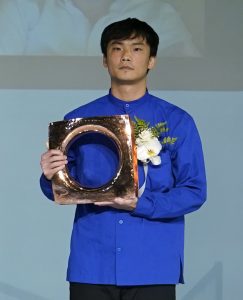 Han said: 'I was born in Shanghai and started living in Japan in my childhood. Migration became the constant theme of my work. I am delighted to receive this award.'
Lawrence Rinder, a member of the jury, said not being able to view the artwork in person this year was a challenge.
'We did as well as possible under the circumstances,' Rinder said. 'It was important to move ahead with this award despite the difficulties. Art will continue to be made, and we must continue to affirm its importance.'
For finalists in all three previous editions, the Nissan Art Award has served as a stepping stone to appearances at major art festivals, exhibitions and fairs around the world, as well as influential art publications.
Nissan also adds the works of art to its collection for exhibiting internally and externally.
Alfonso Albaisa, Nissan's senior vice president for global design, said: 'I am very proud of Nissan's strong and continuous commitment to the arts. I was so moved by the artists this year and their personal and sincere views of the world.'
The Grand Prix recipient is offered the opportunity to take part in an artist residency overseas. Award organisers are closely monitoring the current pandemic and hope to realise this opportunity after considering how to best promote Han's activities overseas under the present circumstances.
Han's winning entry and works by the other finalists are now on display at the Nissan Pavilion in Yokohama.