In 2007, when Qashqai was introduced, there was nothing else like it on the road.
Its seating position was a little higher, allowing a better view down the road, but its overall footprint was the same as its C-segment hatchback peers.
Its petrol and diesel engine options were frugal and efficient, but there was an all-wheel-drive version for those customers who needed the extra traction in challenging conditions.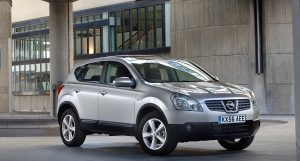 In summary, it offered an excellent balance between the compact dimensions of a hatchback, with the sense of robustness and elevated view afforded by a traditional four-wheel-drive, without the size, weight or efficiency penalty.
In doing so, it delivered the best of both worlds by breaking down the barriers to SUV ownership.
Forecasting sales of a new vehicle which wasn't a direct replacement of an existing model and for which there were no direct competitors was a challenge.
Internal sales estimates were in the region of 100,000 units per year in Europe.
Sales kept increasing
That forecast fell short of reality. Within months, an additional shift was added at Nissan's factory in Sunderland to meet demand.
Its sales continued to increase year-on-year – and its appeal was extended when Qashqai+2 was released in 2008, adding a foldable third row of seats in a larger boot thanks to a longer wheelbase.
An extensive facelift took place in 2010 which upgraded the exterior, particularly from the frontal aspect, reflecting that a high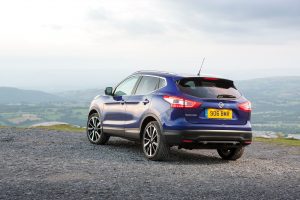 proportion of Qashqai customers were coming from upper segments.
By the time of its replacement in 2014 by the second-generation Qashqai, 17 direct competitors had followed Nissan to market with their own crossovers.
Despite the arrival of many European competitors, the first-generation Qashqai sold in excess of 200,000 units per year on average throughout its life.
The second generation Qashqai went on sale in Europe in 2014, with a more striking design and more efficient engines, more refinement and more convenient technology.
The second-generation Qashqai broke a UK record, being the fastest UK-produced vehicle to reach the landmark of 500,000 units produced.
To date, over three million units of Qashqai have been sold in Europe – and over five million globally.
And there are now 26 direct competitors to the current Qashqai.
Where Qashqai was the pioneer of this automotive formula, it is now a segment in its own right – a segment which continues to grow annually.
When it arrives in 2021, all-new Qashqai will elevate the bar again and set the standard in the segment with striking design, comfort, refinement, efficiency and convenient technology.
Marco Fioravanti, Vice President, Product Planning, Nissan Europe, said: "With the unmatched experience, expertise and customer relationships we've formed since the first Qashqai was introduced, Nissan is in a unique position to reinforce our status as Europe's favourite crossover with the all-new Qashqai.
"It is set to elevate the driving and ownership experience for our customers through elegant and dynamic design, innovative and useful technology, while offering outstanding efficiency."
Read more: New Qashqai breaks cover ahead of 2021 launch
Read more: Ahead of its time in 2007 and about to raise the bar again