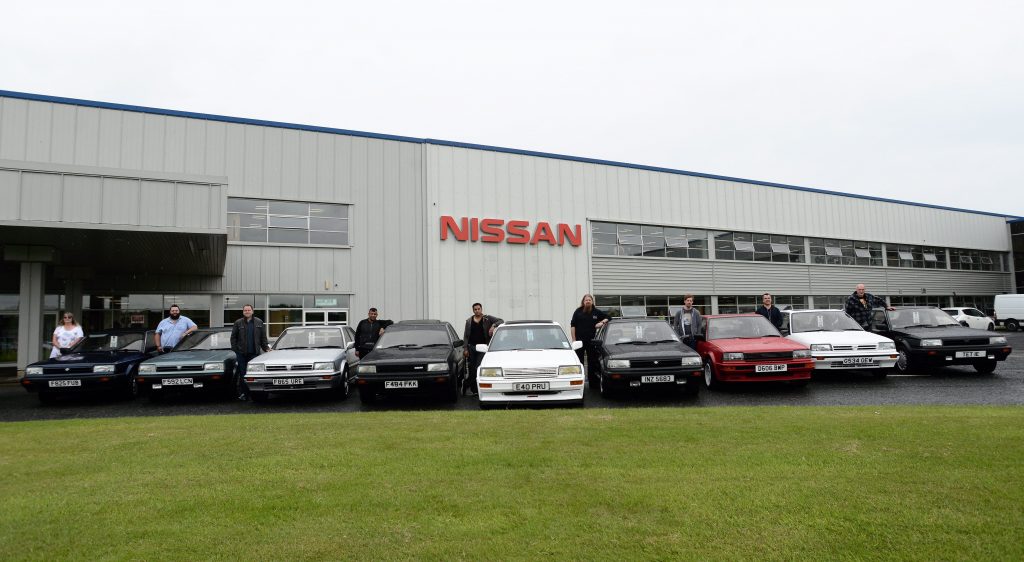 THIRTY years after the first Bluebird rolled off the production line, Nissan fans brought their beloved cars back to the factory to see where it all began.
The 30 enthusiasts, members of the UK's Bluebird Car Club, enjoyed a VIP visit to Nissan Sunderland Plant, meeting the employees who built their cars and viewing Nissan's modern manufacturing operations first-hand.
As part of this year's celebrations marking Nissan's 30th anniversary in the UK, the club invited members from across the country to go 'Back to the Future' and see how car production has changed since their Bluebirds were made.
Bluebirds of all shapes and colours arrived from as far as Cardiff, 310 miles away, to take part in a special tour of Nissan's record-breaking manufacturing facilities, joined by long-serving staff who shared stories from the vehicle's years in production in Sunderland.
Matt Welch, who drove his 1988 Bluebird 1.8 GS hatchback from Newark, Nottinghamshire, said: "When I was a kid, everybody's dad had a Bluebird. I've always loved these cars because of their retro shape, and growing up, my dream was to own one. A year ago, when I saw this perfectly preserved model on eBay, I went cold. Then I knew, this was the car I'd always wanted. I love it, it's delicious; I get such a kick out of owning it."
He continued: "Coming to the plant where my favourite car was built was a fantastic opportunity. I've been around many factory tours, but Nissan was a special one, as I got to come here in a car that I love."
Ian Marshall, who travelled from Cardiff in his 1989 Bluebird 2.0 Executive, said: "I've owned 11 Nissans over the last 13 years, six of which were Bluebirds.
"I've had this Bluebird T72 model for eight years. It's a fantastic car, and in a world where most cars have a round shape to them, a vehicle like this really stands out. Aside from its looks, the Bluebird is also incredibly reliable, very well specified. Nissan really went to town on the quality of these cars and really proved how well their cars are built. Everything's to a really high standard and still works in this vehicle."
Launched in 1986, the Nissan Bluebird 2.0 SGX was the first model to roll off the line at the Sunderland Plant. In 1990, almost 200,000 cars later, Bluebird production was ceased.
Kevin Fitzpatrick, Nissan's Vice-President for Manufacturing in the UK, said: "There are some real classics on the road today, which we have built in Sunderland and which our customers have taken to their hearts.
"Bluebird is a great example of this. It was the car that started our journey here in Sunderland and it's always a pleasure to meet customers who share our passion for Nissan vehicles.
"Visits like this are a great reminder of how far technology has moved on in the 30 years we have been making cars in the UK. We used to marvel at things such as electric windows and central locking in these cars, and now we're gearing up for the launch of a Nissan Qashqai equipped with piloted drive technology."