NISSAN dealer employee Matt Cotton loves the high pace of life in the showroom – and that also goes for his time outside of work.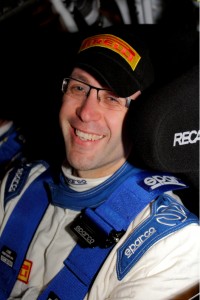 Matt, from West End Motors in Bodmin, Cornwall, will return to rallying after a three-year lay-off to contest the final round of the FIA World Rally Championship in November.
He has not contested an event since the British Rally Championship qualifying round Pirelli Rally in 2012 but has purchased one of the most competitive rally cars of the current era to tackle the event he failed to finish back in 2008.
From the national BTRDA Rally series to the British Rally Championship, Matt has sampled a wide range of cars and championships over the years but has always set his sights on another WRC outing.
The 36-year-old, from Bodmin, has chosen the Wales Rally GB as his comeback race.
He will compete alongside the best drivers in the world such as Sebastien Ogier, Kris Meeke and Jari Matti Latvala and will fly the flag for Cornwall at the November event.
"This really is a dream come true to be able to have another go at the Wales Rally GB," says Matt, a Warranty and Marketing Manager at West End Motors.
"I will most certainly be representing Cornwall on the event which attracts competitors from all over the world. Competing on the same event as current World Champions is pretty unique in motorsport and it will be an amazing experience to drive over the same stages as them, just like I did in 2008. I've wanted to have another go ever since my attempt which lasted just three stages and I've never really recovered from that."
Matt most recently contested the British Championship in 2012 but withdrew from the series due to a lack of funds part way through the year.
Since then, he has been concentrating on his motorsport media business to get his "fix" but the hankering to return to competitive action was just too much and he set about planning his comeback.
"I've been thinking about this pretty much since the finish ramp of the Pirelli in 2012 and have been working non-stop to get the funds together to purchase a car," he said.
The November 12-15th event is based in Deeside, just inside the Welsh border near Chester and provides more than 310km of special stages across North and mid-Wales.
After a ceremonial start on Thursday November 12th, the action kicks off with the Hafren, Sweet Lamb and Myherin stages on Friday.
Saturday is the longest day, providing just under half of the stage mileage including the spectator stage at Chirk Castle. Sunday 15th has just four stages, culminating in the live for TV power stage, Brenig.
For more information on Matt and his rallying career, visit www.mattcottonrallying.co.uk