The editorial team at a popular magazine are discovering the benefits of electric motoring – thanks to their local Nissan dealership.
The staff at The New Blackmore Vale have recently taken possession of a Nissan LEAF from FJ Chalke – and are delighted with their acquisition.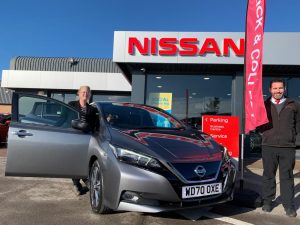 The magazine's team had plenty of questions about the logistics of running an electric vehicle – and the experts at FJ Chalke's Wincanton dealership were happy to supply the answers.
Equipped with a 40kWh battery, the team's new LEAF, with its striking gun metal grey paint job, can travel up to 168 miles on a single charge – ideal for the daily needs of the editor and other members of staff.
Miranda Robertson, editor of The New Blackmore Vale, has begun filing regular reports about her experiences with the LEAF. In her first article, she advised her readers: ''If you've ever discounted the idea of owning an all-electric car, you may like to think again.''
She says the LEAF is ''a lot more powerful than I was expecting'' and adds: ''It's the cheapest thing to run apart from a bicycle – and a lot warmer!
''Driving the LEAF is a joy. It's silent, powerful and easy to handle. Inside, it's spacious, comfortable and boasts the sort of infotainment system I have always aspired to.''
The New Blackmore Vale is printed once a fortnight and more than 30,000 copies are distributed in north Dorset plus parts of Somerset and Wiltshire. In addition, around 5,000 people read it online.
Dan Cook, Nissan electric specialist at FJ Chalke, said: ''We were delighted to supply the team at The New Blackmore Vale with a new Nissan LEAF and it's great that their initial impressions of the car are so positive.
''More than half a million examples of LEAF have been sold worldwide since its launch 10 years ago – it was the first mass-market electric car and is still the best.''
In our main picture, editor Miranda Robertson is seen picking up the new car. On the right is FJ Chalke electric specialist Dan Cook.