Five Nissan dealerships in the north-west of England closed for the day on Monday (July 19) so staff could enjoy a break as coronavirus restrictions were lifted.
Chorley Group, which runs the showrooms in locations such as Burnley, Blackpool and Preston, originally envisaged the one-day shutdown taking place on June 21, until the lifting of restrictions was postponed.
The company had announced the closure to allow its employees to ''unwind, relax and take time for themselves''.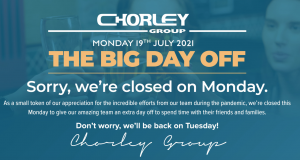 In an interview with Car Dealer Magazine, Adam Turner, the group's MD, said employees of the business, which also operates Kia, Hyundai and MG dealerships, had gone above and beyond the call of duty during the pandemic.
He confirmed: ''So many of our team have gone over and above, working longer hours, and some have lost loved ones. To give them a dedicated day to unwind, relax and take time for themselves is essential.''
In a statement on LinkedIn, the dealer group thanked all staff and their families for their support.
And on the company website on Monday there was a notice which confirmed: ''As a small token of our appreciation for the incredible efforts from our team, we're closed [today] to give our team an extra day off to spend time with their friends and families.''
Customers were reassured: ''Don't worry, we'll be back on Tuesday!''