Nissan e.dams driver Oliver Rowland scored a brilliant podium in a thrilling final race of the 2020/21 Formula E World Championship in Berlin.
Rowland qualified in second place for round 15, the season seven finale, and battled hard to maintain his position across the line and sign off in style for his last race of three seasons competing with the Nissan e.dams Formula E team. His teammate Sebastien Buemi finished outside the points.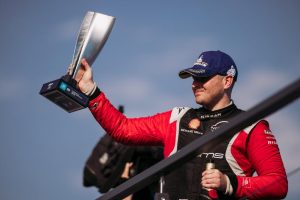 "We are finally very happy to collect the points we deserve with a great podium by Oli today," said Tommaso Volpe, Nissan's global motorsports director.
"This placing better represents our performance in the second half of this season, showing our stronger race pace that now matches our qualifying pace.
"We've had our fair share of bad luck this season, so it's great for everyone in the team who has worked so hard to have a chance to celebrate. As we look forward to season eight, our stronger race pace gives us confidence that we can race hard and fast from the first round."
Oliver Rowland said: "Today was a great day. It would have been nice to win, but ultimately, I am happy with the job I did, as I think we maximised what we had.
"I'm really happy for all the guys and it was nice to be able to give them some champagne. I've had three fantastic seasons with Nissan, I've learned a lot and want to thank everyone in the team. The team has helped me develop as a driver and a person. It's sad to be leaving, but I'm happy to end on a high today."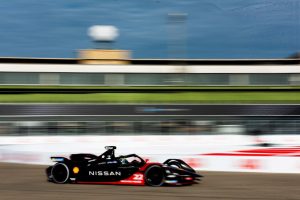 Nissan races in Formula E to bring the excitement and fun of zero-emission electric vehicles to a global audience. As part of its goal to achieve carbon neutrality across its operations and the lifecycle of its products by 2050, Nissan intends to electrify all new Nissan vehicle offerings by the early 2030s in key markets.
Nissan aims to bring its expertise in transferring knowledge and technology between the racetrack and road for better electric vehicles for customers.
"This was a great way to wrap up our season with an impressive podium for Oli," said Gregory Driot, co-team principal of Nissan e.dams.
Hard-working
"Ultimately, as a team, we didn't finish where we wanted, but now we see the updated Nissan Gen2 Formula E powertrain come into its own and we will approach season eight buoyed by our race car's speed and efficiency.
"Now it's time to celebrate the podium with our incredibly hard-working and talented Nissan e.dams race team, and on behalf of everyone at the team, I would like to wish Oli all the best for the future."
Nissan e.dams finished the season in tenth position in the teams championship, with Oliver Rowland in 14th and Sebastien Buemi 21st in the drivers championship, respectively.
Season eight, 2021/22, of the championship begins in Diriyah, Saudi Arabia, in January.