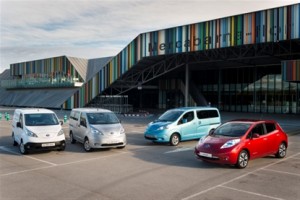 ALTHOUGH Nissan can trace its EV lineage back nearly 70 years to the Tama EV of 1947, it is in the past 20 years that the company has really cemented its claim to global EV leadership.
The build up to the company's current position started in 1992 when work started not just on developing a practical everyday electric vehicle, but also on the lithium-ion battery technology used to drive it.
After developing a number of prototype EVs, usually based on existing hardware, and then a series of concept EVs which were shown at motor shows around the globe, Nissan revealed the world's first series production, purpose designed electric vehicle, the LEAF, in 2009.
Sales of this revolutionary, multi award-winning, family car started in December 2010, when charging networks were still in their infancy. Instantly loved by early adopters, others were more reticent about coming forward and it took almost three years for the first 50,000 examples to be sold.
But as charging points multiplied and those pioneering owners proved LEAF was a practical, safe and reliable alternative to conventionally powered cars, sales growth accelerated rapidly. The arrival of the second-generation version in 2013 helped total sales double in a little over a year with the 100,000th global sale made to a customer in the UK in January 2014.
The electric vehicle has never been so relevant
Since then a further 10,000 sales have been globally, making LEAF easily the best selling electric vehicle in history.
The arrival of e-NV200 has the potential to be even more significant than LEAF. With authorities clamping down ever harder on vehicle borne emissions, the time is right for the versatile and spacious electrically powered delivery van, passenger vehicle and, soon, dedicated taxi.
Nissan's EV future is looking equally exciting. At this year's Le Mans, the focus will be on the advanced Nissan ZEOD RC (Zero Emission On Demand Racing Car).
An ICE/EV hybrid, the ZEOD RC can complete an entire 13.6kms lap of the circuit on pure electric power at speeds in excess of 300km/h. When running on its internal combustion engine, the ZEOD RC will recharge its battery using regenerative braking.
A road-going EV sports car from Nissan isn't too far away either. Unveiled at the Tokyo Motor Show towards the end of last year, the Nissan BladeGlider was described as 'more than a concept'. Officially it is both a proposal for the future direction of Nissan EV development and an exploratory prototype of an upcoming production vehicle from the company.
With its narrow, 1.0 metre lightweight front track and wide, stable rear track, BladeGlider's radical architecture is driven by aerodynamics and balance.
Having the front wheels close together reduces drag and enhances manoeuvrability for high-G cornering power, assisted by its 30/70 front/rear weight distribution ratio. Aerodynamic downforce is created by the highly rigid yet lightweight carbon-fibre underbody, hence the lack of drag-inducing wings.
When BladeGlider matures into a production car, it could be Nissan's first use of in-wheel motors. The in-wheel motors provide rear-wheel propulsion with independent motor management, while also contributing to freedom of upper body design and space-efficient packaging.
With air quality levels regularly reaching critical levels in some European cities, the zero emission electric vehicle has never been so relevant. Nissan's commitment to the technology has never been stronger.