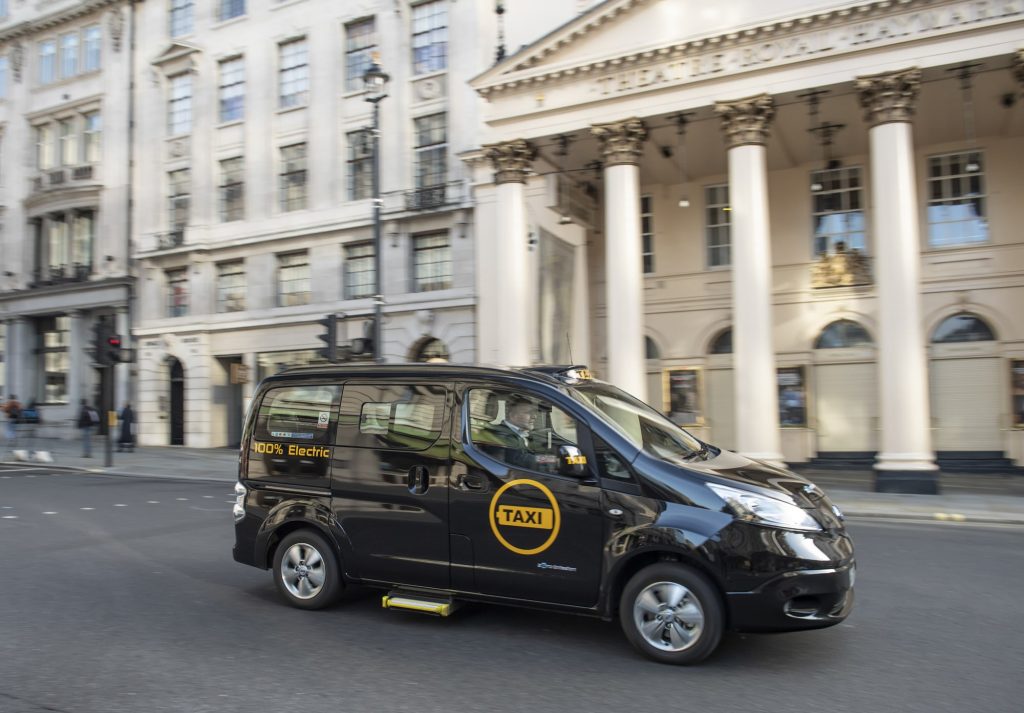 THE first 100% all-electric London black cab to be approved by Transport for London (TfL) has been revealed – and it's based on a Nissan e-NV200.
The top-spec e-NV200 Evalia has been transformed into a 'Hackney carriage' by coach-builders Dynamo, giving it the name Dynamo Taxi.
The Dynamo Taxi was officially unveiled in front of London City Hall by Dynamo Managing Director Brendan O'Toole, with New Minister for the Future of Transport George Freeman, Mayor of London Sadiq Khan and Nissan Motor GB Managing Director Kalyana Sivagnanam all in attendance.
The all-electric van is re-engineered at Dynamo's plant in Coventry but retains the e-NV200 WLTP-approved 187-mile range, however the average taxi driver only travels between 90 and 120 miles a day.
It has space for five passengers and adds the latest contactless technology, while drivers benefit from a heated seat and steering wheel. It also has Nissan's infotainment and telematics that will help improve driver efficiency and reduce running costs.
Dynamo MD O'Toole explained at the event that there are a range of financial benefits for drivers of the Dynamo Taxi, too.
He said: 'The average taxi driver spends up to £25 on fuel every day, whereas the Dynamo Taxi driver can expect to spend between £3 and £6 a day.
'When you take into account lower servicing costs, zero road tax, the Dynamo Taxi will become the UK's most efficient and economical taxi ever.'
Minister George Freeman also spoke at the event, and explained how the Dynamo Taxi fits into his plans for the future of transport.
'Firstly, 30,000 people die every year, unnecessarily from air-pollution. And secondly, the world faces an urgent challenge to slow down, arrest and in due course reverse the pace at which the planet is warming,' he said.
'And thirdly, this electrical revolution is sweeping the world and the UK has a choice – are we going to lead it or follow it? And we've decided in this country that we're going to lead it strategically.'
He added: 'In the end, Government strategies aren't going to deliver this, it'll be entrepreneurs like Brendan and companies like Nissan. A company that not only employs tens of thousands of people in Sunderland but also have a major engineering centre at Cranfield.'
With 180 charging points already in London and 300 pledged by 2020, Nissan MD Sivagnanam was quick to add that all 179 of the brand's UK dealerships are equipped with two chargers for EV customers to use.
Speaking at the launch, he added: 'Nissan has been pioneering modern electric vehicles for nearly a decade now and we are keen to showcase how viable our EVs are and the role they can play in shaping the future of zero emission mobility.
'The e-NV200 launched in 2014, of which the Dynamo Taxi platform is based on, has proven its worth with over 25,000 vehicles sold in Europe, making it the top selling LCV electric vehicle in Europe to date.
'We are excited to see companies such as Dynamo taking our vehicles and developing them for different uses to address some of today's air quality challenges.'