The UK's leading motoring journalists have had their say on All New Qashqai – and the overwhelming verdict has been extremely favourable.
Reporters, photographers and videographers were invited to a preview event in Leighton Buzzard in advance of last month's global unveiling of the stunning new car.
And although they have yet to drive the vehicle, they were able to inspect All New Qashqai and find out about its technology and powertrain options – in an entirely Covid-secure environment, of course.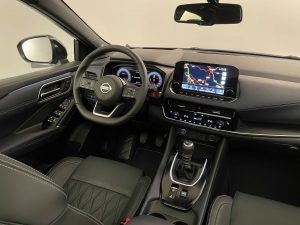 One of the journalists who was seriously impressed was James Batchelor, a former editor of Car Dealer Magazine.
He told Nissan Insider: ''It's clear Nissan has devoted a lot of care and attention to All New Qashqai's design and material quality.
''The designers have pulled off the clever trick of making it look very obviously like a Qashqai, but one that's fresher and more modern.
''The slim LED headlights and 20-inch wheels really give All New Qashqai some presence on the road, and just like Juke, there's real flair. The interior is the biggest upgrade though, with expensive-feeling materials and a big, big leap forward in terms of technology.''
The spaciousness inside the vehicle was the quality that caught the attention of Honest John. The website noted: ''Upfront, the 2021 Nissan Qashqai has acres of room for tall adults and headroom has increased by 15mm front and back.
''A larger windscreen, thinner pillars and wing mirrors that are now located on the doors rather than the corners of the window frames aid visibility, but also make the cabin feel brighter and airier.''
Adrian Padeanu of the website motor1.com mentioned the ''major technology boost'' delivered by the new model.
While Rob Gill of The Sun said car buyers would ''warm instantly'' to the car.
He summed up New Qashqai by saying it had ''a fresh new look, plush cabin, all the tech and safety systems you need, combined with efficient hybrid engines sat on a lighter, stronger chassis. And it's more roomy too.''
We couldn't have put it better ourselves!