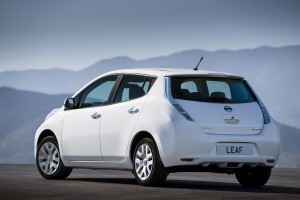 Nissan's 100% electric LEAF has triumphed in this year's Next Green Car Awards, scooping the prize in the small family car category.
The winners of the Next Green Car Awards 2013 were selected based on the Next Green Car's unique Green Car Rating (GCR) system which ranks the greenest new cars entering the market. The GCR assesses a vehicle's environmental impact over its whole lifecycle, including vehicle use, fuel production and vehicle manufacture, and provides motorists with another means to compare vehicles.
In winning its category, the LEAF beat strong competition from rival manufacturers based on its low environmental GCR as well as its value for money, level of innovation, performance and design characteristics.
The award comes just months after the LEAF picked up an accolade at the 2013 Fleet World Honours Awards, where it was judged the best environmentally-focused car available for fleet operators.
Commenting on the award, Jim Wright, managing director of Nissan Motor GB said: "Nissan continues to be the driving force in the electric vehicle market, and we are delighted the LEAF has been recognised as a viable and cost-effective option for the motorist by the Next Green Car Awards.
"This year we launched the next-generation LEAF which is built right here in the UK and is jam-packed with more than 100 improvements on the previous model including increased range and quicker charging times. We are enormously proud that the LEAF reigns as the best-selling EV of all time and even prouder of the role it is playing in establishing all-electric driving in the mass market."
Dr. Ben Lane, managing editor of Next Green Car said: "The 2013 winners reflect two key elements underlying current green car development: drive-train electrification and continuing improvements in fuel efficiency.
"While all the winners are highly distinctive in the innovations they employ, they all excel at using new technologies to enhance the driver experience."