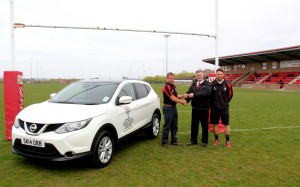 ALEX F NOBLE NISSAN has presented a new, fully-insured and maintained 2014 Qashqai to Scottish Championship side Lasswade Rugby Football Club as part of its ongoing sponsorship of the club.
The new 2014 Qashqai model is the most efficient and well-equipped version presented to Lasswade RFC to date and includes a number of features that are of particular benefit to the club.
Among them are the low CO2 emissions, so low in fact that there is zero annual road tax due. In addition, up to 74mpg is available from the 1.5DCI engine, while the car's stop/start technology greatly assists the overall fuel efficiency too.
The car is also slightly longer and wider than previous models and there's more interior cabin and boot space. Add to that the auto park assist function (the vehicle parks itself) and additional safety features such as LED daytime running lights, lane departure warning, moving object detection plus blind spot monitoring and it's no surprise that Lasswade RFC Club president Ian Barr is absolutely delighted with the car.
He said: "Primarily, Alex F Noble and Son's sponsorship is crucial to our efforts to deliver rugby as a curriculum sport to schools in Midlothian. This new car is the best we've ever had and its extra space, additional safety features and brilliant fuel efficiency are all incredibly useful as we visit around 14 primary and two secondary schools across the region.
"There are exciting times ahead for the club next season and beyond and we would find it incredibly difficult to operate without the help of all of our sponsors, but I'd especially like to thank David Noble and the other directors at Alex F Noble and Son for their continued support".
David Noble, dealer principal at the Straiton-based, family-owned-and-run car dealership, said: "We're very pleased to maintain our sponsorship of Lasswade RFC and I'm sure the 2014 Qashqai will make a huge contribution to the club's busy schools education programme next season."
For information about Alex F Noble Nissan, visit www.alexfnoble.co.uk and for Lasswade RFC go to www.pitchero.com/clubs/lasswade.