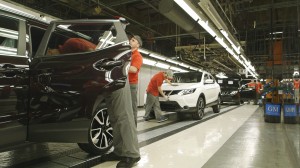 REDESIGNED from the ground up, the new generation Nissan Qashqai is now rolling off the production line at the company's record-breaking Sunderland plant.
Designed, engineered and manufactured in the UK, Qashqai is the best-selling crossover in Europe and Nissan's best-selling model in Europe, having created a brand new segment on its launch in 2006.
Following widespread acclaim since its unveiling in November, the new generation model is now in full production at Sunderland, where a Qashqai is built every 61 seconds on the factory's Line 1.
Hosting a ceremony at the plant today, Nissan's Chief Performance Officer, Trevor Mann CBE, said: 'The Nissan Qashqai blazed a trail when we started production in 2006. It invented the Crossover segment, propelled the Nissan brand in Europe to a new level and helped our plant in Sunderland to set new standards in productivity and quality.
'The new Qashqai, with its bold design and segment-leading technology, will once again elevate Nissan to a new level, as the benchmark for the second generation of crossovers and our flagship model in Europe.'
Playing a starring role in a new film made for today's ceremony are members of the Nissan workforce, which has now grown above 7,000 for the first time in the plant's 28-year history, supporting a total of more than 40,000 UK automotive industry jobs in design, engineering, manufacturing, marketing and sales.
The international economic impact of Qashqai now spreads from Sunderland across the world, with £534 million now invested by Nissan in its development and production, supporting more than 224 suppliers in 22 countries, and exporting to more than 130 global markets.
Great news
Prime Minister David Cameron said: 'It's great news that the new model Qashqai is rolling off the production line in Sunderland. Nissan supports 40,000 jobs across the UK, and when you add that to the half a billion pound investment that Nissan have made in this country for this new model, it shows how our long term plan is giving companies the confidence to invest and create jobs in Britain.'
Trevor Mann added: 'Behind the rise of Qashqai is the operational excellence of Nissan's design, engineering and manufacturing operations.
'It gives me great pleasure to return to Sunderland today to thank and pay tribute to the many thousands of colleagues at Nissan and in our supply base who have contributed to this success.'