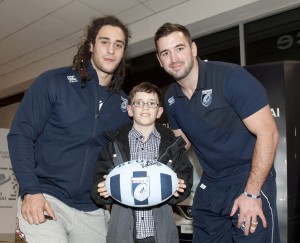 CROWDS of Cardiff Blues fans attended a charity fundraising event hosted by a car dealership in the city last Monday for an opportunity to meet players from the team.
Players and fans helped raise £1,400 for Tŷ Hafan at the 'A Night in with the Blues' event at Wessex Garages on Monday, December 16.
Gareth Howells, General Manager at the Nissan dealership on Hadfield Road, explained: 'We would like to thank everyone who attended our ''A Night in with the Blues'' event and helped us to raise £1,400 for our Charity of the Year, Tŷ Hafan.
'As one of the Cardiff Blues' official sponsors we thought it would be great to host an event so that people could meet some of the players including Sam Warburton, Alex Cuthbert, and Andries Pretorious face to face.
'Throughout the evening people had an opportunity to have their photos taken with the players and were able to ask them questions during an hour long question and answer session, which was compered by former British Lions and Wales player, Brynmor Williams.
'In addition to this, there was also an auction for the chance to win an exclusive shirt from Alex Cuthbert, which was used during the Lions tour earlier this year, Cardiff Blues gnomes, tickets and rugby shirts and balls signed by the team.'
All of the money raised during the event will be donated to Tŷ Hafan. The charity which is based in Sully, was established in 1999. It has helped more than 500 families who live with the reality that their children with life-limiting conditions may not reach the age of 18.
Gareth added: 'We also held a competition for people to guess the number of rugby balls in a Nissan Note. The winner was Richard Yarr from Cardiff, who won a rugby ball signed by the players. The total number of balls in the car was 28.'
Wessex Garages is a privately owned company and has outlets in Bristol, Cardiff, Gloucester and Newport. It specialises in new and used car sales across the South West and South Wales.