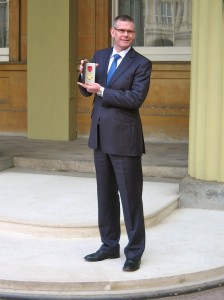 NISSAN'S Jerry Hardcastle has been awarded the Order of the British Empire by Prince Charles at Buckingham Palace.
Jerry is Global Chief Marketability Engineer and Technical Director for Nissan Global Motorsport. The honour is the perfect recognition for his contribution to the UK automotive industry.
He said: 'It is a privilege to be rewarded with such recognition and I am humbled to think that I am now an OBE.
'I have been fortunate enough to have worked with such professional people within Nissan Motor Co. and the UK Automotive Council and I am sure that without their help this event would never have happened.
'The day at the Palace with my wife Jan was something exceptionally special and it was great to be able to share the experience with her.
'It is not every day that you can set the satnav to Buckingham Palace and it was extra special to be directed through the Palace gates and to park my Infiniti in the quadrangle.'
Jerry Hardcastle OBE has been working for Infiniti and Nissan since 1989 supporting the development, engineering and manufacturing processes of many new models for Europe and across the world.
Advanced vehicle technology
Based at the Nissan Technical Centre in Cranfield, he has overseen the design and development of the Qashqai and Juke, as well as special projects such as the Juke-R. He is also a member of UK Automotive Council which helps to promote UK growth in areas of advanced vehicle technology.
The Infiniti Emerg-e concept, from the luxury brand, has been a recent example of how Jerry has helped to promote UK skills and technical development. Thanks to his input, many UK companies were brought together to produce two working prototypes of the advanced range extender sports car.