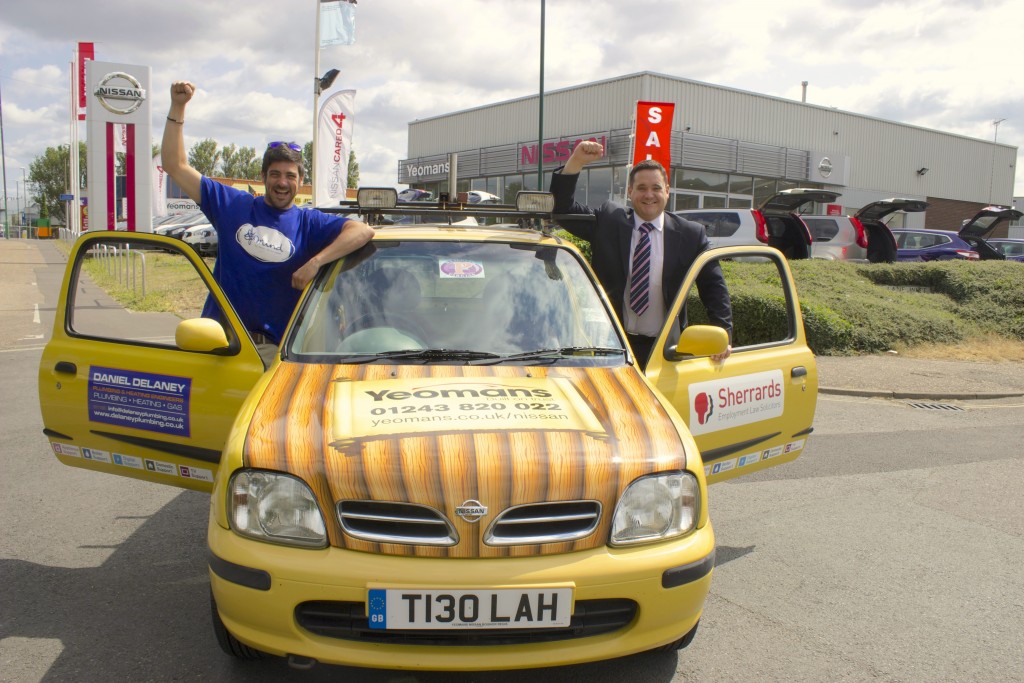 A GENEROUS dealership is helping fundraisers in their 10,000-mile charity driving adventure.
Yeomans Nissan Bognor Regis in West Sussex has donated a Nissan Micra to two friends taking part in the annual Mongol Rally ­– a journey over mountains, deserts and tough terrain across Europe and Asia.
Richard Taylor, Sales Manager at the Arun Business Park showroom, decided to help out after receiving a letter from Steve Lilley and Alec Wilding, from West Sussex.
The yellow Micra – named La-La by its previous owners after the Teletubbies' character – had just been part exchanged but required extensive work to get it roadworthy. So Richard got his bodyshop team to swing into action and now the 19-year-old Micra is ready for its trek across the continents.
Richard said: "I was reading the letter when this yellow Micra appeared in front of my window. I knew it would be perfect for their trip. They are tough little cars and I'm sure it will complete the long journey."
The Mongol Rally, which launches from Goodwood on Sunday July 19, sees participants drive a small car across several countries, including France, Germany, Czech Republic, Slovenia, Croatia, Bulgaria, Iran, Turkmenistan, Uzbekistan, Russia and Mongolia. It will take about a month to complete.
Steve, 30, a businessman from Felpham, West Sussex, said he was delighted Yeomans Nissan Bognor Regis had been so generous.
At least £500 of the money he and Alec, 29, a paramedic from Worthing, raise goes to the rally's chosen organisation, Cool Earth, with the rest being donated to mental health charity, MIND. They've already collected £1,850 so far.
Steve said: "We've grown so attached to the Micra already ­and we've not even gone yet. It's such a great little car – she drives like a dream. The Micra is so reliable as well so we're confident we will finish the rally."
The Micra has been covered in graphics so it resembles a boat to match their pirate-themed team name, the Sussex Rum Runners, with the friends even creating a crow's nest to sit on top of the roof.
To sponsor the pair, go to justgiving.com and search for 'Alec Wilding'.