The founder of one of the best-known dealerships in the Nissan network is celebrating 30 successful years with the brand.
Kevin Abbs is the joint founder of Crayford & Abbs, which runs a Nissan dealership in the village of Bodham in north Norfolk.
And as he celebrates three decades with the manufacturer, Mr Abbs has been looking back on a career that has seen many notable achievements plus several globe-trotting adventures.
Mr Abbs began his Nissan career with a Norfolk car dealership that was a partner of the manufacturer for almost 20 years. Working in the towns of Cromer and Sheringham, he rose to the rank of sales operations manager.
The decision to set up on his own came in 2004 when, along with his then business associate Neil Crayford, Mr Abbs set up Crayford & Abbs and opened Mundesley Garage, with the Bodham site following three years later.
Fast forward to 2012 and Crayford & Abbs was invited to become a full Nissan franchisee, opening a newly-built showroom in Bodham in July of that year. The Mundesley site continues to offer used cars for sale and carries out service and repair work on most makes and models.
The past eight years have been incredibly successful for Mr Abbs and his team.
Strength to strength
This year has been far from normal of course, but Crayford & Abbs has weathered the storm and made sure NHS staff and key workers were able to get their cars serviced and maintained during lockdown – even arranging complimentary long-term vehicle loans where necessary.
With several Nissan Global Awards to their name plus sales success across the whole range of cars and vans, the business has gone from strength to strength.
'We have been very lucky, it has to be said,' says Mr Abbs. 'I've got a good team around me and I've thoroughly enjoyed working with Nissan.
'With any manufacturer there will be highs and lows but I feel as though I have Nissan running through me. I'm passionate about the brand.'
Mr Abbs has travelled extensively with Nissan over the years – success in various sales events and competitions has seen him visit Rio de Janeiro and Cape Town and attend the Abu Dhabi Grand Prix.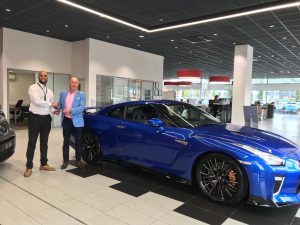 To mark his 30th year with the company, he's treating himself to a drive in a GT-R, and says he is also looking forward to getting behind the wheel of a Nissan Ariya, the all-electric SUV being launched by the manufacturer next year.
Without any doubt, the pivotal moment in Mr Abbs' career was the decision to go it alone in 2004. Reflecting on that development, Mr Abbs said: 'Having worked for somebody else but then to enable myself to get the franchise was quite a big step. I have been supported by a wonderful team – there are 38 of us now.
'A customer-centric approach is at the forefront of everything we do and we have a very loyal customer base which has enabled us to operate with a nice market share. Achieving success is all about customer loyalty. Without the right team, you can't do anything.
'And we're all very excited about the next generation of Nissan vehicles which we can't wait to see.'
Picture caption: Kevin Abbs collects his Nissan GT-R from Jass Singh, GT-R specialist at Lookers Nissan Leeds. Sales manager Atif Malik was instrumental in arranging the loan of the car.