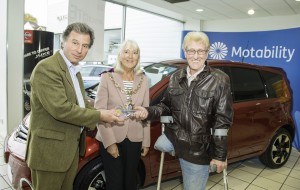 A DORSET Nissan retailer has played host to a high-profile event designed to raise the profile of the Motability scheme in the region.
Dorchester Nissan was the venue as local MP Oliver Letwin presented Motability member Michael Halls with the keys to his new car – a Nissan Note.
Mr Letwin, the Minister for Government Policy, was joined at the presentation by a selection of local dignitaries and representatives from disability charities and Nissan.
The event, which was also attended by members of the press and local radio, had been organised by Motability to promote its work in and around Dorset.
Speaking afterwards, Mr Letwin said: 'I am honoured to be presenting my constituent Michael with the keys to his new car. Motability is a fantastic scheme and I am delighted to see how it is supporting disabled people first-hand in my constituency.'
Declan O'Mahony, Director of Motability, was also at the event.
Ideal for my needs
He said: 'I would like to thank Oliver Letwin for joining us on this very special occasion. Motability has been supporting disabled people with their independence for 35 years, and we will continue to do so.'
Meanwhile, Motability member Michael, 79, was delighted with his new Nissan Note – the second car he's had through the Motability scheme.
He said: 'My new car is ideal for my needs. My leg was amputated 33 years ago, so having an automatic will make driving much more comfortable.
'