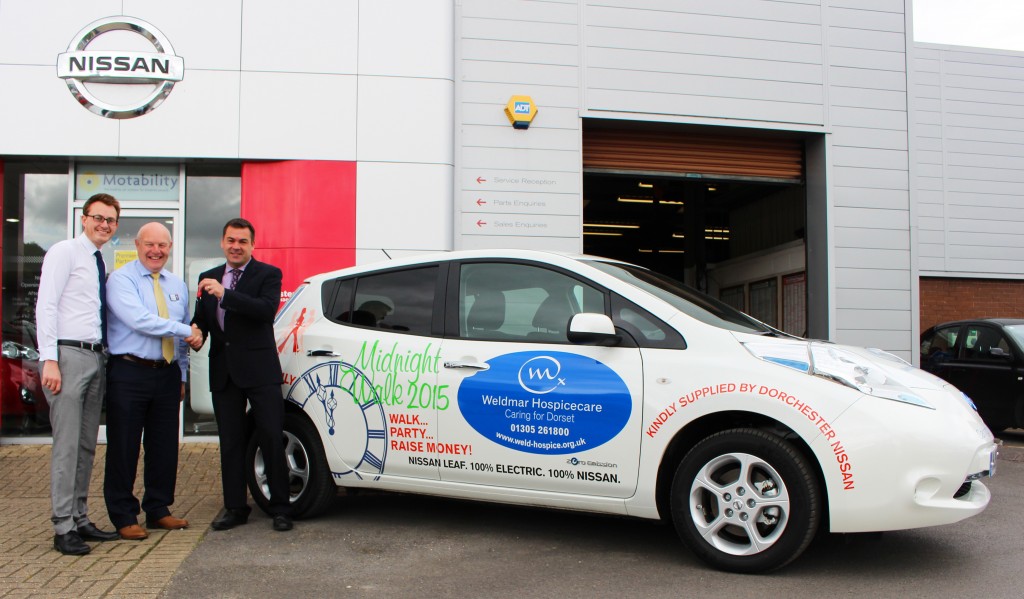 A DORSET dealership has helped a hospice by lending it an all-electric Nissan LEAF to spread its message around the county.
Dorchester Nissan in Miller's Close has loaned the award-winning car to Weldmar Hospicecare – a charity for people with a life-limiting illness living in Dorset.
The LEAF – which costs from as little as 2p a mile to run – will be used by staff to get around the county over the next year, promoting the hospice's services and its fundraising events.
Tony Jordan, Dealer Principal at Dorchester Nissan, said: "We like to do our bit to help the local community and Weldmar Hospicecare is a fantastic charity to support.
"By using the all-electric Nissan LEAF, it will be able to publicise the great work it does across Dorset in a low cost and environmentally-friendly way.
"It's also a brilliant way to promote a host of fundraising events that it holds throughout the year."
Every year, Weldmar Hospicecare supports more than 1,000 patients and their families, medically and in other ways, in the community, in the hospice and at home. All its care is free and reliant on public donations.
Jon Panton, Business Fundraising Manager for Weldmar, said: "We are incredibly thankful to be offered the free use of a Nissan LEAF electric car by Dorchester Nissan. The Nissan LEAF will be used by all our departments and will be seen by more than 25,000 people at our events over the next 12 months."
For information on all hospice events go to www.weld-hospice.org.uk/fundraising/events