EMG Motor Group, which operates a Nissan showroom in King's Lynn and runs several other dealerships across East Anglia and the East Midlands, has won a Customer Experience Award at the 14th annual Auto Trader Retailer Awards.
The three winners of the award (fewer than 50 cars, 50-100 cars, and over 100 cars) were determined by the UK's largest automotive mystery shopping exercise.
This involved an in-depth analysis of customer engagement across three stages of inquiries: email, phone and personalised vehicle tours.
The winners, including EMG Motor Group, provided an exceptional standard of customer service across all three stages. EMG Motor Group was successful in the over 100 cars category.
Now in its 14th year, the Auto Trader Retailer Awards celebrate the very best in automotive retailing, rewarding brands that are pushing the standard of all aspects of the industry, including digital excellence and a commitment to exceptional customer service.
In total, 18 award winners were announced across seven categories during the awards ceremony.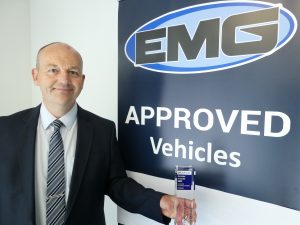 Kevin Driscoll, Group Sales Director at EMG Motor Group, said: We are over the moon to win this award, especially in the current climate and with the difficulties we've had to face over the past year.
"This recognises all the hard work that the entire staff at EMG have put in and confirms how important our customers are to us for the future of our business."
Auto Trader's Group Sales Director, Rebecca Clark, said: "The automotive industry is, by nature, incredibly resilient, but we've been amazed at just how successful some retailers have been at adapting to the unprecedented challenges of Covid-19.
"We've seen examples of businesses who have truly gone the extra mile to respond to changing consumer behaviour and expectations, not just making the car-buying process easier and more efficient, but safer too.
"It's more important than ever to step back and to recognise retailing excellence. There is no doubt that this year's winners are incredibly deserving, not least the EMG Motor Group, which truly represents the very best of our industry."