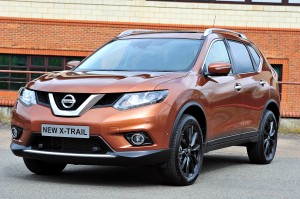 NISSAN is embarking on a social adventure to crowd-source a name for its new "amber" paint option on the all-new X-Trail, the latest addition to its crossover range.
The project will be the first of its kind, with the public making suggestions via Facebook and Twitter using the hashtag #ColourOfAdventure.
Amber has been chosen for the campaign, as research shows that shades of orange reflect social communication, while the colour also specifically mirrors the sense of adventure and strength of the X-Trail.
The #ColourOfAdventure campaign builds on Nissan's on-going innovative approach to social media engagement such as the #JukeRide promotion, which crowd-sourced a state-of-the-art, performance-enhancing car via Facebook.
Nissan's social adventure will use Facebook and Twitter to find the name for its newest paint colour option. Known as Suzaku Amber elsewhere in Europe, Nissan is reaching out to the public to create a new name for the shade that embodies its adventurous new model, in the same way that Marlboro Red has become iconic in its own right.
The all-new X-Trail – which debuted at the Frankfurt Motor Show in September – will be available to order from 1st May ahead of first deliveries in July.
How to enter
To take part, Nissan has asked budding designers to submit their ideas via Twitter or Facebook using the hashtag #ColourOfAdventure. Over the course of the campaign, fans will also be invited to share a picture that represents what adventure means to them. Nissan will share some of the best entries on its Facebook and Twitter pages and encourage more people to take part themselves.
Entries must be in by 10am on 22nd April. A panel of design experts will then select the winner, who will see their chosen colour name added to the X-Trail spec list as well as winning an iPad on which to plan their next adventure.
For more details about the competition, visit one of the following Nissan social media sites: www.twitter.com/NissanUK or www.facebook.com/NissanUK
For more news on the all-new X-Trail, visit: http://www.nissan.co.uk/GB/en/vehicle/crossovers/new-x-trail.html