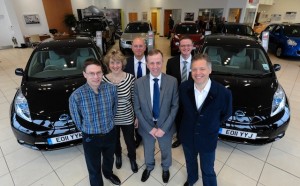 NISSAN dealer Glyn Hopkin has been busy handing over the keys to brand new black Nissan LEAFs this week.
It's news that all Nissan dealers and all appointed Nissan LEAF specialist retailers will be taking note of, and you'll be pleased to hear it all went to plan.
The first two customers to get their hands on their LEAFs were Smooth Radio DJ Mark Goodier and electronics engineer Richard Todd who took delivery at Glyn Hopkin Nissan in Waltham Abbey, Hertfordshire.
Goodier is no stranger to electric cars – he's been driving them for the last decade.
He said: 'The great thing about electric cars is that the fuel distribution is already in place. We all have mains electricity at home. We have it at work and councils are already working on how to install thousands of charging points at the roadside. You can see why EVs make such sense, particularly in towns and cities.'
Silicon chip designer Richard Todd from St Albans was the first customer in the UK to place an order for a Nissan LEAF when the order books opened last September. He's now the proud owner of a black LEAF with optional solar panel.
'As an engineer I have always wanted an electric car – I've just had to wait for the battery technology to arrive. Hybrids are good but the driving experience of an all electric vehicle is way beyond this. Of course the lack of emissions in town is a big positive too,' Todd said.
Even Nissan managing director, Paul Willcox, was on hand to wave the LEAF customers on their way. Willcox said: 'The Nissan LEAF is pioneering the electric car revolution in the UK. We first unveiled the car in August 2009 and we've been building up to this moment for over 18 months.
'Today's deliveries mark the start of the introduction of the Nissan LEAF to customers across the country as our network of EV dealers will be delivering LEAFs to their pioneering customers later this week,' Willcox continued.
Meanwhile British Gas has been appointed as the preferred supplier of domestic charging points for the LEAF.