A Cambridgeshire Nissan dealership is celebrating its 45th anniversary with the company this year.
The business, JS Holmes, in Wisbech St Mary, has seen many changes in the automotive landscape in that time.
And the dealership itself is unrecognisable from the way it looked way back in 1975 – but some things haven't altered: the friendly welcome customers receive when they arrive, and the excellent service people enjoy during the process of buying a car or having service and repair work carried out.
The JS Holmes story goes back to 1955 when businessman John S Holmes purchased the village garage in Wisbech St Mary. In those days, he made a living by repairing cars and lorries as well as delivering paraffin to local residents.
After a spell representing the Austin franchise, Mr Holmes began selling Datsun cars in 1975 – Datsun being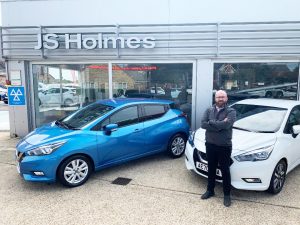 the brand name Nissan used for vehicles it exported at the time. The cars certainly attracted the attention of local motorists with models such as the Bluebird, Sunny and Violet practically flying off the forecourt!
The Datsun name was phased out in the mid-80s with Mr Holmes continuing his relationship with the company by becoming a Nissan dealer.
Nissan was really starting to make its presence felt in the UK with its reputation for good-quality, well-designed vehicles growing and its huge manufacturing plant opening in the north-east of England.
In the early 1990s, the JS Holmes premises were revamped to cope with demand and the company has gone from strength to strength ever since.
The man who started it all sadly passed away in 2013, with subsequent generations of the family having taken the reins since then.
The current dealer principal is John's youngest son, Martin, who has overall responsibility for running the business, including the service, bodyshop and recovery departments.
Martin's son Alex is the dealership's sales director. Alex, pictured, told us: '2020 is a landmark year for JS Holmes. We are celebrating 65 years in business and 45 as a Nissan dealer. We are particularly proud of the fact that we have remained an independent, family-owned company throughout all that time and that's still the case today.
'Having completed 45 years as a Nissan dealer, we are looking forward to another landmark in 2025 when we celebrate our 50th anniversary. We have a long and proud history and are looking to the future with confidence.'