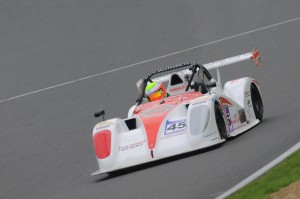 THERE was a familiar winner in the second round of the inaugural Radical SR1 Cup held at the Oulton Park racing circuit in Cheshire recently, as Nissan-sponsored driver Colin Noble Jnr won both races at the meeting making it the perfect start to his championship winning hopes with four wins out of four.
Having won both races at the opening round at Brands Hatch in June, 16-year-old Colin, who's the son of the reigning Dunlop Radical UK Cup Champion Colin Noble Snr, not only won the two races at the Oulton Park meeting, but also took pole position in both.
Colin also recorded the fastest lap time of 1:45.657, averaging a speed of 91.72 mph over the 2.69-mile circuit.
At the post race briefing, Colin said: 'A bit harder, that one. I was under a lot of pressure early on but I managed to just keep a gap and got consistent and fast lap times.
A great start
'Four out of four, leading the championship, maximum points again this weekend so really pleased with things so far.'
Colin Noble Snr, a director of Alex F Noble Nissan, the Midlothian based car dealership which is also the main sponsor of Colin's SR1, said: 'A great start to the championship. Colin's in good form just now and the car is running well, but as they say, we're taking each meeting one at a time and we'll see how things go.'
Colin Jnr now moves on to Cadwell Park in Lincolnshire for the next meeting on August 31 where he's hoping he can keep the winning streak going.