Francesca Valdani joined the Nissan Formula E Team a year ago, taking on the role of Team Manager ahead of Season 9.
In a special interview, the Italian reveals exactly what her job entails and what she does behind the scenes to keep the squad organised and moving in the right direction, both at the racetrack and away from it.
What do you do as Team Manager during race weekends?
Valdani: "The race weekends are just the tip of the iceberg when it comes to the hard work the entire team is putting in. I've got various responsibilities. I'm in constant contact with the race directors, FEO (Formula E Operations) and the sporting department at the FIA (Fédération Internationale de l'Automobile) in case the team needs to report anything or if I have to pass a message on.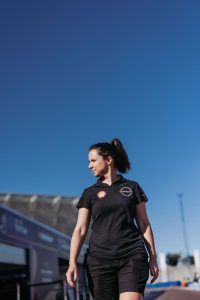 "Race day is quite intense, so I'm responsible for making sure we always stay within the regulations as a team. I also check that everybody is where they need to be and organise meetings during the day."
What do you do as Team Manager away from the track?
Valdani: "I spend a lot of time preparing for upcoming events, collaborating with the team co-ordinator and travel co-ordinator to make sure everything is set on the logistical side. After a race weekend, we debrief with engineers, discussing what went well and how we can improve.
"Even if we had a good weekend, there's always more we can do, so it's important that we come together to speak about the previous event. I also stay in contact with the FEO and the FIA to feed back on previous events or organise for future ones and constantly work with the team with regards to sustainability. I ensure we follow the current directives and I'm always looking for new ways to improve our efforts internally."
What do you enjoy the most about your job?
Valdani: "I love the competition, the adrenaline, I like it when we are doing well as a team and the atmosphere inside the paddock as a result. It's a unique job, we spend a lot of time with the same teammates all around the world. I love the travel aspect, discovering new places and cultures and seeing so many amazing cities. The best bit is definitely when we get a good result on track and seeing the whole crew's hard work paying off."
What has been the biggest challenge of the last 12 months?
Valdani: "Joining the team a month before the first race and a few days before pre-season testing definitely wasn't easy! I went to Valencia without knowing the names of some team members and it took time to learn a new way of working, new dynamics and people. It was intense, but I worked hard at it and in the end everything went smoothly, so that was definitely my biggest challenge."
How does working in Formula E differ from other motorsport series?
Valdani: "A big difference is that everything happens so quickly on race day in Formula E. In other series, the weekend is spread over two or three days, but in Formula E we have practice, qualifying and the race all in one. It's quite a challenge. There's a lot of emotion in one day and while it's a whirlwind for us, it's great for the fans!"
What's been the biggest challenge since you joined Nissan?
Valdani: "Sixteen races in seven months brings a lot of challenges. It wasn't easy to be on long-haul flights every month with the jet lag and everything else. However, it's part of the game and one of the drawbacks of the amazing championship we work in. I knew that my love for this job would make it worth it and that was my motivation. When we get a good result, all the pain goes and you realise why we do what we do."
What is the attraction of Formula E for someone like you?
Valdani: "I'm always open to new challenges and trying new things, I was very interested when Formula E launched and tried to get involved. I was lucky to join the championship in Season 2 and I quickly discovered how different it was to other motorsport series.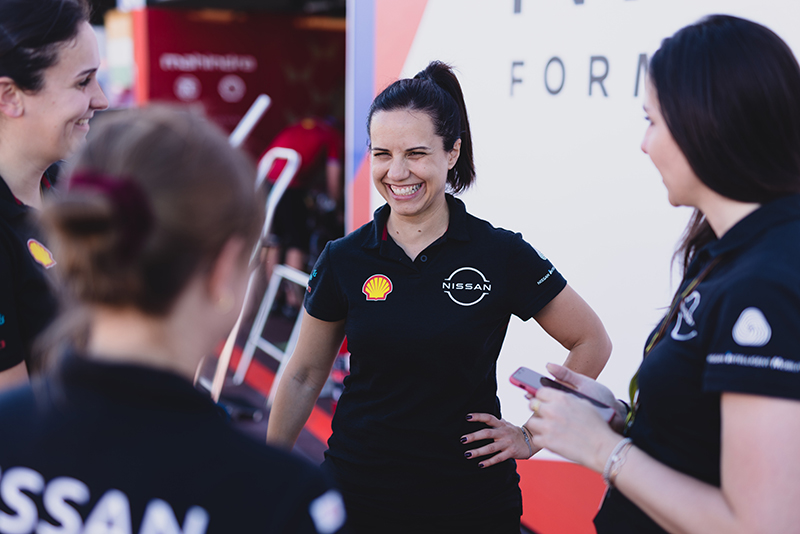 "The whole concept around sustainability, giving a positive message to the fans and the places we visit and to show people the future of electric mobility is really important. I'm still a big fan of more traditional motorsport, but I think Formula E is the series for the next generation. For me, it's a passion to work in the sport and I feel lucky that I can earn a living in an industry I love and deliver a positive message for the future of racing."
Is it still a challenge to be a female in motorsport and how has it improved over recent years?
Valdani: "It's still a challenge every day. But several positive steps have been made in recent years. There are lots of women in important roles now which is great to see. We still need to support the next generation of girls getting into motorsport to continue the progress and this is something I aim to do."
What are your hopes for Season 10 and beyond?
Valdani: "We established a strong base in Season 9. We knew what we were capable of and now we need to start securing more podiums, more pole positions and fight at the front more consistently. We have to show that we've got the potential to fight for the championships in future seasons, so we must make fewer mistakes and aim to score regular points. We showed flashes of how quick we can be in Season 9, but for the upcoming year our goal is to end as one of the strongest teams."