DAY 18: The end of the road
By Mal Hay
Well, that's all folks!
Nissan Insider's Gold LEAF tour is no more. It's deceased, pushing up the daisies, shuffled of its mortal coil. It is an ex Gold LEAF tour etc etc.
The full stats of our journey will be revealed to all next week but, for now, suffice it to say that travelling the length and breadth of the country in this special car has been an amazing experience.
Being on the receiving end of the abundance of love the great British public has for its finest athletes has been a privilege I'll never forget.
And it's been brilliant to finally have a car that radiates light like my eternally sunny and cheery disposition (that's a joke! I am actually a grumpy old curmudgeon with a face as warm and expressive as a slab of granite).
Drawing everything to a close feels strangely emotional, but maybe that's just the tiredness kicking in.
I feel like I need to deliver some sort of Oscar acceptance speech. I'd like to thank my mum and dad and my primary school teacher and my pet goldfish.
In actual fact though, I'd like to thank the hundreds of brilliant people working at Nissan dealerships across the UK who gave the Gold LEAF (and even me) a fantastic reception wherever it went. You rock!
I'd also like to thank the LEAF. It's been absolutely awesome all the way. Not once did it let me down and, even when I pushed it to the limits of its range or took it on the nation's most demanding roads, did it let me down.
If anyone ever tells you that the LEAF's no good or that electric motoring doesn't work, please point them in my direction and I'll gladly set them straight.
Now on to today's final leg of the journey. It started in Exeter, took me to Hamiltons Nissan in Sidmouth, on to the lovely folk at Exeter Nissan and then into Cornwall where I visited West End Motors in Bodmin.
After that it was on to Town and Country in Truro where I was met by the lovely and super talented medal-winning Paralympic triathlete, Melissa Reid, who came out especially to see the Gold LEAF.
I then visited our good friends at C&C Taxis in Cornwall – a company totally committed to the LEAF – where I introduced the Gold LEAF to the amazing Wizzy.
After that, and after some 18 days, I finally crossed the finish line at Vospers in Plymouth.
And that requires another massive thank you. After weeks on the road and thousands of miles, the welcome received from the team at this brilliant dealership in Plymouth was just what the doctor ordered.
As I rolled up the whole team emptied onto the forecourt to greet me with special gold balloons and a finish line. What an end to an incredible trip.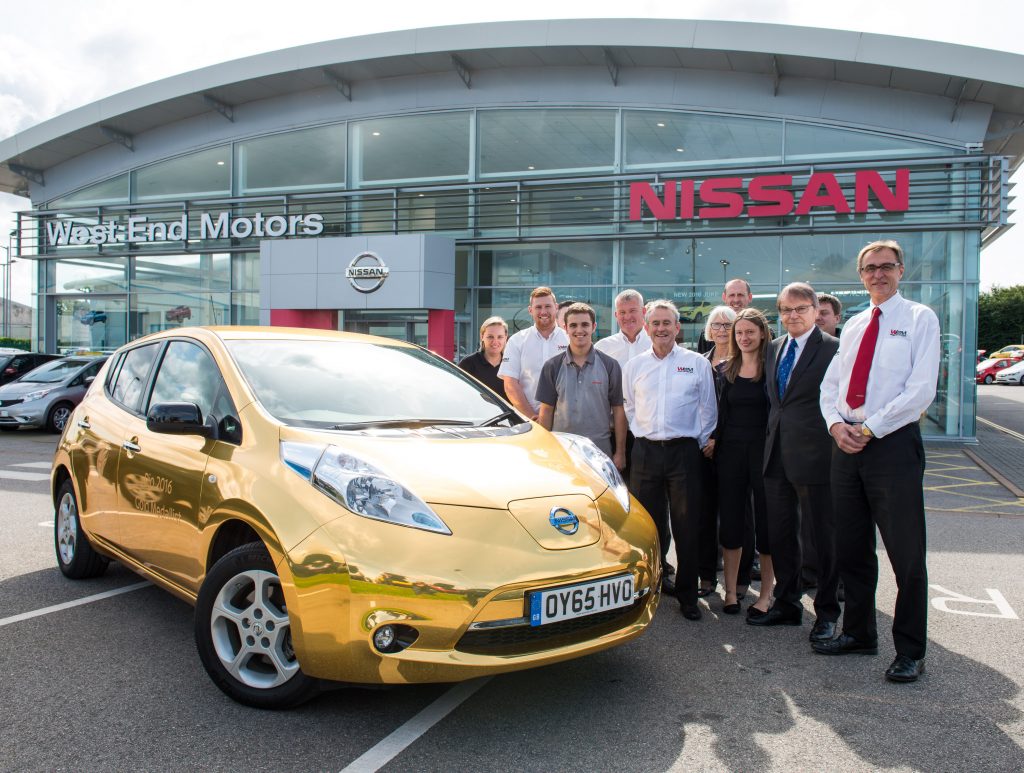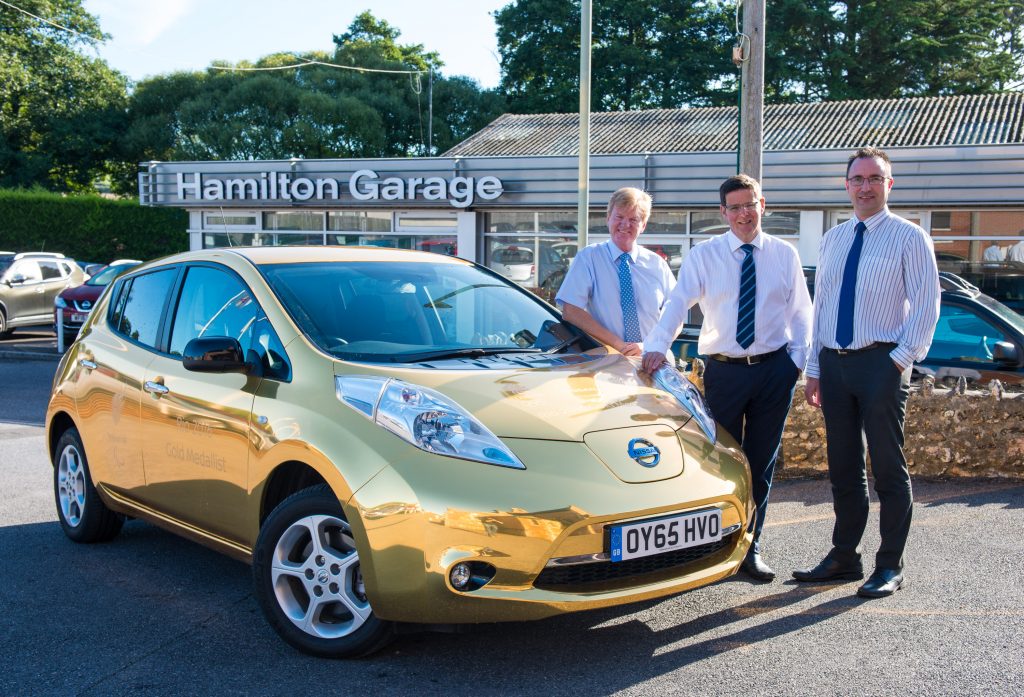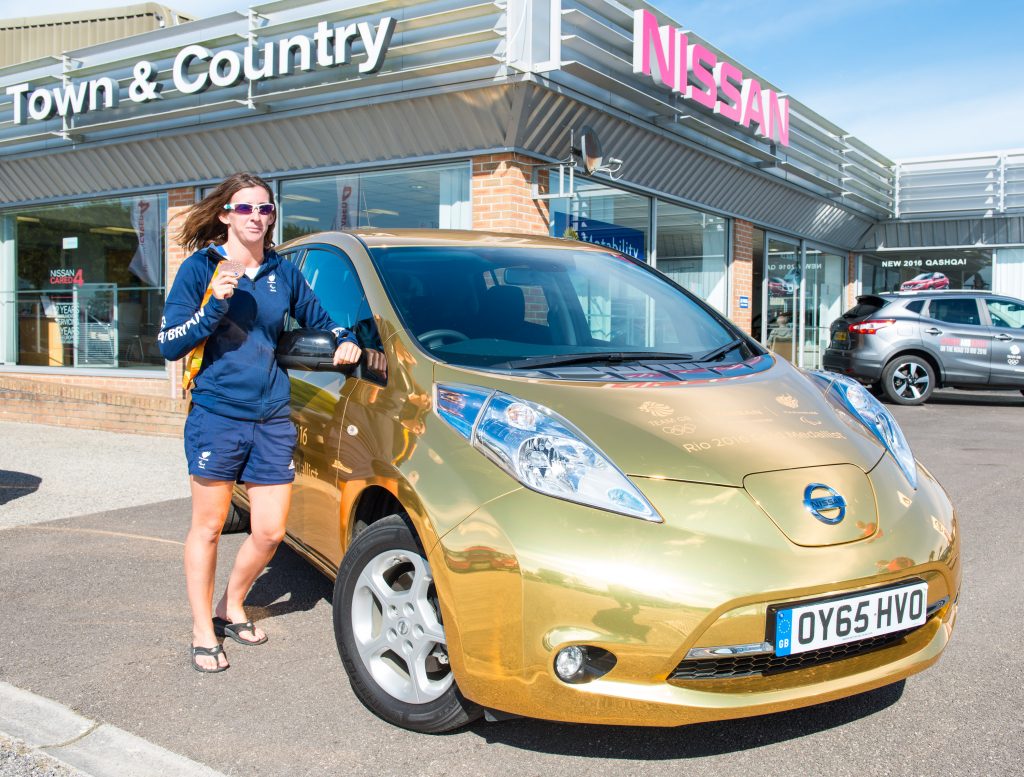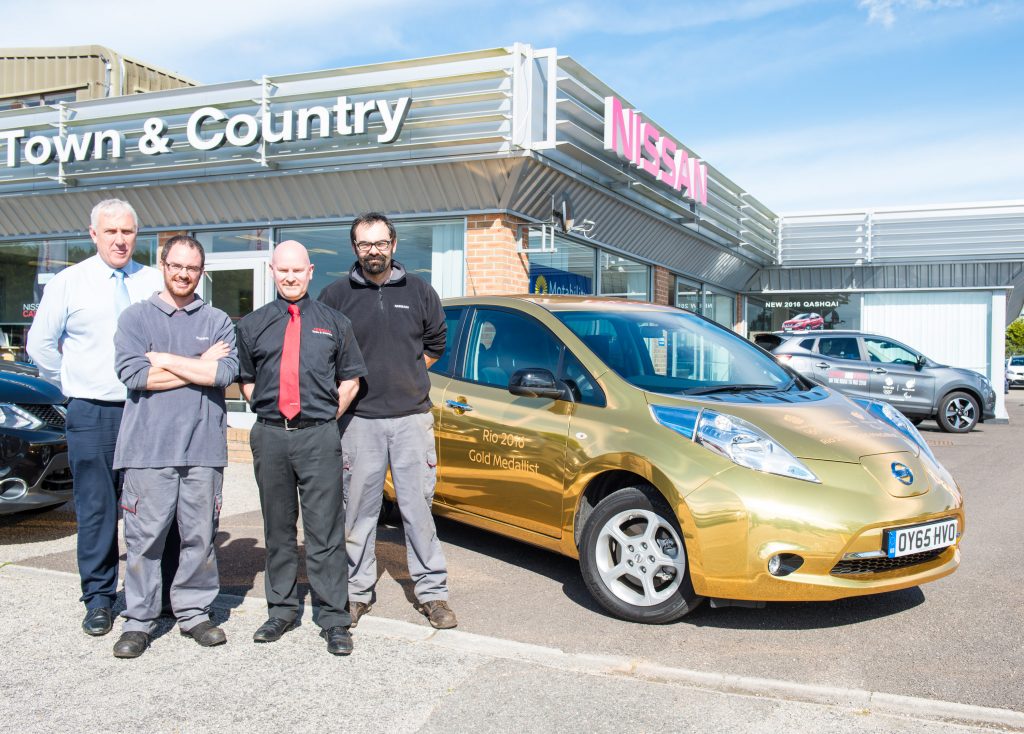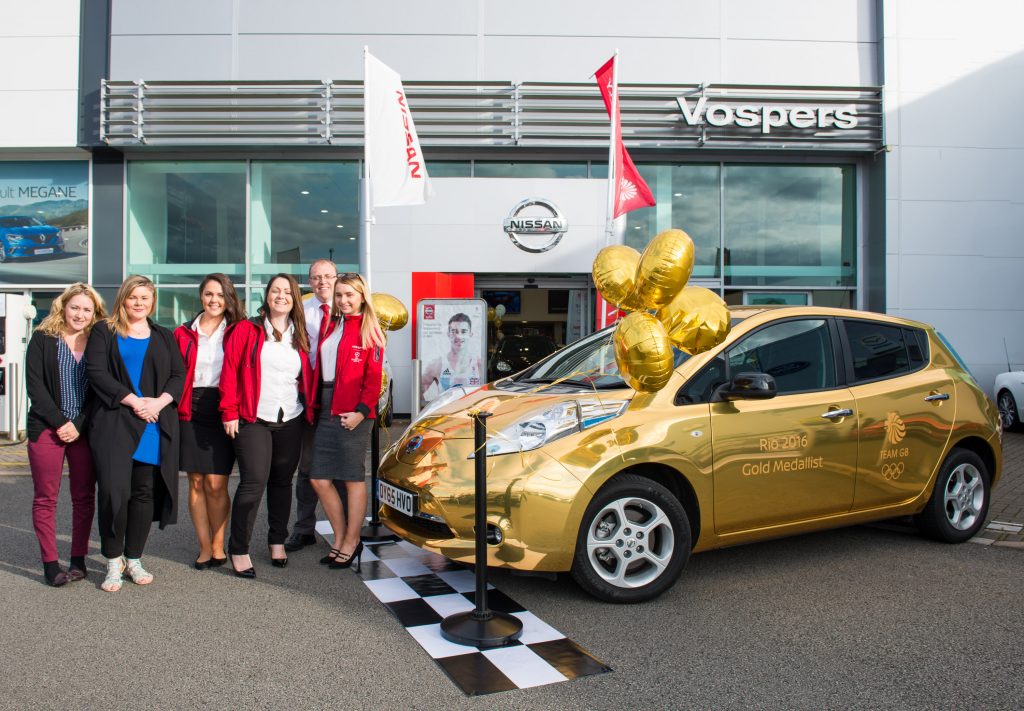 DAY 17: An unexpected drama
By Mal Hay
Today was a busy day, covering more than 300 miles and I soon found myself running behind schedule.
But before any naysayers out there start saying EV's don't work or the charging infrastructure's no good, the lapse in my schedule had nothing to do with the car.
No, instead it was the result of me fumbling around the biggest car dealership toilet you've ever seen after the bulb above my head blew.
I was locked in there for so long (probably five minutes but it felt like five days) that I turned into James Franco in that film where he's stuck down a rocky crevice and ends up cutting his own arm off.
I went through phase one – denial. I'm a man. I was a Scout. I could find my way out of a dark room no problem. Fail!
Cue phase two: denial. This had me trying trying to recall anything I'd seen on Ray Mears or Bear Grills. Could I survive on a diet of hand lotion and toilet tissue?
Then I entered phase three – resignation – and began mentally composing my farewell to my loved ones.
After that came the final phase. The realisation that my mobile phone was in my pocket and had a torch on it. Phew!
Following this trauma, I was back on the Electric Highway and cracking on with the penultimate day of the tour in beautiful South Wales.
The day began with probably one of the biggest distances (57 miles) between rapid charger and dealership as I headed from Swansea to Roundabout of Neyland in Pembrokeshire. But the 30kWh LEAF took the 114-mile round trip in its stride and got me back to the charger with 24 miles still showing on the display.
I visited J&J Motors on that same leg of the journey and then, after charging, went on to Bassetts in Bridgend, Griffin Mill in Pontypridd, Newtown Motors in Cwmbran, Five Acres in Coleford, Wessex Garages' super site at Cribbs Causeway in Bristol and Howards in Weston Super Mare.
After that, I pressed on to my hotel in Exeter to get ready for the final day.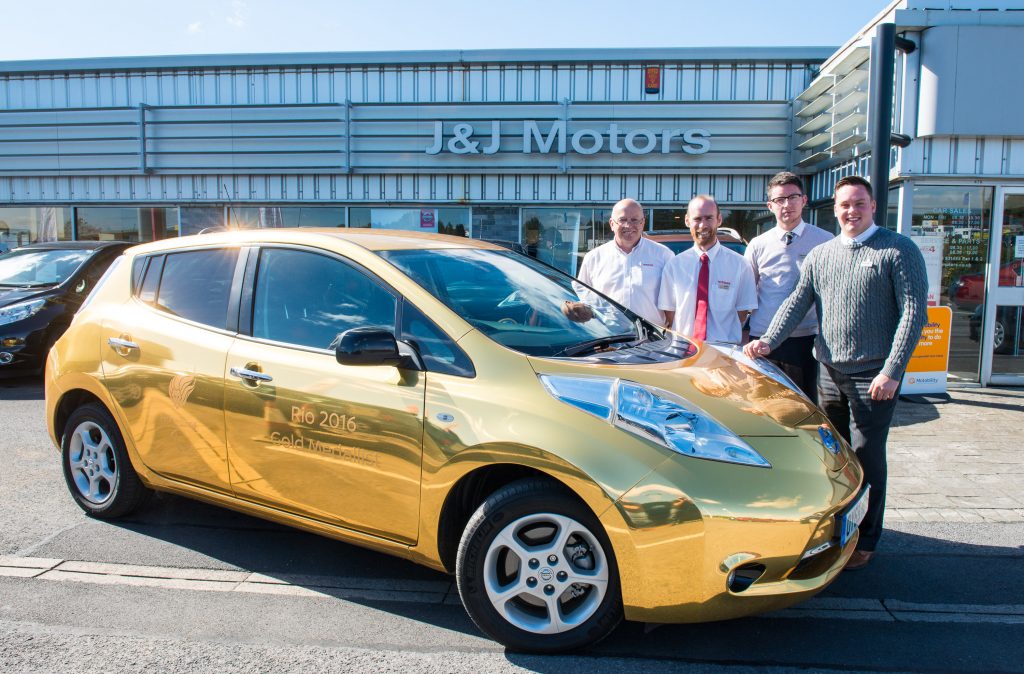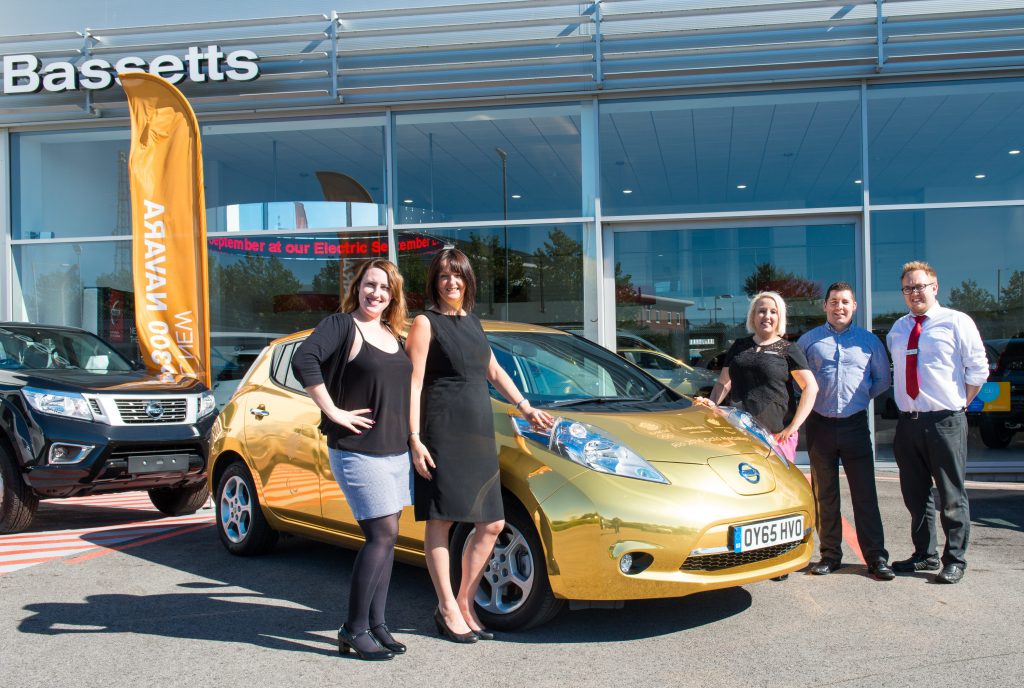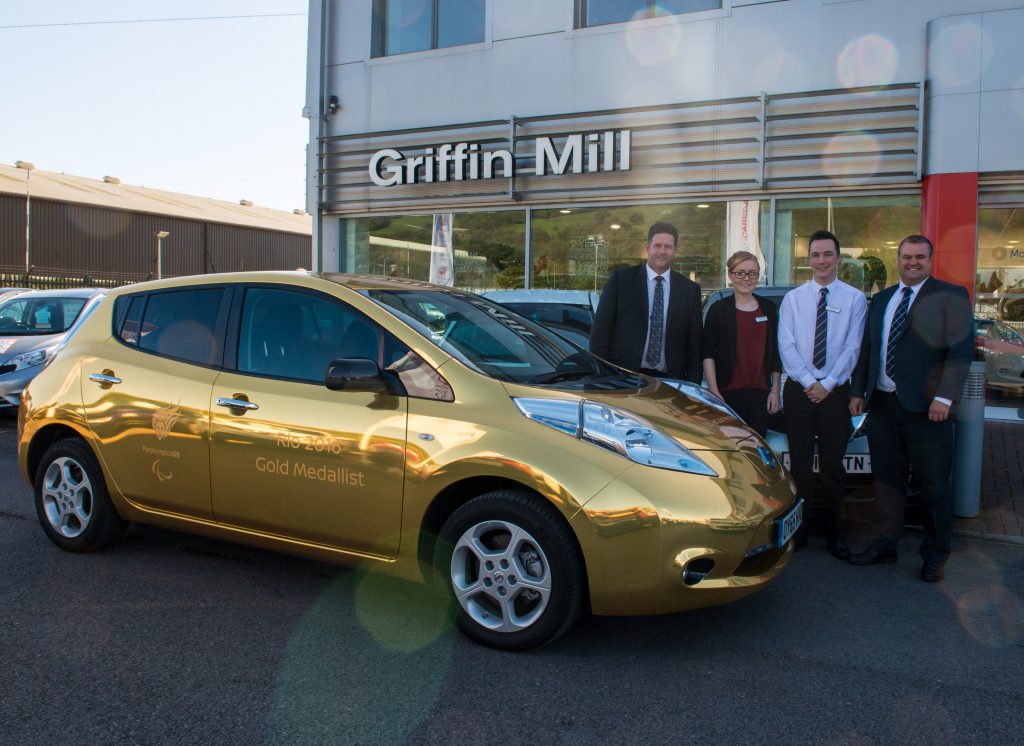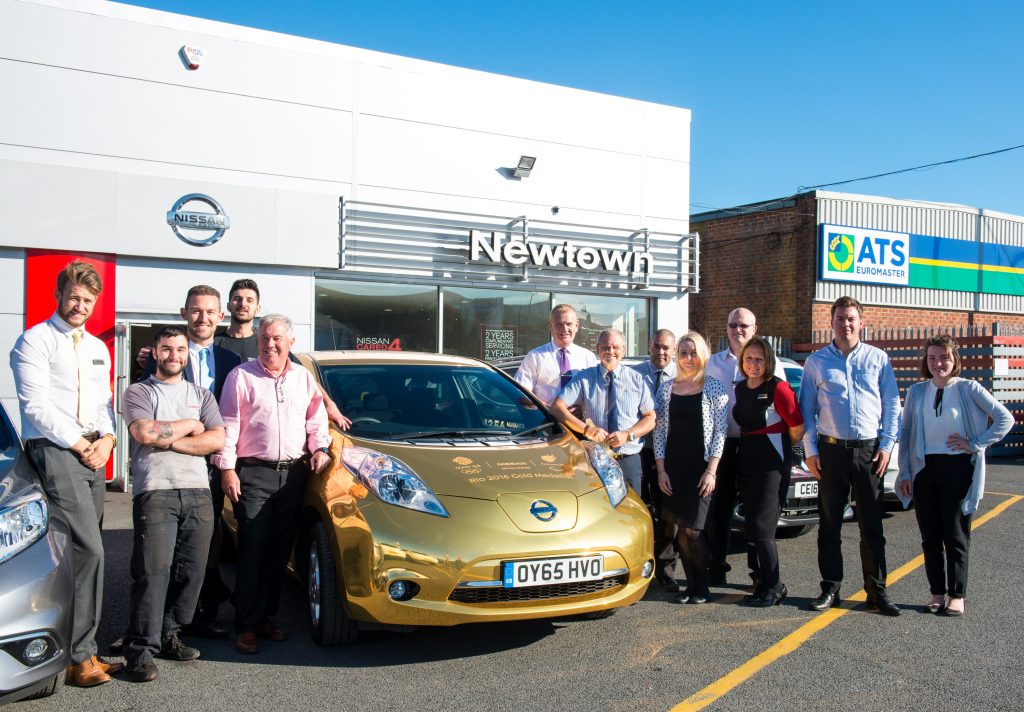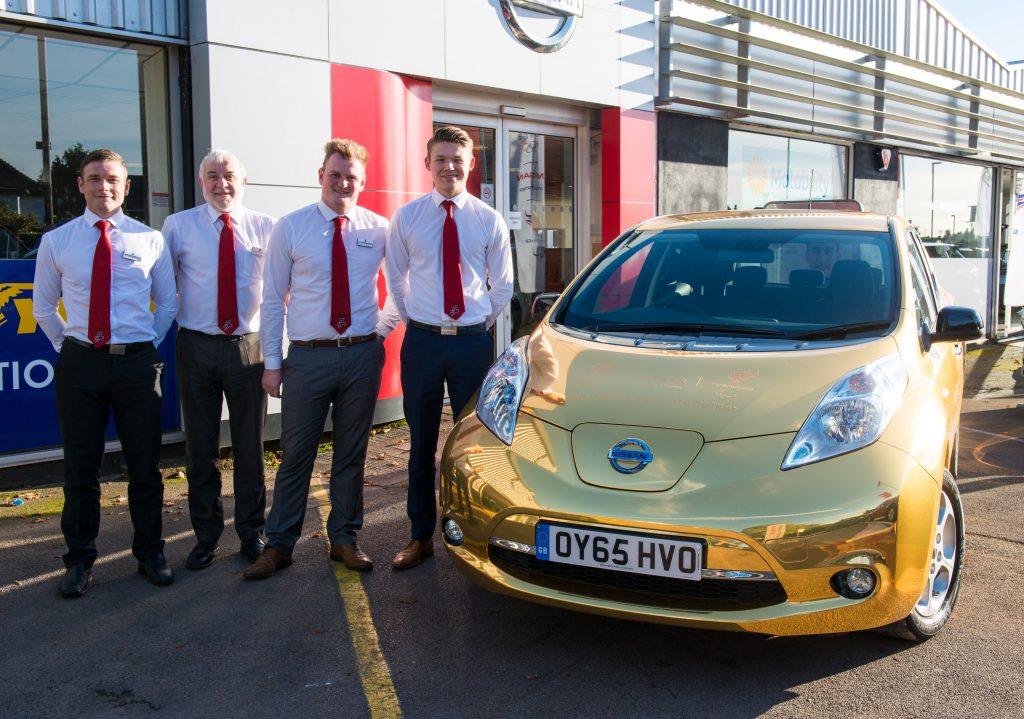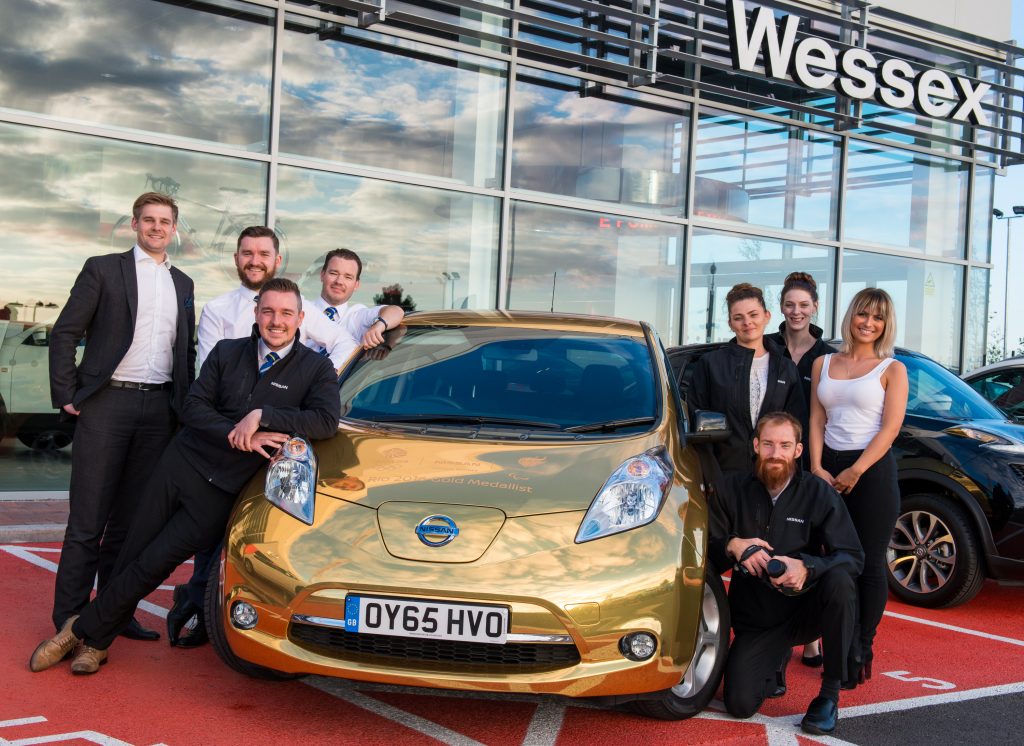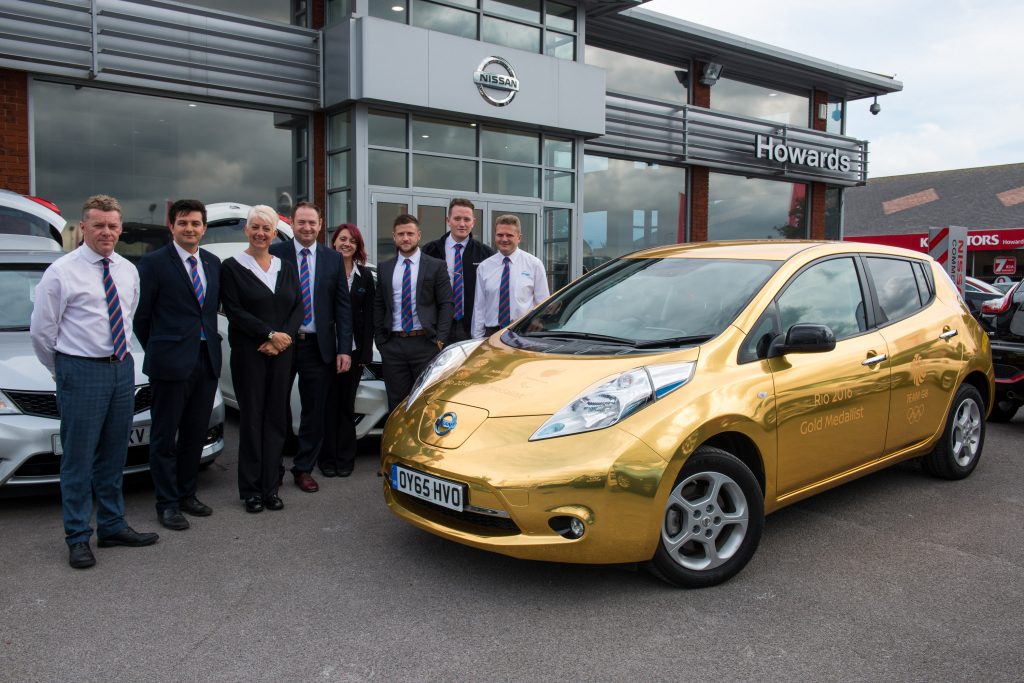 DAY 16: Gold LEAF gets a bum rap
By Mal Hay
Today the Gold LEAF received the very highest honour that can be bestowed by schoolchildren anywhere – a full five bum salute.
As regular readers of this diary will know, our star car had previously elicited public displays of appreciation for our nation's finest athletes including cheers, standing ovations and many a honked horn.
But today, with the sort of deference only a British schoolboy can muster, tribute was paid in the form of 10 bare butt cheeks pressed against coach windows on the A303.
Luckily by this stage, the Go Pro I was using to record today's leg of the tour had already fallen off and taken up residence on a roadside verge between Salisbury and Dorchester.
Other than that, today was another great day behind the wheel of the Gold LEAF and I managed to make it round eight dealers across the south of England before heading to my overnight stop in west Wales.
In all I covered 342 miles today. Starting in Gloucester I visited Fish Brothers, Swindon, Rowstock, Newbury, Martins of Winchester, Sparshatts, Southampton, Westover Salisbury, Dorchester Nissan, F J Chalke in Wincanton and Platinum, Trowbridge. I charged three times.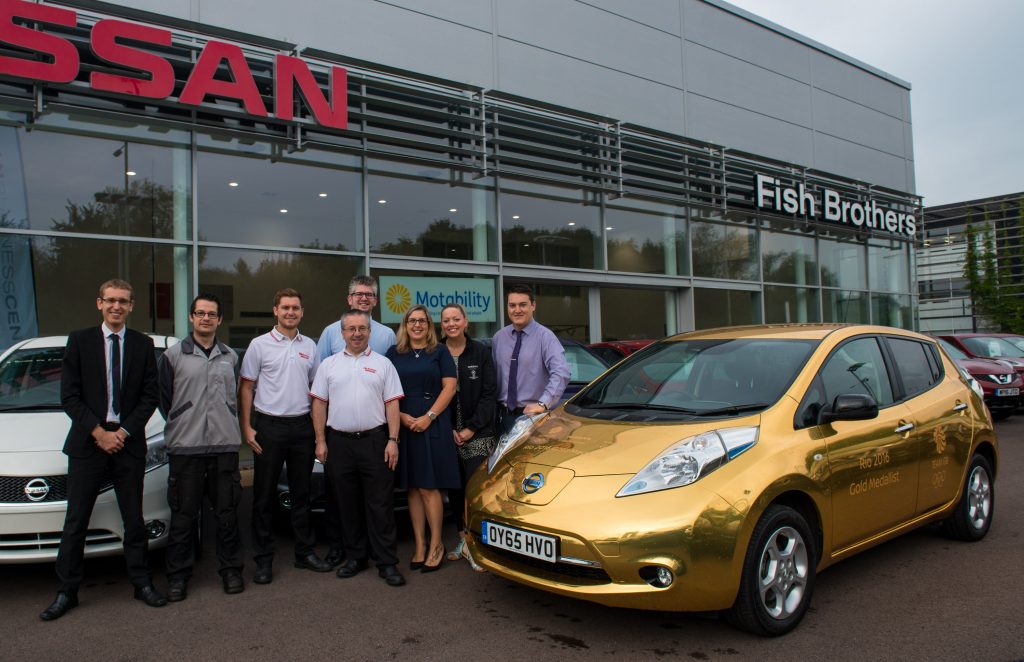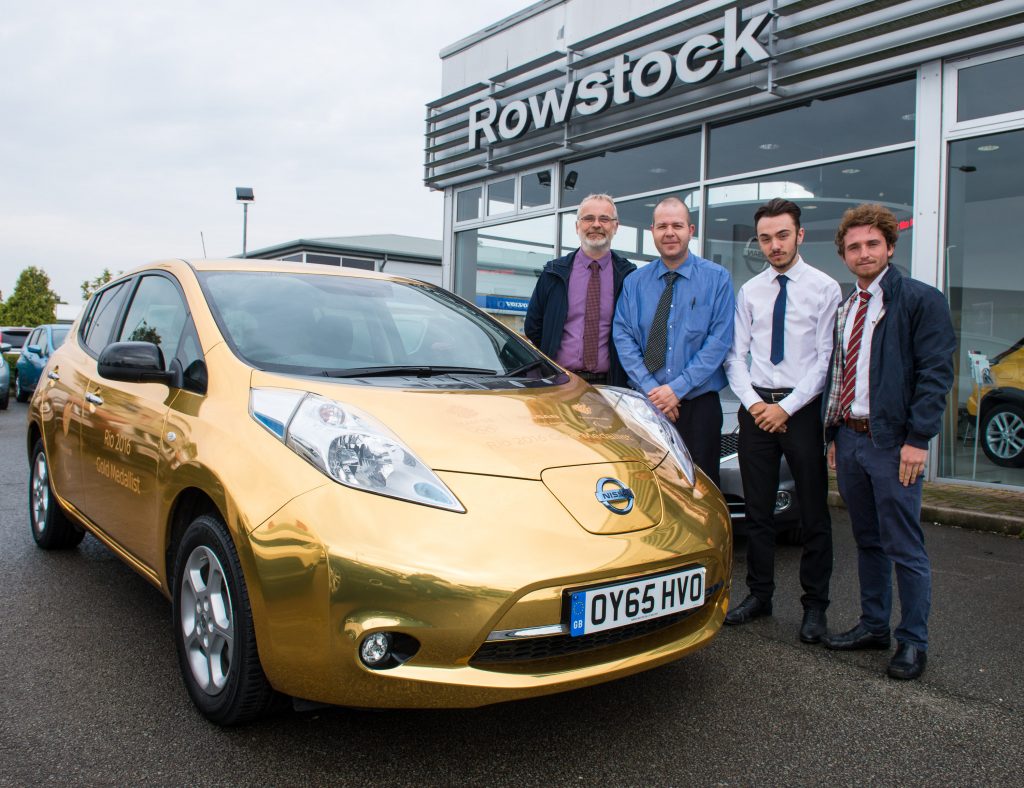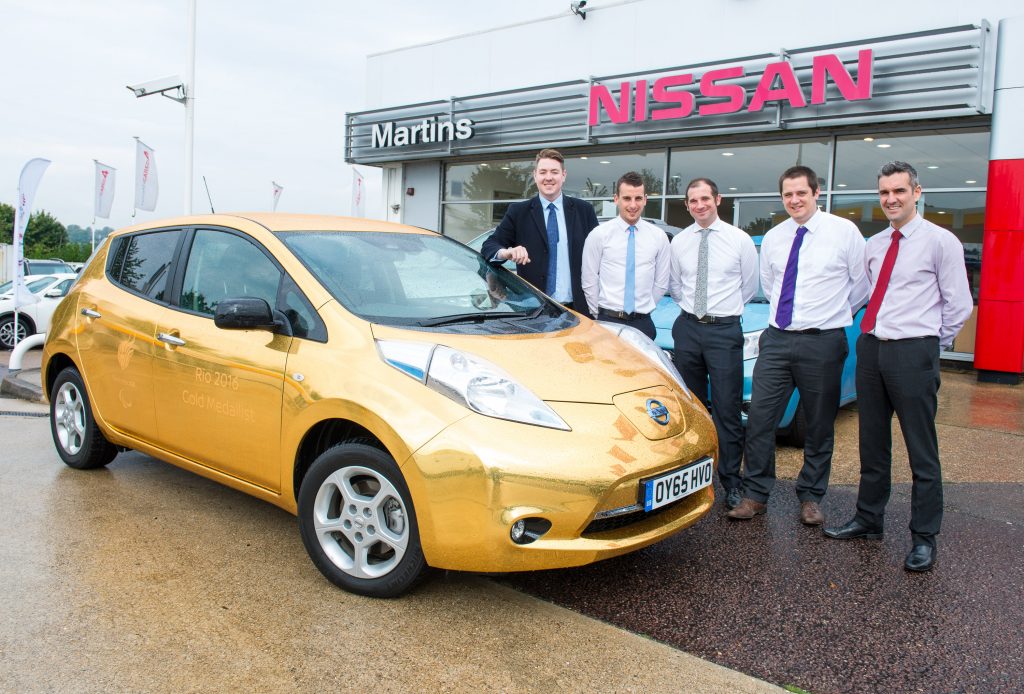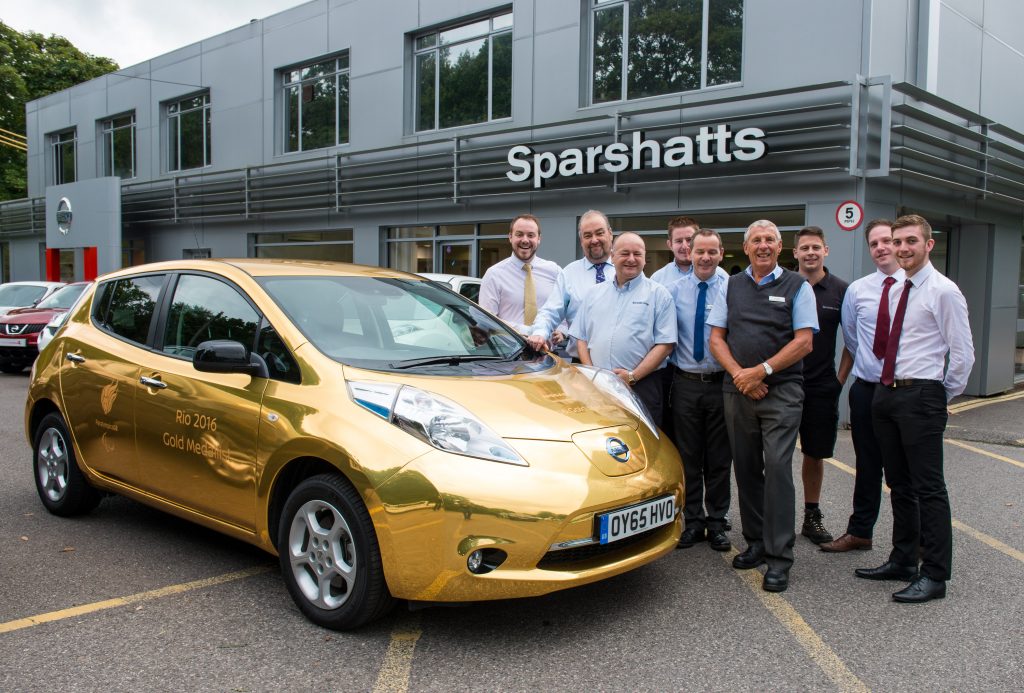 Sparshatts of Botley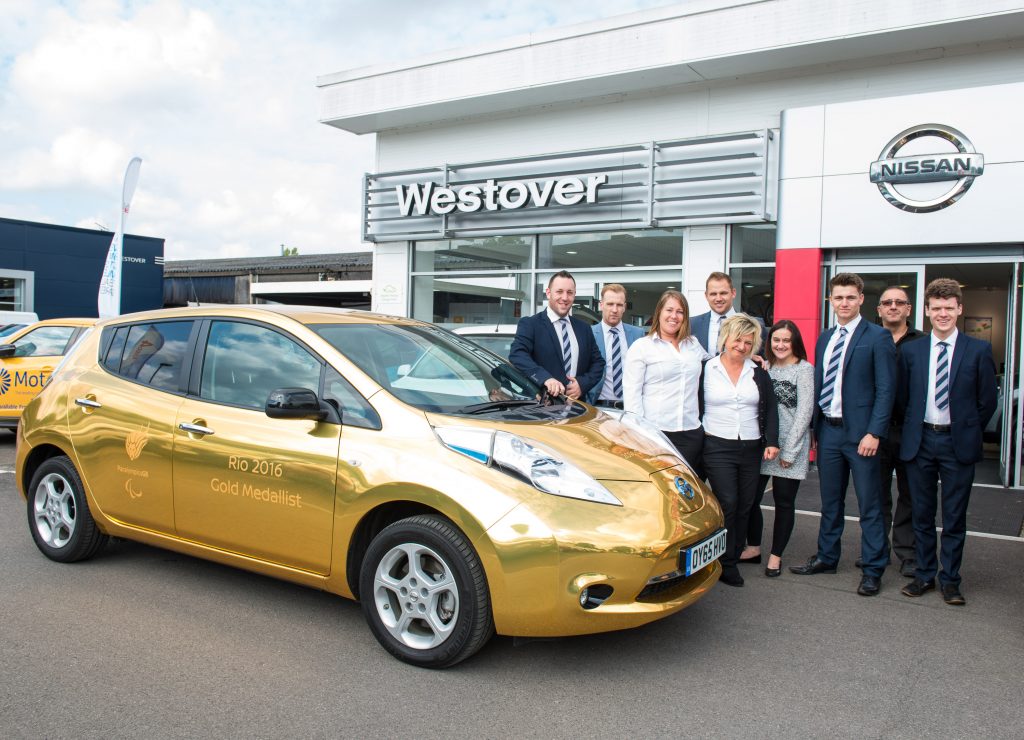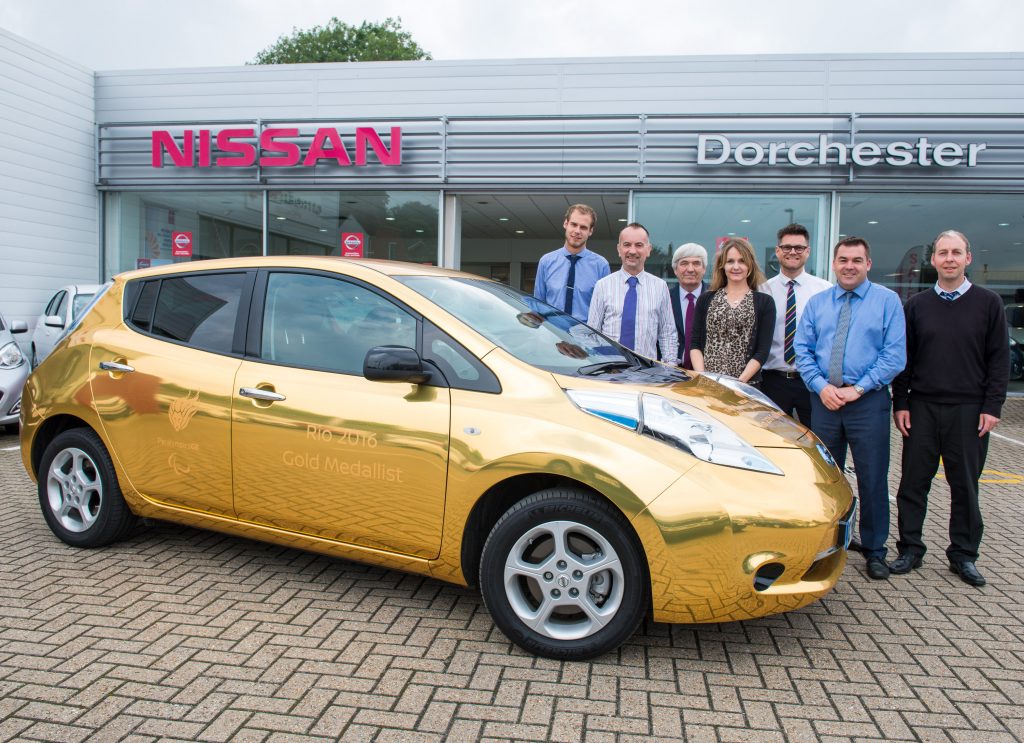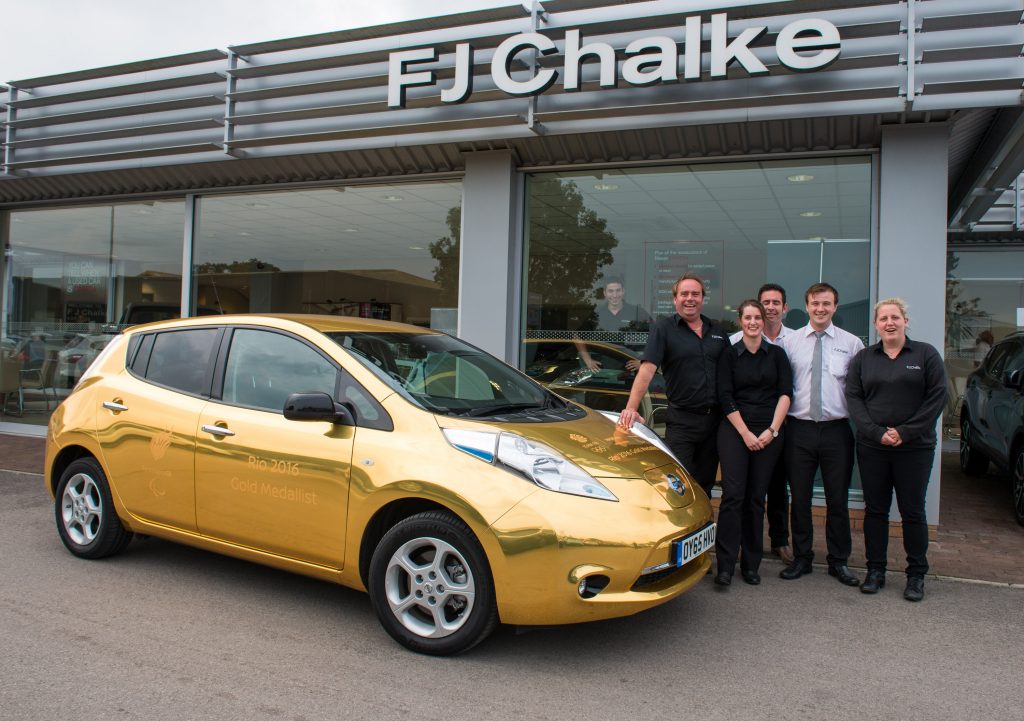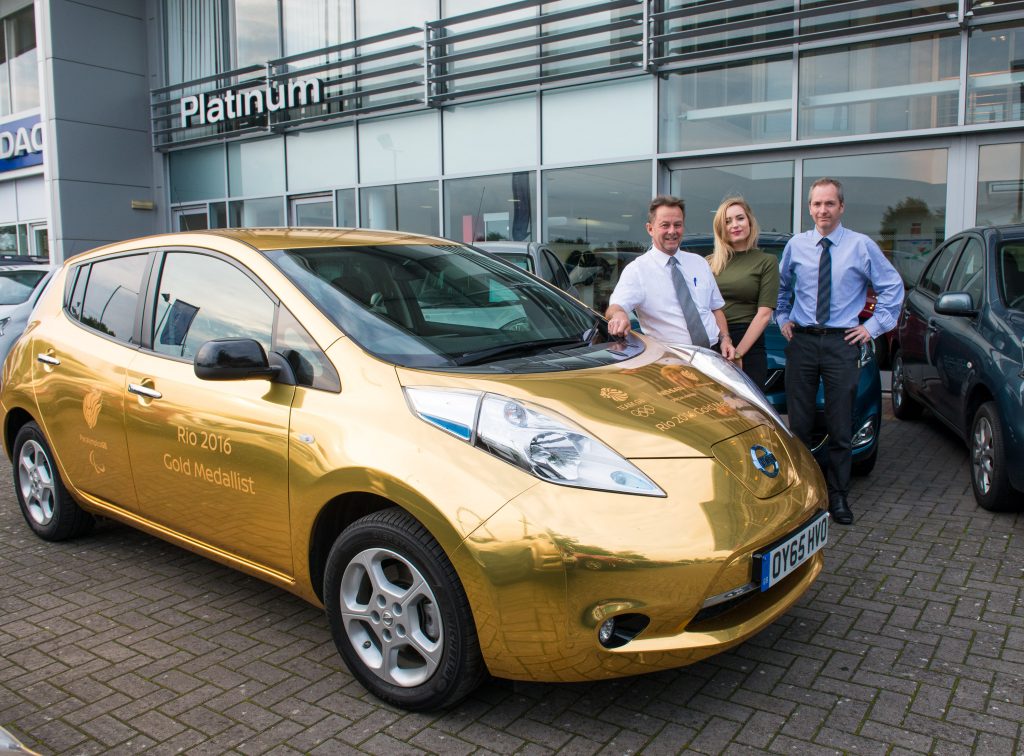 DAY 15: Gold LEAF gets people talking
By Mal Hay
Today the Gold LEAF achieved what I believe has to be a world first.
It happened when the car's hands-free system facilitated the most random telephone conversation ever between three completely unconnected people, none of them in the car and none of them the driver.
This milestone in modern telephony happened as I drove in the middle of three lanes of creeping traffic on the A4440 on my way out of Worcester.
There I was talking happily to my good lady wife as she prepared dinner for our little one some hundred or so miles away when, to my right, I heard a loud toot and turned to see the neighboring driver making the universal 'wind-yer-window-down' gesture.
Driver 1: "Sorry, are you on the phone?"
Wife (a hundred miles away): "Who's that?"
Driver 1: "I just wanted to know about the car – it's amazing."
Wife: "Are you driving?"
Driver 1: "Yes, I'm in the next car. I couldn't help but admire it."
Wife: "It's shiny isn't it?"
Cue second interruption from Driver two on the left side of the Gold LEAF – he too asking me to wind my window down.
Driver 2: "Did you win a gold medal?"
Wife [laughing]: "No, he's just driving it."
Driver 2: "Where to?"
Wife: "Around Nissan dealers."
Driver 1: "Looks brilliant, doesn't it?"
Driver 2: "Yeah, I want one."
Driver 1: "Me too. That's his wife on the phone."
Driver 2: "Is it? Hello."
Wife: "Hello!"
This incredible painful conversation continued for at least another 200 yards – long enough for my wife to explain which athletes were getting a Gold LEAF and why – with my only involvement being to wind up my windows after everyone else had exchanged pleasantries and said their goodbyes.
It's certainly true to say that the Gold LEAF is a conversation starter wherever it goes.
And today it started its journey on the outskirts of Liverpool before heading to Holdcroft in Northwich, Slaters in Abergele, Greenhous in Shrewsbury, WR Davies in Telford, Brindley in Cannock and Hylton in Worcester before heading to my overnight stop in Gloucester.
In all it covered some 270 miles, charging two and a half times.
Tomorrow, I'll be visiting dealers across the south of England, before heading into South Wales on Thursday and wrapping the whole tour up (hopefully!) in the South West on Friday.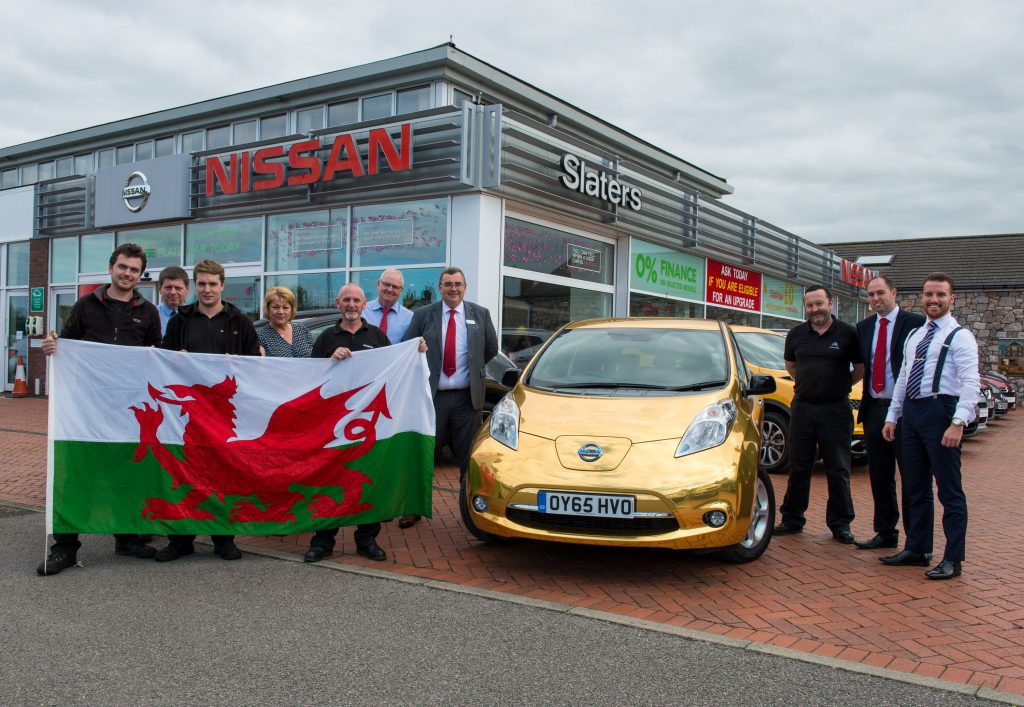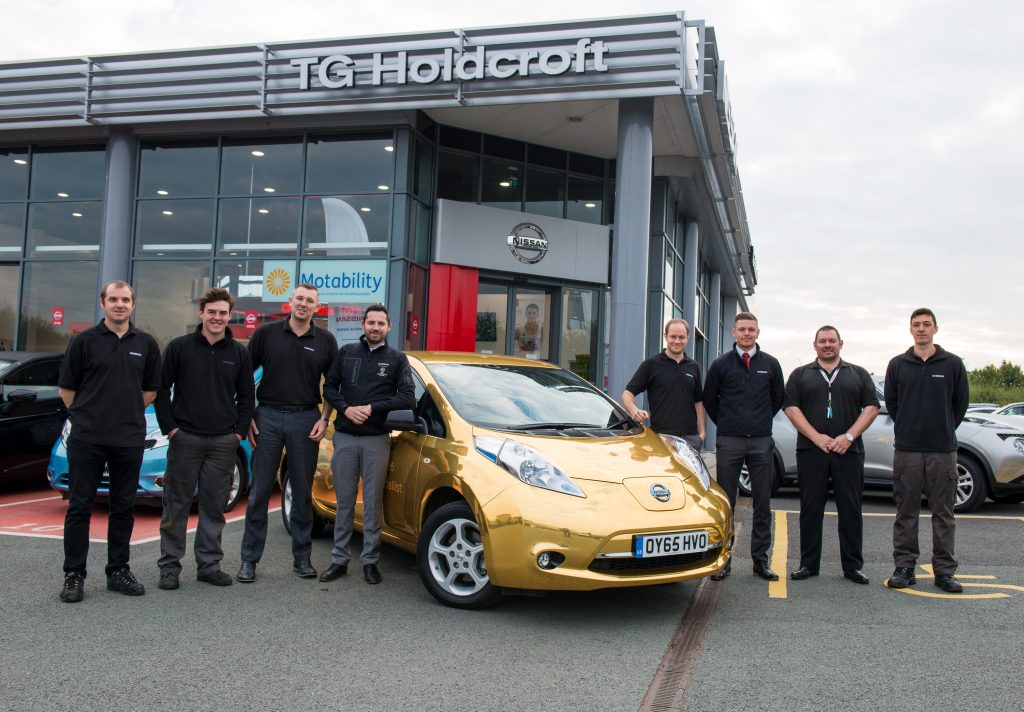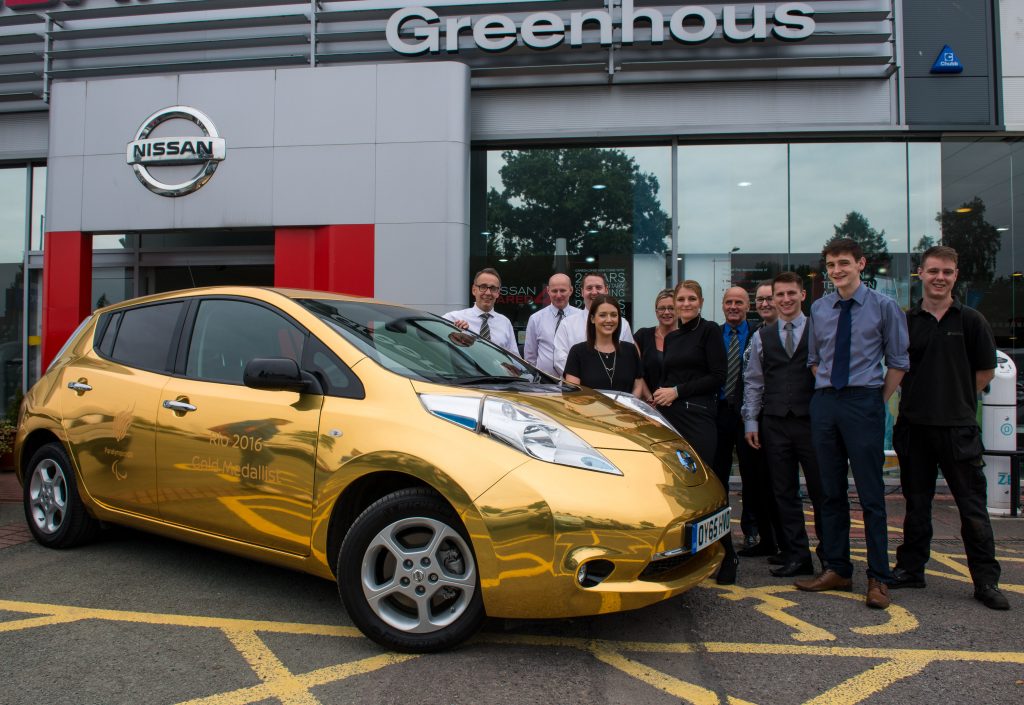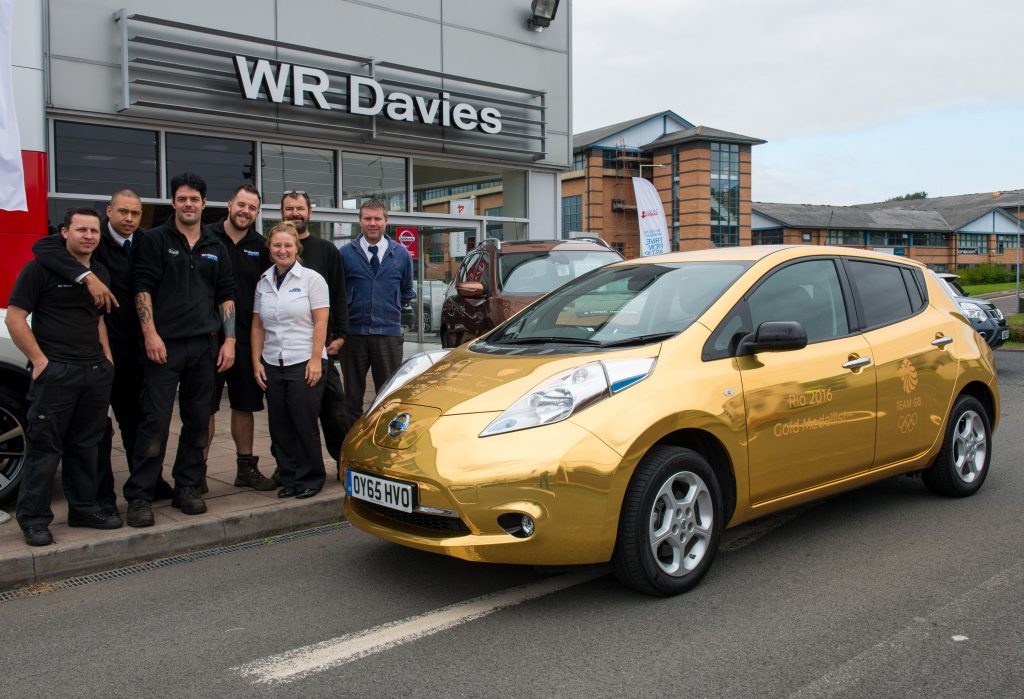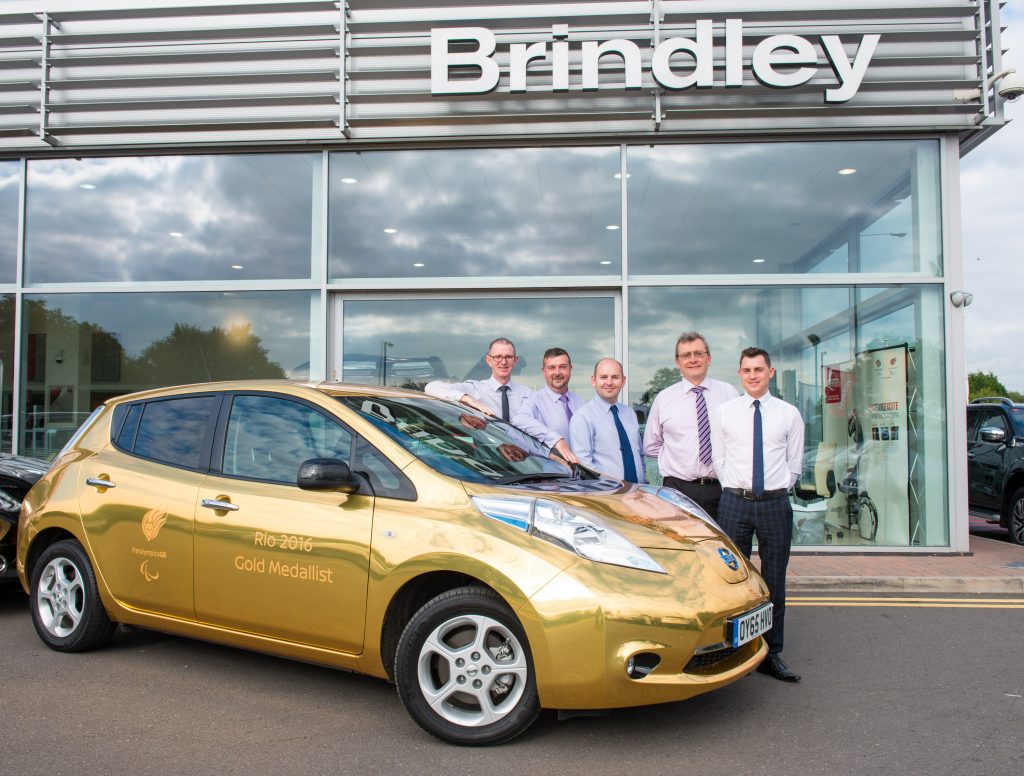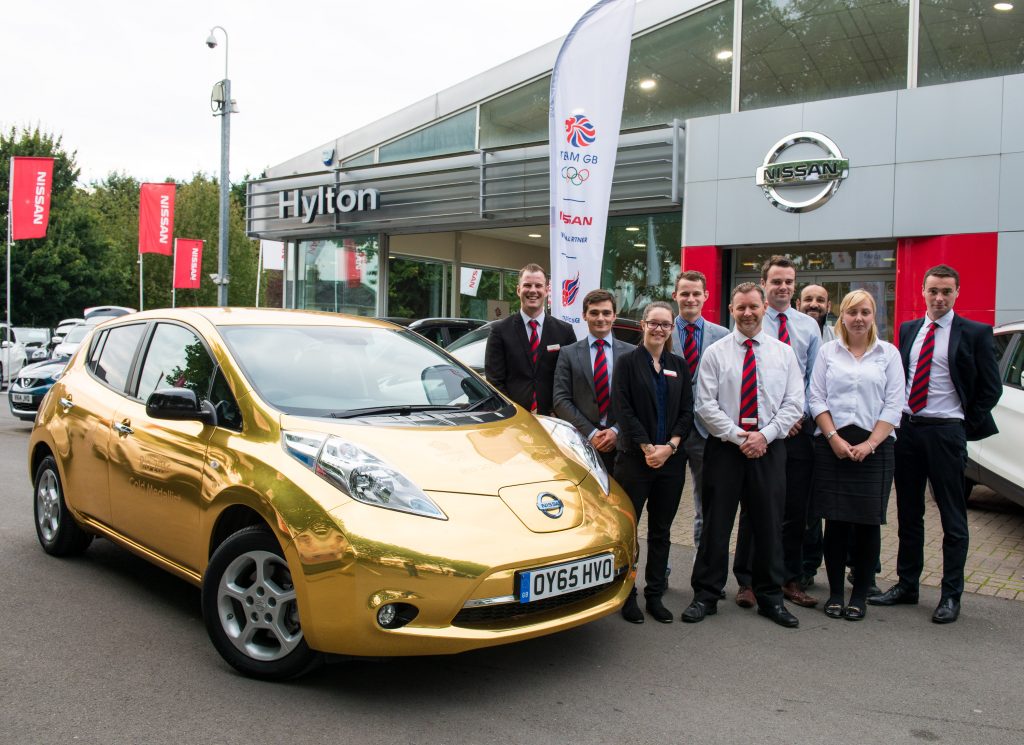 DAY 14: Ice-cool deception's the order of the day
By Mal Hay
Somewhere in the south of the Lake District tonight there's an ice cream man being ridiculed by his friends as he shows them a photograph taken with me earlier and tries to convince them I'm a gold medal winning athlete.
So blinded by the dazzling gold LEAF was he that he completely failed to notice my very obvious lack of athleticism as he approached me with a free Mr Whippy to congratulate me on my achievements in Rio.
Before I could explain that I wasn't really a British sporting hero he thrust the 99 into my hand and proceeded to tell me, without ever pausing for breath, just how amazingly fantastic the games had been and how proud he was of our achievements.
By the time he eventually finished talking I was in too deep to disappoint him.
So, there I stood, between the Gold LEAF and an ice cream van, with my new biggest fan's arms around me and holding an ice cream cone aloft like an Olympic Torch, as a passerby captured the moment on camera.
This was the only embarrassing moment of day 14. The best bit came during a charge at Lancaster services on the M6. I noticed a group of young women excitedly having their photos taken with the car.
It turns out two of them were German Olympians who had represented their country at Rio 2016 – Dian Sujew and Anna Hahner. They were blown away by the car.
Today began when I collected the Gold LEAF at Chorley Preston, where it had spent the weekend on display in the showroom. It was then on to Fred Coupe, David Hayton, Barton Townley, Firsway of Leigh, Warrington Motors, Middlehurst Nissan and Crosby Park.
In all, I covered 233 miles, charging three times (once so I have a full charge for tomorrow).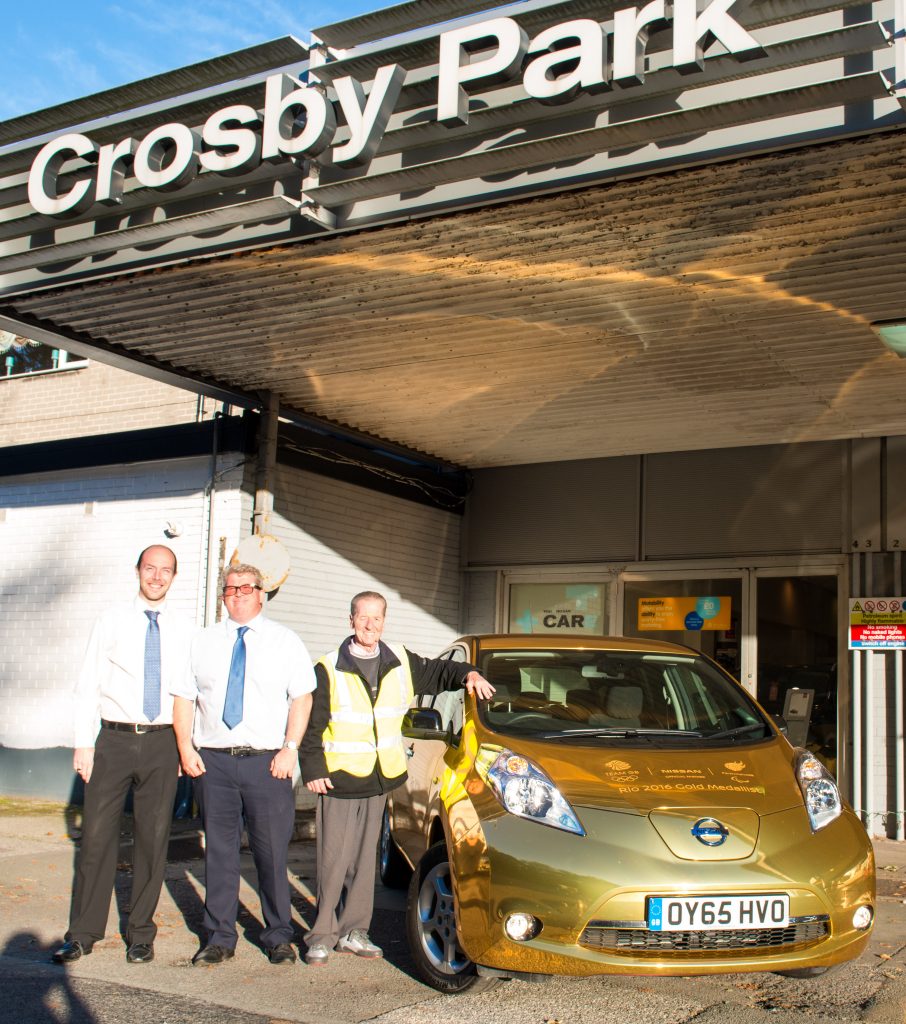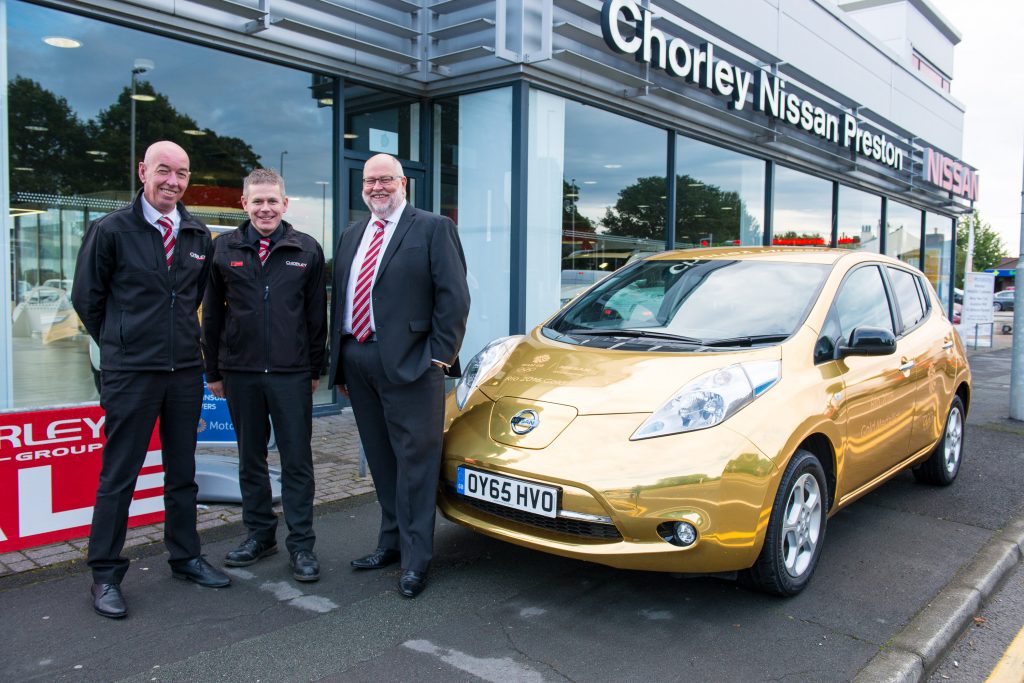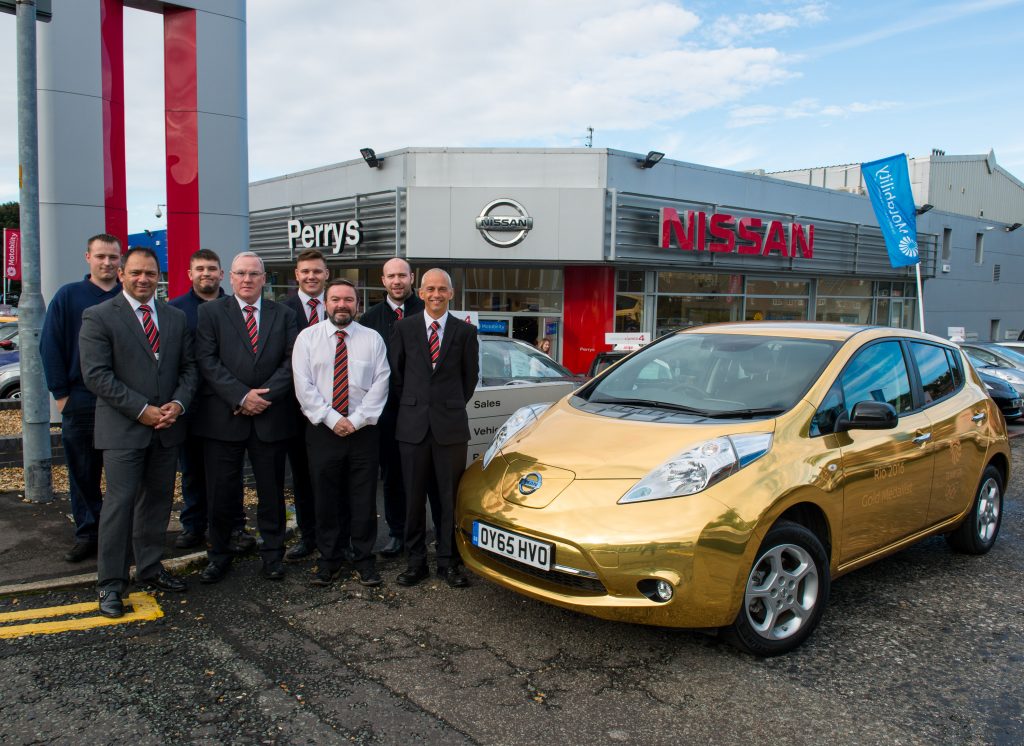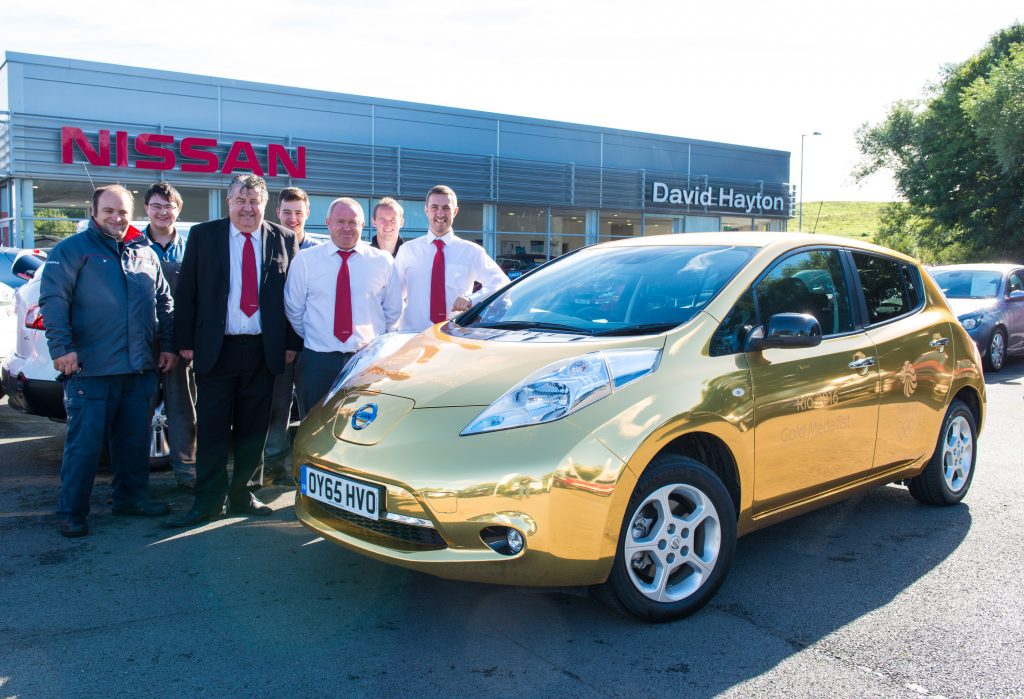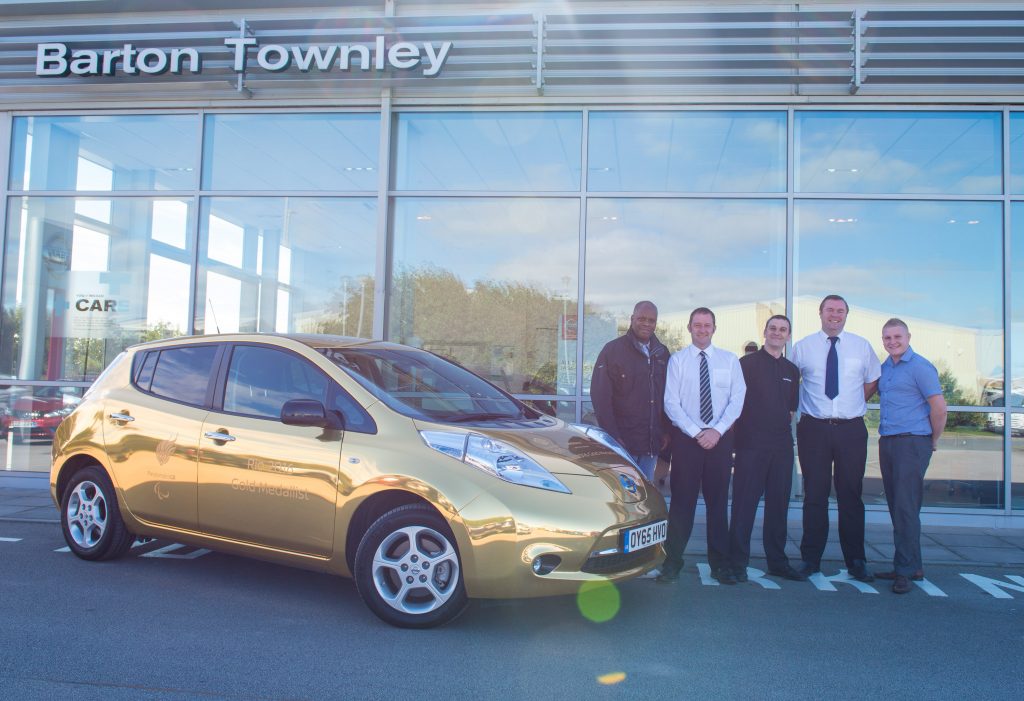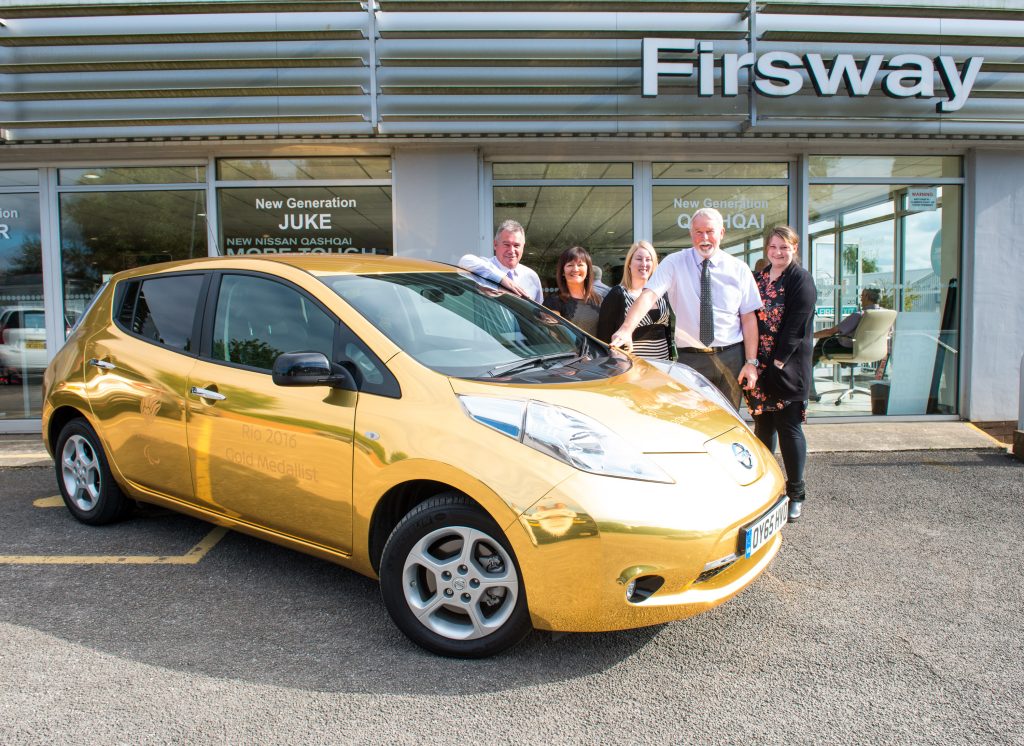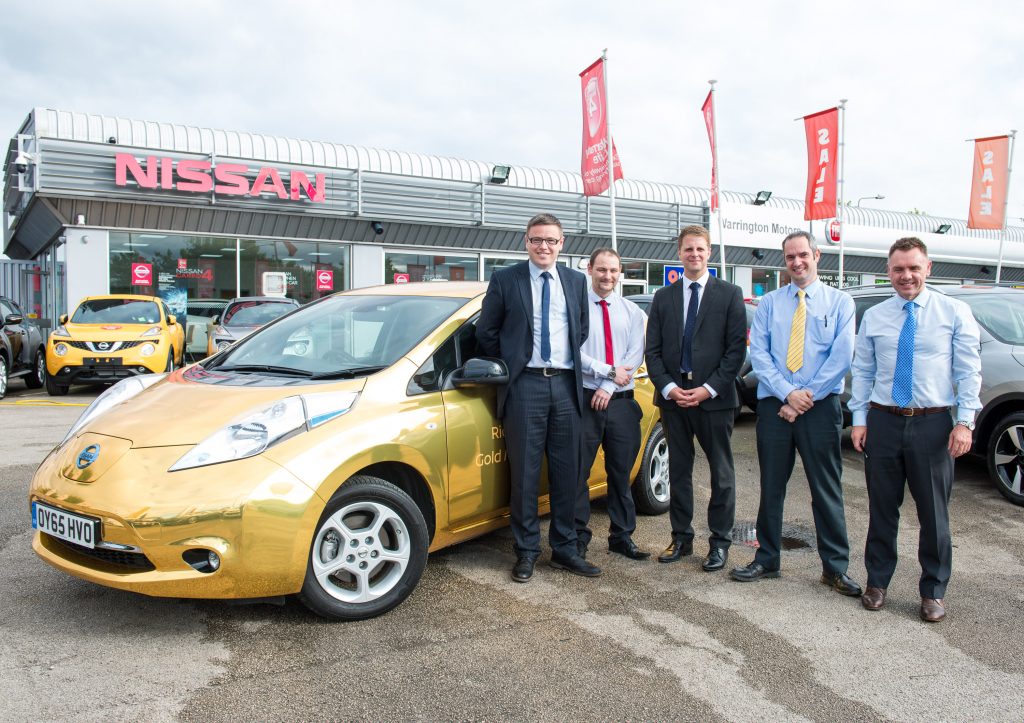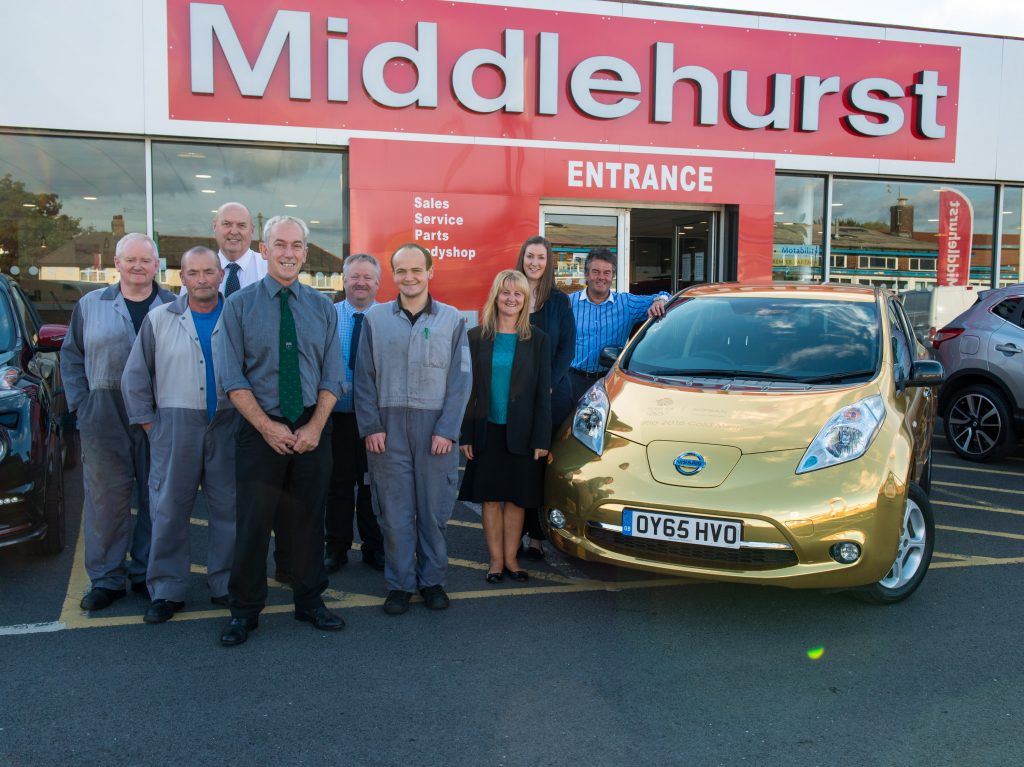 DAY 13: Ossie is on his way to Wembley
By Mal Hay
Today I met Ossie Ardilles.
He was boarding a train at Preston – presumably travelling back to Tottingham – and, on this occasion, it was my knees that went all trembly.
'How is this in any way Gold LEAF related?', I hear you say.
Well, this meeting with one of my all-time heroes only happened because of Gold LEAF.
I'd dropped the car off at Chorley Nissan before heading home for the weekend by rail and there he was. Boom!
Nothing's going to top that but I'd had a great day up until that point, visiting the fabulous new showroom at J Edgar and Son in Rowrah before knocking off early for the weekend.
It was a welcome short day after a long but enjoyable week.
Today I travelled 121 miles, charging once.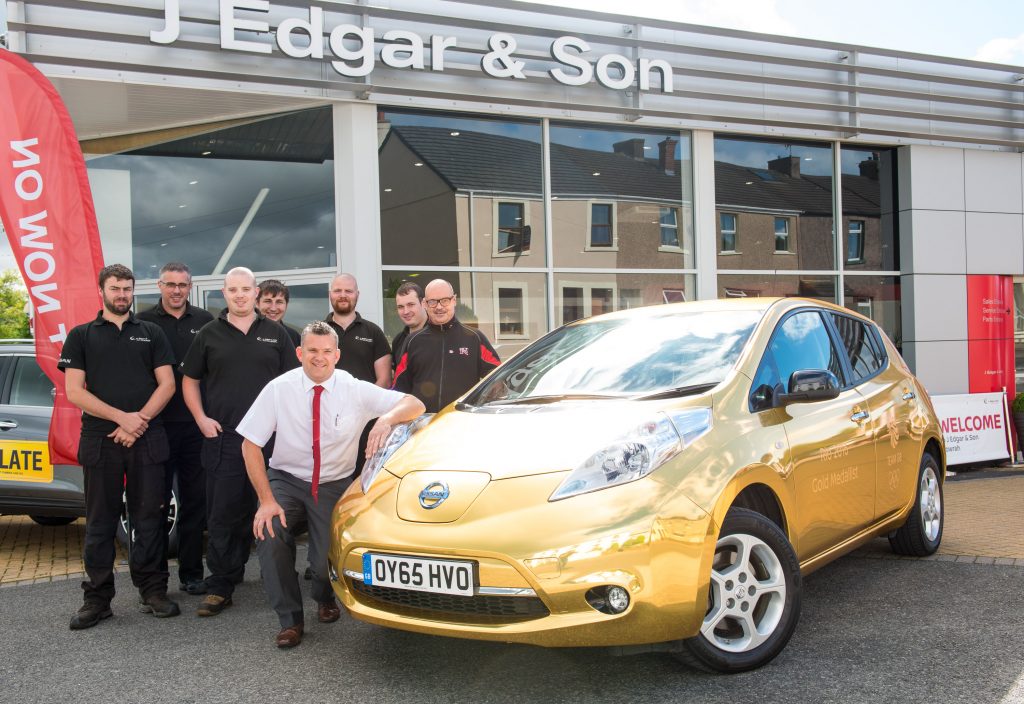 DAY 12: Gold LEAF tour takes a rude turn
By Mal Hay
When I sat down a few weeks back to plan the route for our Gold LEAF tour, I did so with military precision.
Each and every stop was carefully plotted and sequenced to allow me to cover the country as quickly as possible.
I had to take driving distances and charging points into account as well as overnight stops and the like.
If I say so myself, the route I came up with was a work of genius.
Only trouble is that I didn't take the time to input the whole route into Google Maps. Until today.
And when I did, the problem became instantly apparent. Drawn on a map, my route around the mainland looked pretty much like a you-know-what…a thingy!
So, this afternoon, on the ferry back from Northern Ireland, my priority was to go back to the drawing board and amend my route.
It gave me something to do on a journey which was, other than that, plain sailing if you'll pardon the pun.
That was the case for the whole of my Northern Ireland visit. All of the dealers were lovely, all the roads were clear and all the charge points I used were working perfectly and available.
Today I visited Edwin May in Coleraine, Wilsons of Rathkenny and Charles Hurst in Northern Ireland before crossing back to Scotland and making a fleeting stop at the new Crossflags showroom in Dumfries, which officially opens this weekend.
As I type, the Gold LEAF's charging for the onward journey to the Lake District, where I'll overnight before heading to J Edgar & Son in Rowrah bright and early.
By the time I reach my hotel, I'll have covered just under 300 miles, charging twice.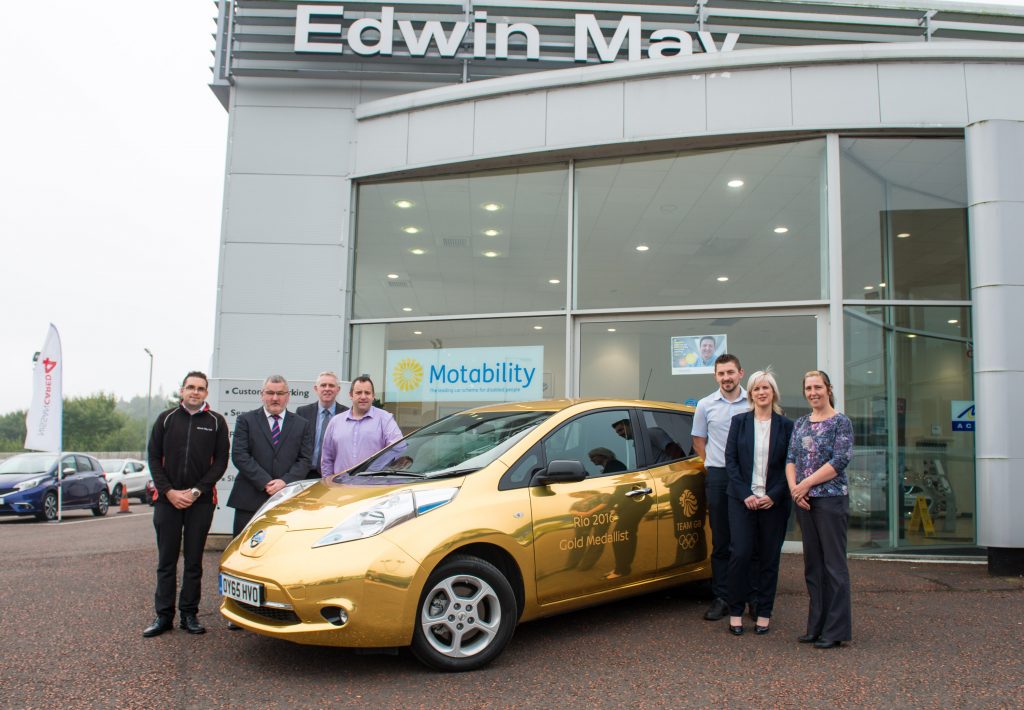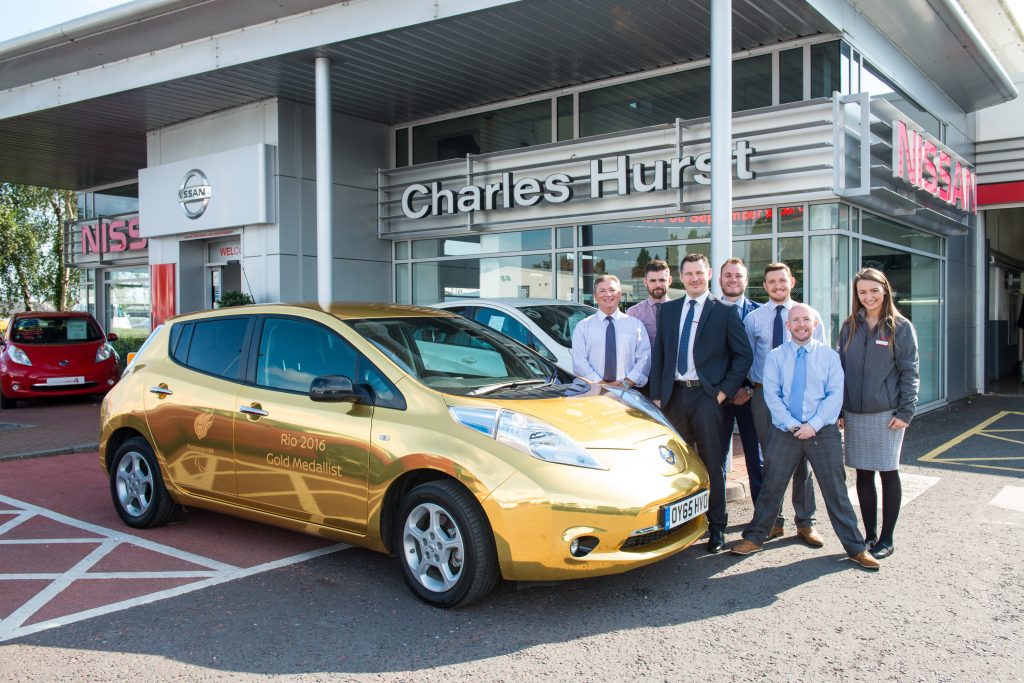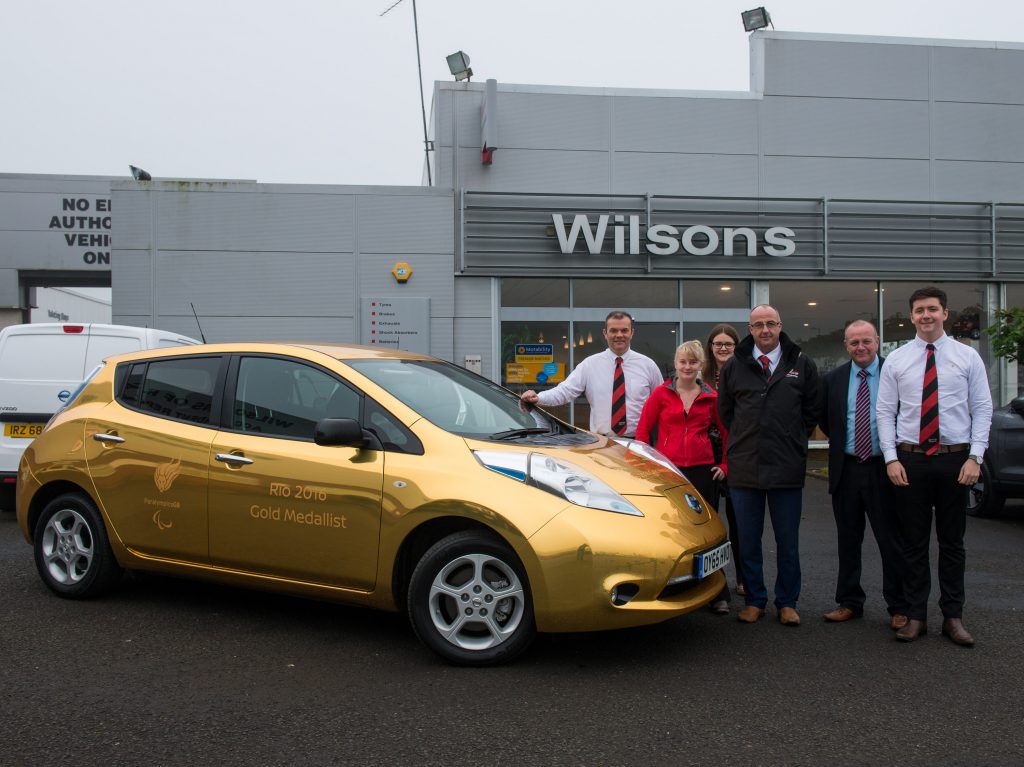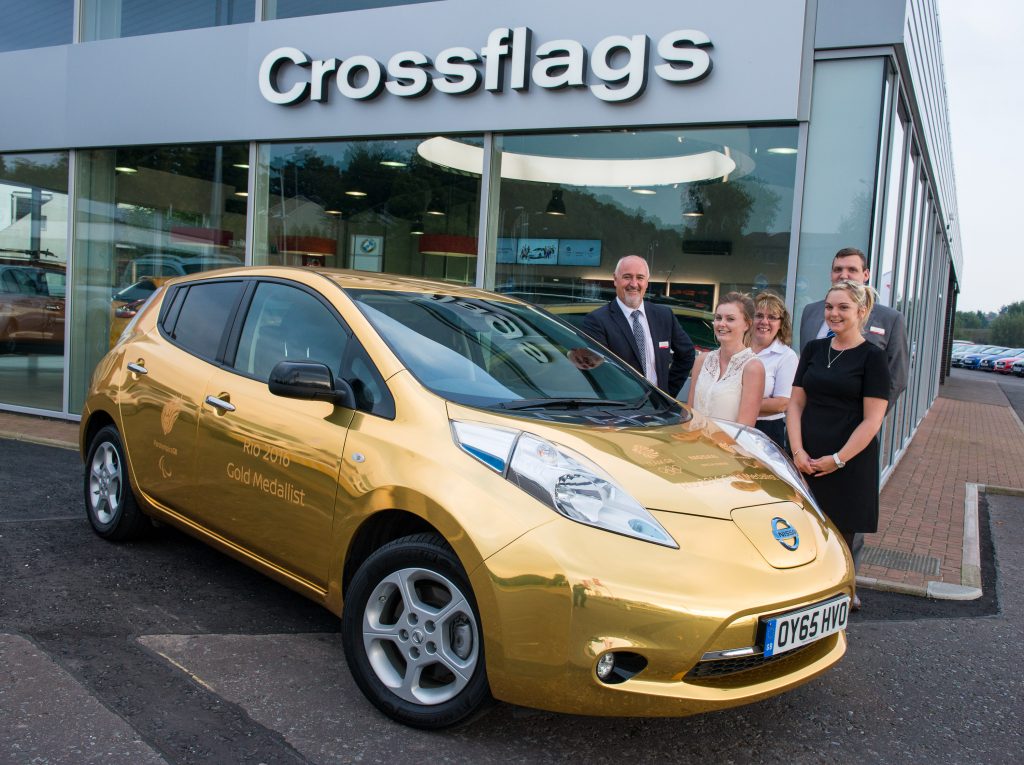 DAY 11: Gold LEAF upsets a sports car owner
By Mal Hay
Before cracking on with tonight's blog I need to start by saying sorry.
If you're the slightly portly fifty-something fella in the grips of a mid-life crisis who was driving his Porsche 911 cabriolet round Newry with the roof down this lunchtime, this apology's for you.
You were looking awesome with your aviators on and your mullet slicked back perfectly as you rolled up to the lights in the centre of town. And, you definitely got the attention of the group of very attractive young women standing nearby.
How was I to know they'd walk straight past you and your fancy car and start taking photographs of me in the Gold LEAF.
You looked most put out as you roared away from the lights in a cloud of tyre smoke but it really wasn't my fault.
Anyway, the girls that ignored you were lovely and were really interested in the LEAF (not just because this one was bright gold), so maybe you should get yourself to your local Nissan dealer and trade the sports car for an all-electric alternative. Just sayin'.
Today's been spent in Northern Ireland and it's been brilliant.
Every time I come here I wonder why I don't cross the water more often. And in a LEAF, getting around's a breeze.
There are a few things they do really well in Northern Ireland: soda-based breakfast items, pubs (they're fantastic), lovely Nissan dealers and fantastic EV charging infrastructure.
The latter two made today a joy as I visited Shelbourne Motors, Derek Loane, Kehoe Cars, Pat Kirk and Donnelly & Taggart. In all, I travelled 140 miles, charging just once.
Tomorrow, I'll wrap up the Northern Ireland leg of the tour and hop back on a ferry to Scotland where I'll pick up where I left off.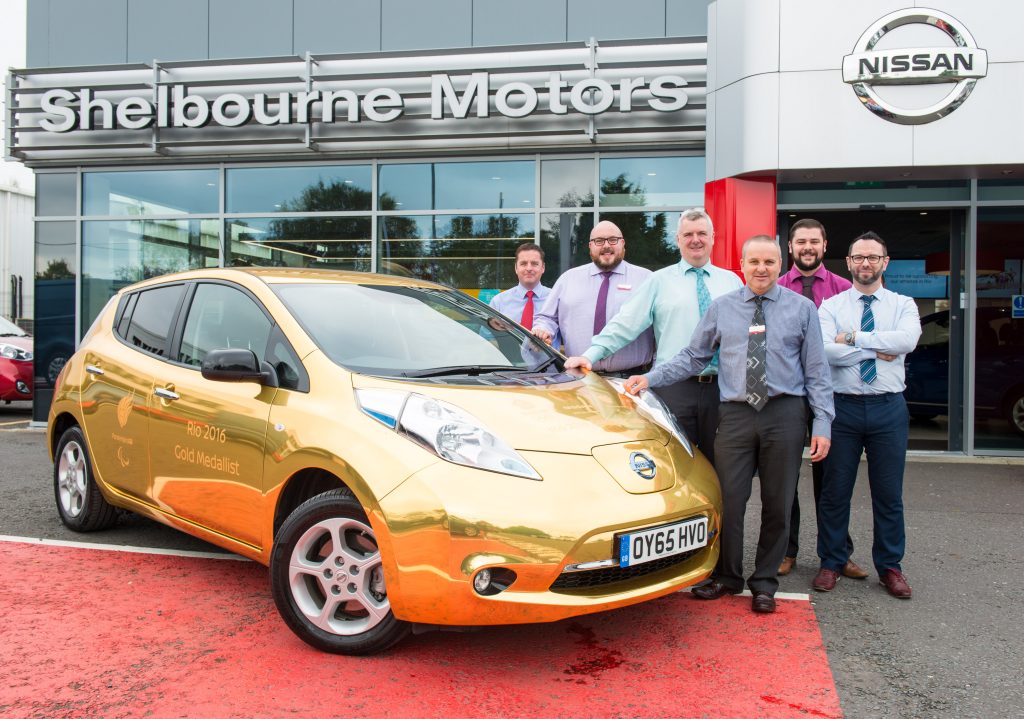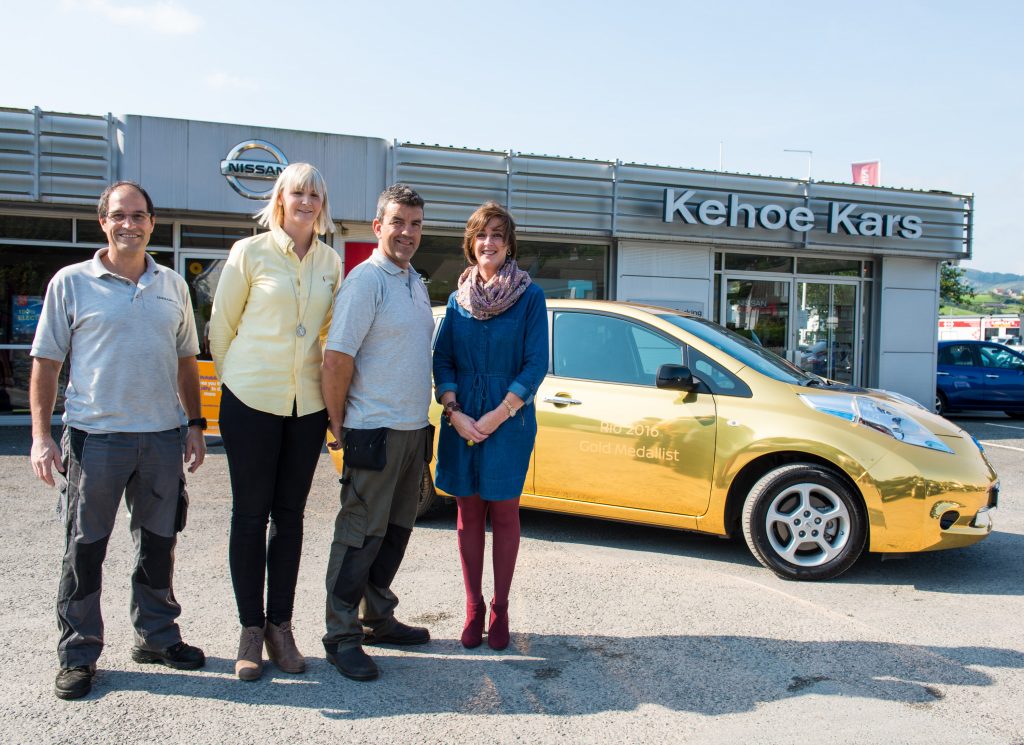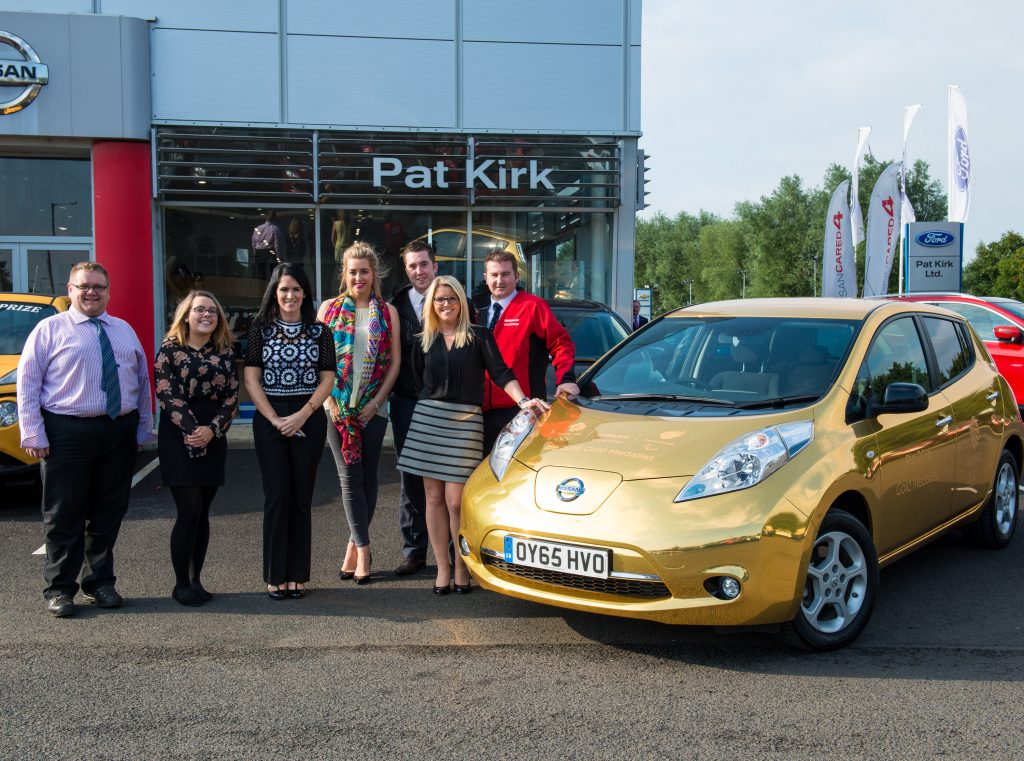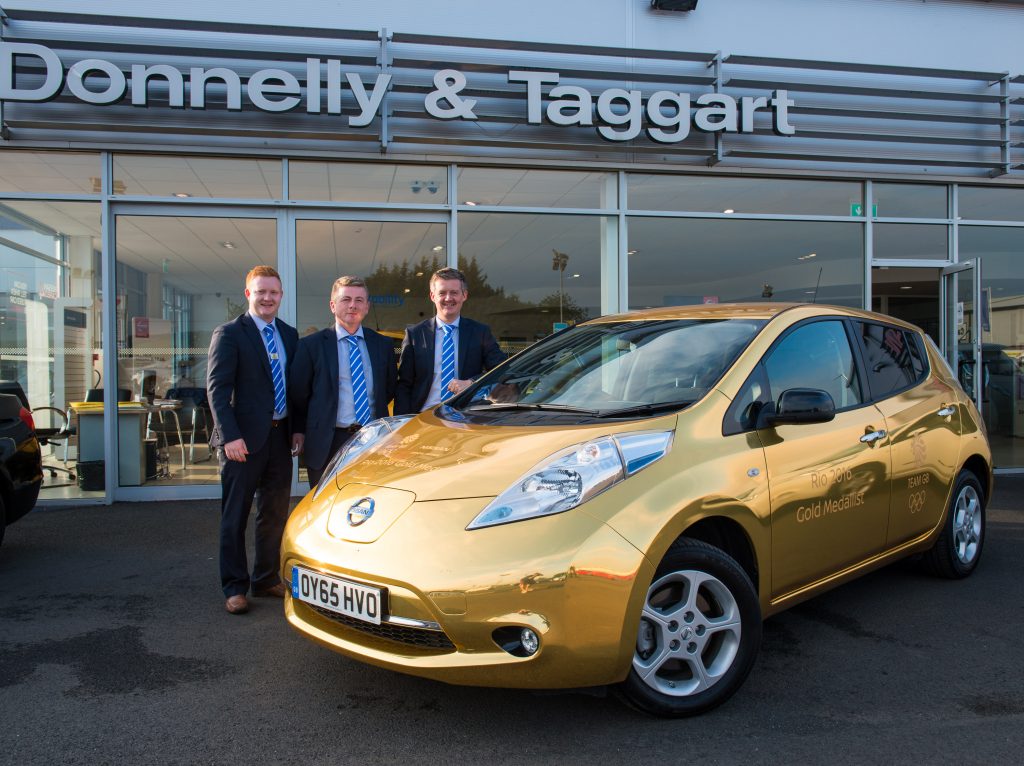 DAY 10: No heatwave for Gold LEAF
By Mal Hay
Having watched the news and weather, I emerged from my hotel this morning with a bounce in my step and a smile on my face.
It was going to be amazing driving the Gold LEAF in the brilliant sunshine of heatwave Britain and so I dressed for the occasion like an over-the-hill Beach Boy.
Sadly, I had forgotten I was in Scotland and so my enthusiasm was short-lived. While the rest of the rest of the nation soaked up some rays, I just got soaked. Literally, soaked.
Still, the rain did nothing to tarnish the performance of our LEAF and nor did the majestic mountains of the Cairngorms.
I easily made it from Inverness to my first charge point in Pitlochry (a distance of 88 miles) with plenty of power to spare despite the torrential rains and hefty climbs like that to The Slochd Summit some 405 metres above sea level.
It was in Pitlochry where I found myself at the centre of a hoarde of French tourists who, having disembarked a coach, made a beeline for the Gold LEAF as though it was the last baguette in the boulangerie.
They were thrilled to see the car and swarmed around it taking photos of each other with it. All the while they wore that brilliantly French disdainful look as they chatted and tried to figure out which gold medal the out of shape idiot standing by the car could possibly have won.
Anyway, after my charge, I headed to Mackie in Glasgow and Parks in Ayr before reaching the southern tip of Scotland and boarding a ferry for Northern Ireland.
It's been another long day but great fun all the way.
In all I travelled 357 miles, charging three times.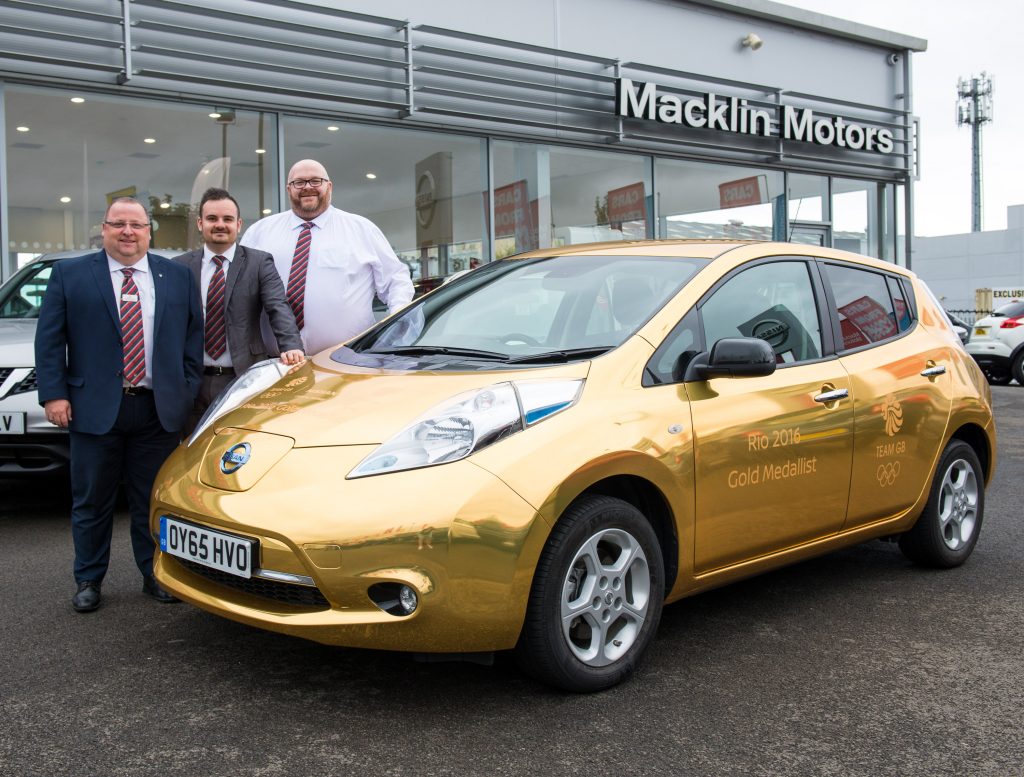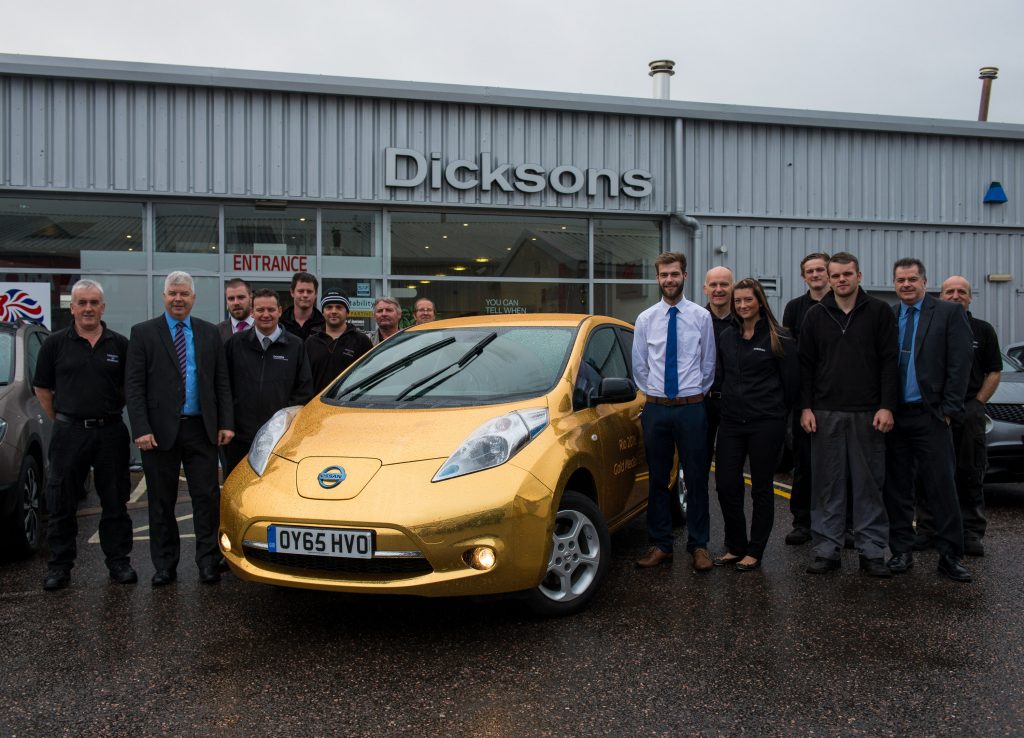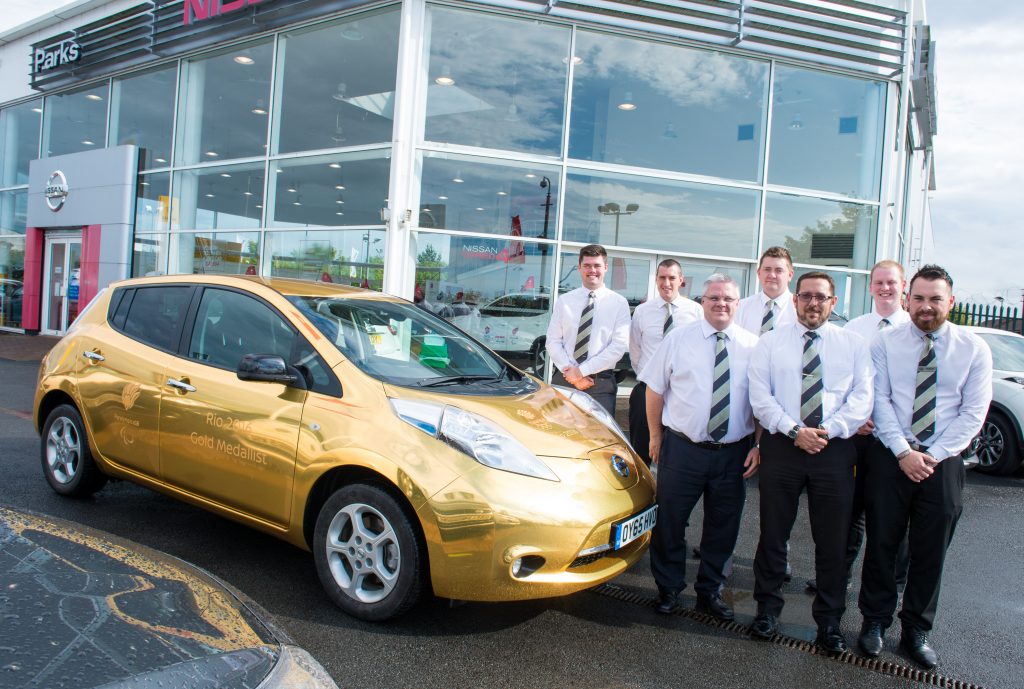 DAY 9: Refreshed and raring to go
By Mal Hay
Having enjoyed a lovely weekend at home, I returned to the Gold LEAF tour today with recharged batteries, renewed pride and lots of excitement.
Fully expecting to be the centre of attention again I set of full of anticipation and soon cruised to a stop at the first set of lights I encountered.
There, waiting for another moment in the spotlight, I sucked in my belly, puffed out my chest and did my best to look devilishly handsome for the passers by who would surely be thrilled to see me.
But something was clearly wrong. Minutes passed and still no-one had given me so much as a sideways glance.
It was at this point I remembered I was driving my wife's bright red LEAF to the train station and the Gold LEAF was parked up 400 miles away at Western Nissan in Edinburgh.
On the plus side, that meant I could breathe out.
So, fast-forward a few hours and a particularly turbulent flight later, and Gold LEAF and I were reunited once again.
Having had the car on display in the brand spanking new Western Nissan showroom over the weekend, John Latrobe, Andrew Oag and the team had her waiting outside with a full charge and a fresh shine.
And as I pulled up in my taxi I was pleased to notice a number of customers standing around it, phones in hand, taking pictures. Apparently, the car had been causing a stir all weekend and one LEAF enthusiast (@scottishleafown), who has been following our tour online, even called in especially just to see it in the metal.
Departing Western Nissan, I headed for Specialist Cars in Perth, where the car was given another warm welcome before moving on to see the lovely folk at Mackie Motors, partner dealership of Team Eilish McColgan.
I arrived there with a tail. A family on the school run spotted me on the outskirts of Arbroath and followed me all the way to the dealership so they could take photos of the car to show their friends.
Today's journey will end in Inverness – another 130 miles or so from the charge point in Laurencekirk where I'm juicing up.
Tomorrow I'll visit Dicksons in Inverness bright and early before taking in Macklin Motors and Parks in Ayr before catching the ferry to Northern Ireland.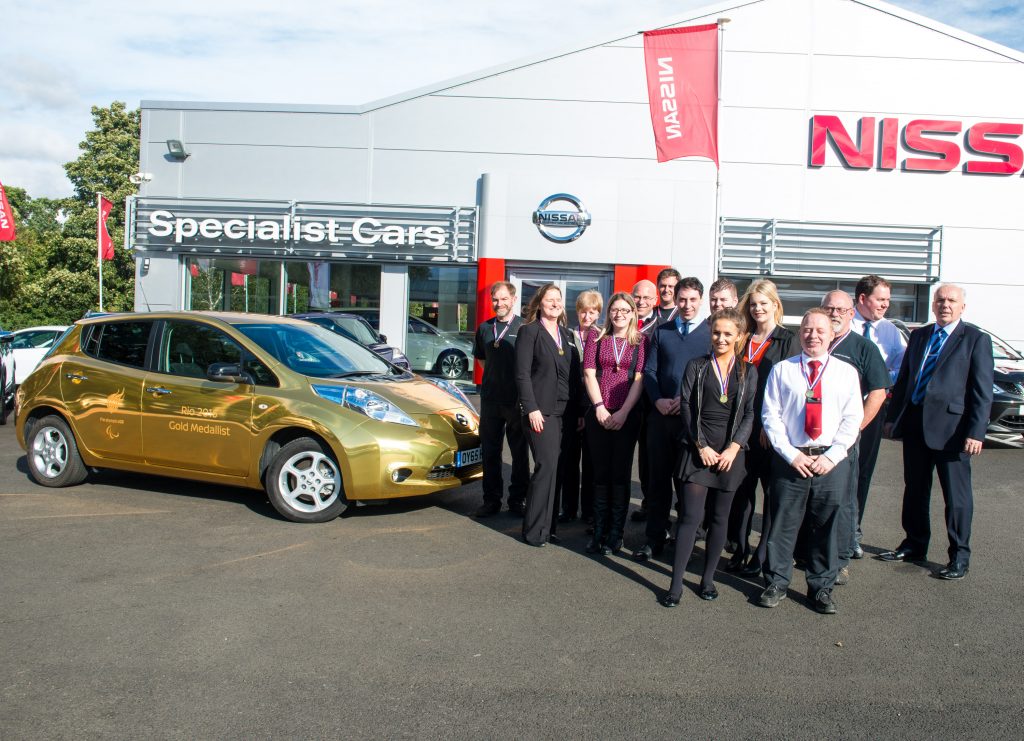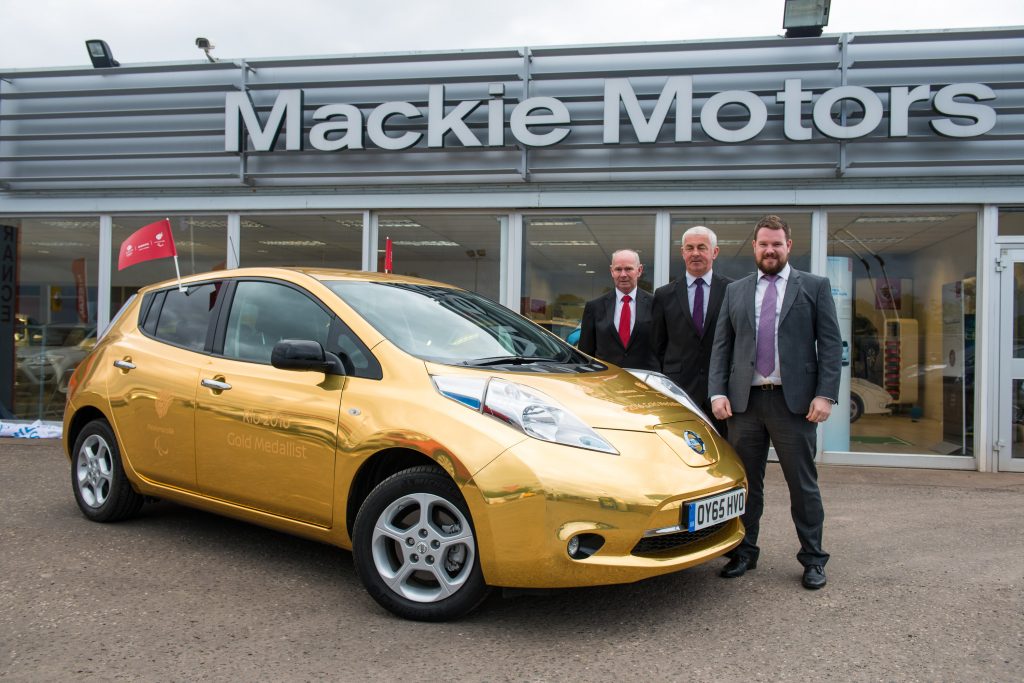 DAY 8: Gold LEAF takes the high road into Scotland
By Mal Hay
Today I learned a few very important lessons as our Gold LEAF tour rolled into Scotland…God's own country and birthplace to the daddy of all British Olympians, Sir Chris Hoy (and, er, me).
First, I learned that the new 30kWh Nissan LEAF's just as comfortable on the hilly roads of the Borders as it is on the long, flat straights of the Cambridgeshire Fens.
Secondly, that the public north of the border have just as much pride and admiration for the nation's elite athletes.
Thirdly, it's a good idea to double check you have properly closed your hotel room door before stripping down to your smalls and belting out your favourite tune.
And finally – perhaps most importantly – I learned that the customer drinks fridges at Scottish Nissan dealerships are usually stocked with Irn Bru. Kerching!
Today began with a slight glitch when I arrived at the rapid charger I was planning to use only to find it out of service.
A few years back, this could have been a major problem but, in a real show of just how far charging infrastructure has come, there was another available and fully operation 50kwH DC rapid charger less than a mile away.
So, with a full charge in the battery, and a quick visit to the lovely folks at Blackshaws Nissan in Alnwick under my belt, I head north.
Bursting with national pride, I rolled the Gold LEAF to a standstill next to the 'Welcome to Scotland' sign for a quick photograph when, true to form, the heavens opened.
Most of the rest of the day was spent getting showroom staff wet as I led them out onto forecourts to have their picture with the car. But, I can honestly say that rain did not dampen anyone's enthusiasm for the Gold LEAF.
Today's journey took me from Newcastle to Alnwick, on to DS Dalgleish in Galashiels, Alex F Noble in Midlothian and finally Western Nissan's super sparkly new showroom in Edinburgh, where the car will be spending the weekend.
In all, I covered 147 miles, powering up twice but leaving the car with almost 90% of its charge at my final destination of the day.
I'll be picking the tour back up on Monday afternoon, collecting the car from Western Nissan before passing through the Kingdom of Fife and visiting Specialist Cars in Perth and Mackie Motors in Arbroath before heading to Inverness. I can't wait.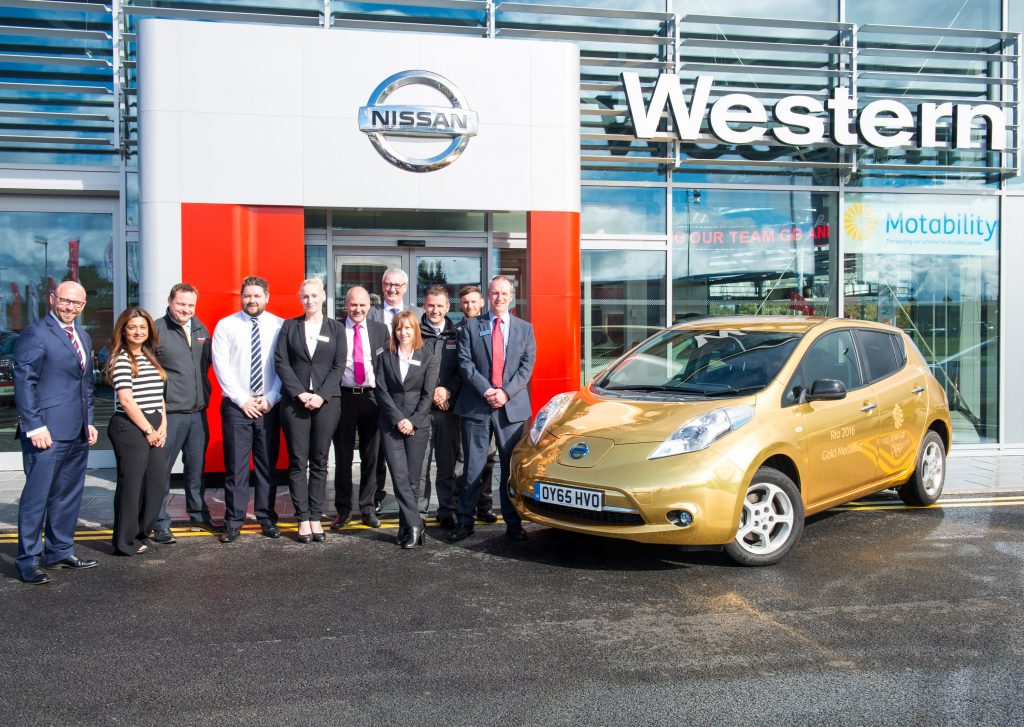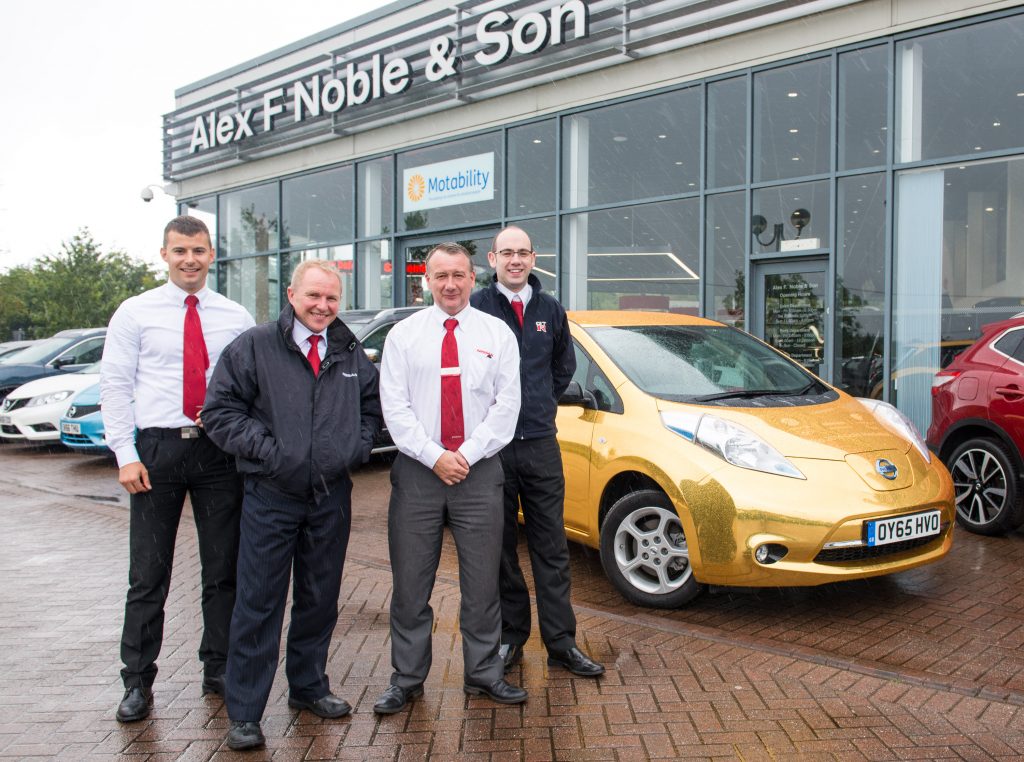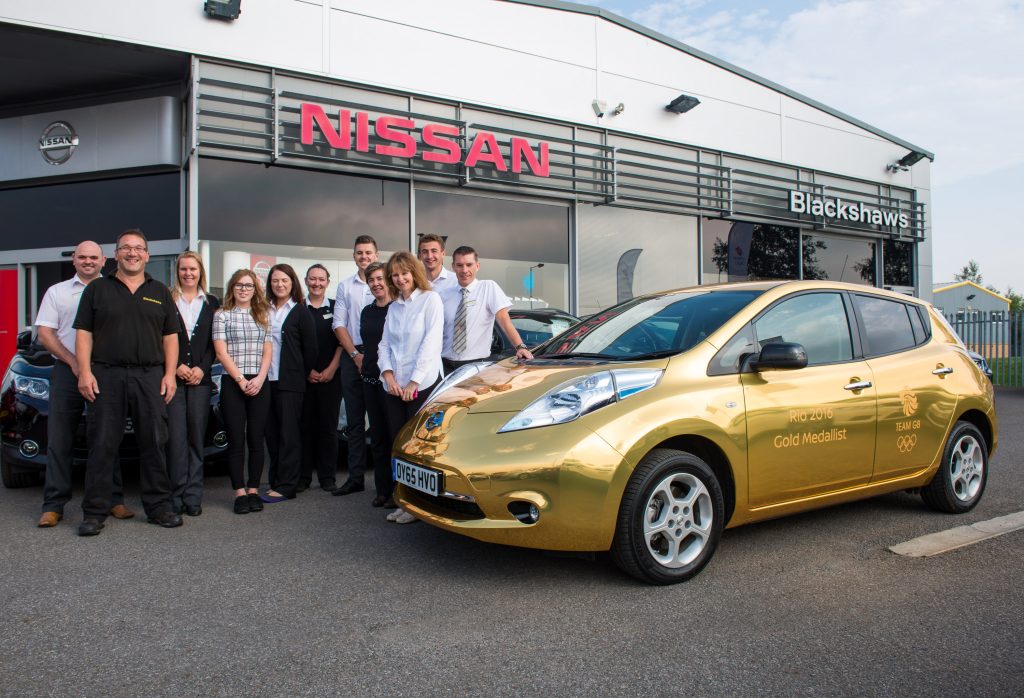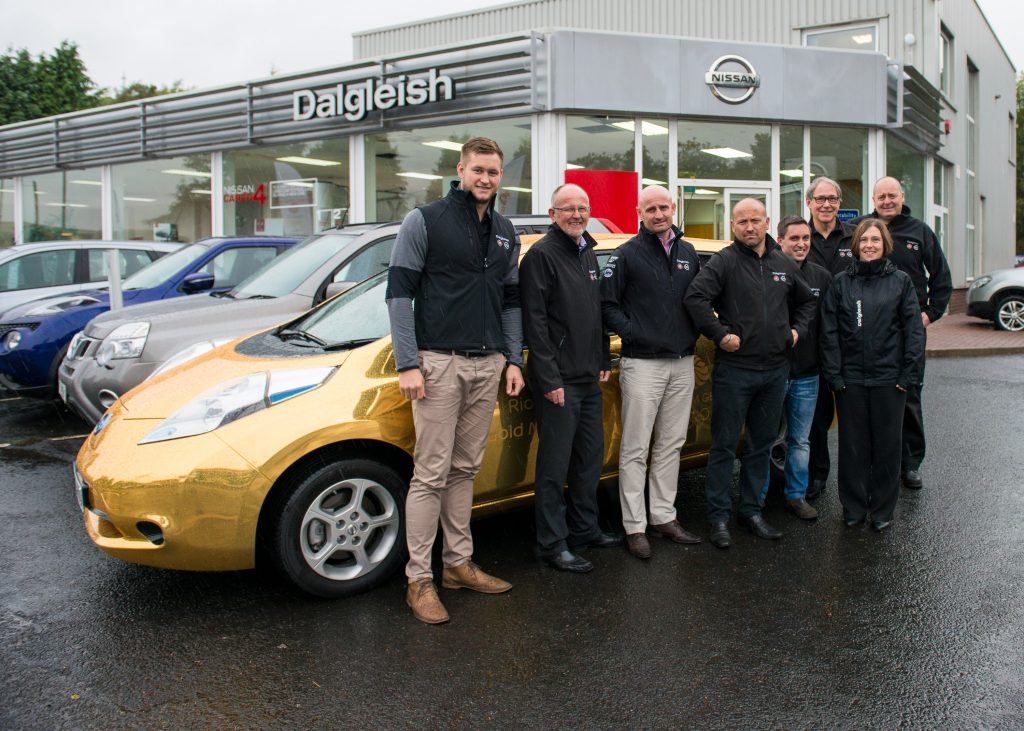 DAY 7: LEAF love continues (for all but one!)
By Mal Hay
Today, for the first time on our Gold LEAF tour, I came across someone who was totally underwhelmed by the staggeringly shiny car before them and by the prospect that they may be in the presence of a gold medal winning Olympian.
Not surprisingly this happened in Yorkshire – a county where people are notoriously difficult to impress – and in the drive thru lane of a chain of restaurants made famous by a clown.
And, when I say the person was underwhelmed, I mean spectacularly underwhelmed.
Picture the scene. There I was at the window waiting on my coffee and being ignored by the server in the time-honoured fashion when I overhead the following question from a staff member to a colleague: "Oi, what's the deal with that goldy car out there?"
At this point, said colleague poked his head out of the window, silently surveyed both me and the car (modestly emblazoned with the words Rio 2016 Gold Medallist) and replied, totally deadpan, "It's t'lympics or summat", before handing me my drink without so much as a please or thank you and shutting the hatch.
Elsewhere though the reception has been just as brilliantly enthusiastic and cockle-warming as it's been elsewhere.
It's been particularly pleasing to see awareness of our little trip growing as we continue, with more and more dealership staff emerging from showrooms as soon as we hit the forecourt.
Customers are getting into the spirit too and at several of our stops today we were surrounded by customers asking questions and taking photographs.
The level of interest in the Gold LEAF continues to amaze.
Today's journey began in Leeds and took me to Mill Garage in Knaresborough following an early morning charge on the Electric Highway. Then it was on to Alexanders in York, SG Petch in Durham, Evans Halshaw in Sunderland and Lookers in Gateshead where the car drew the biggest crowd so far.
After that, I stopped off quickly at Lookers' sister site in Newcastle for a rapid charge before heading to Hexham to see Sean and the team.
In all, I covered 184 miles, charging twice.
Tomorrow, we'll be at Blackshaws in Alnwick first thing, before saying goodbye to England for a few days and heading north of the border into God's own country.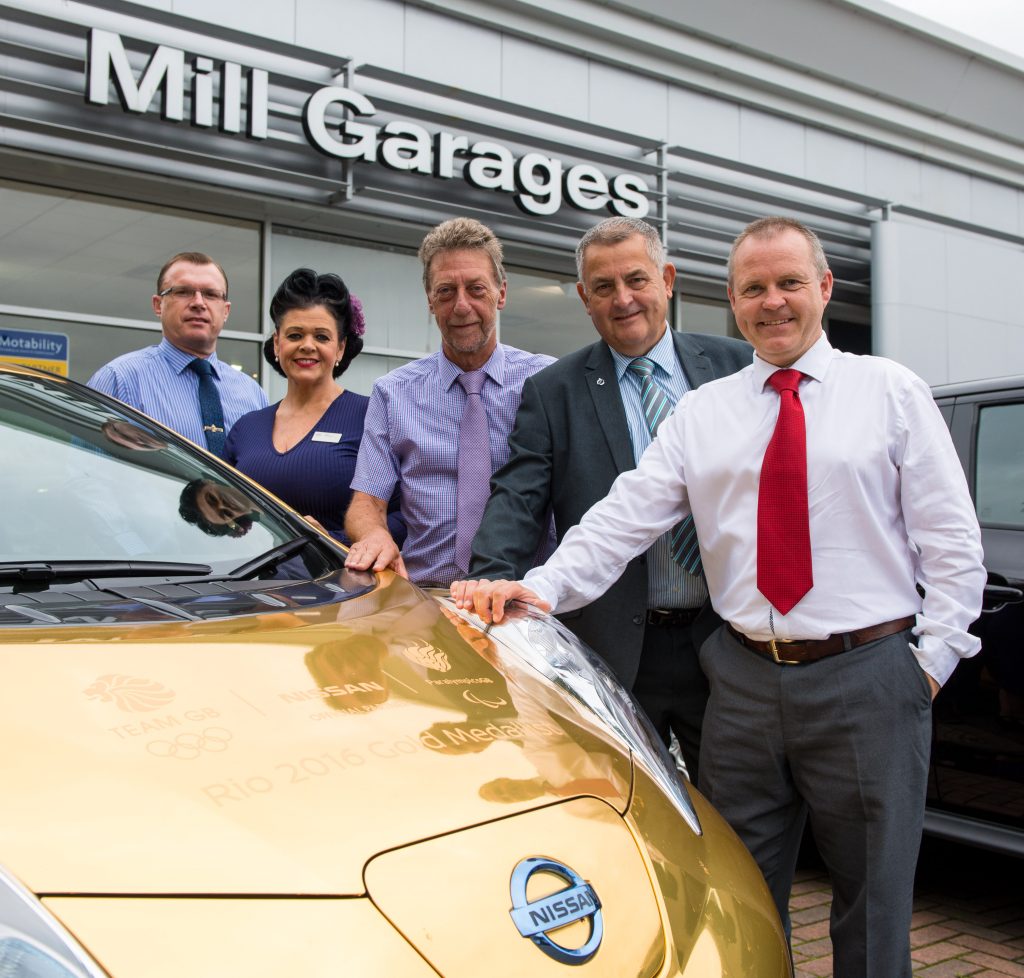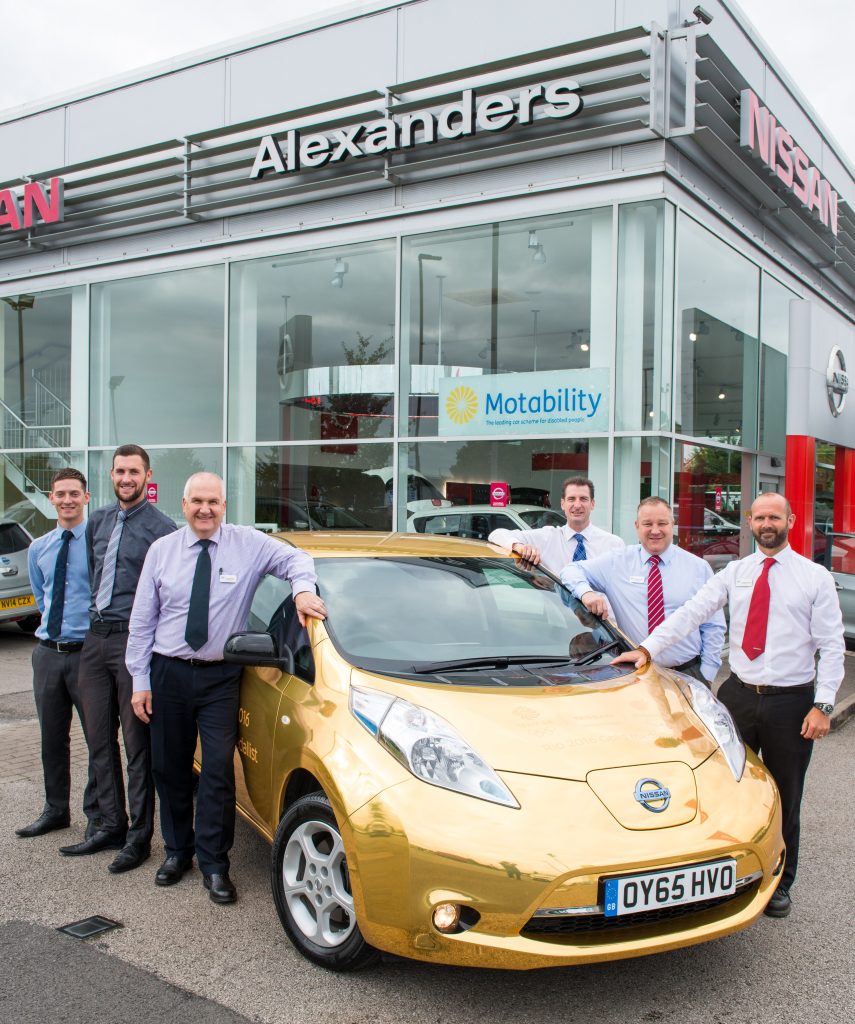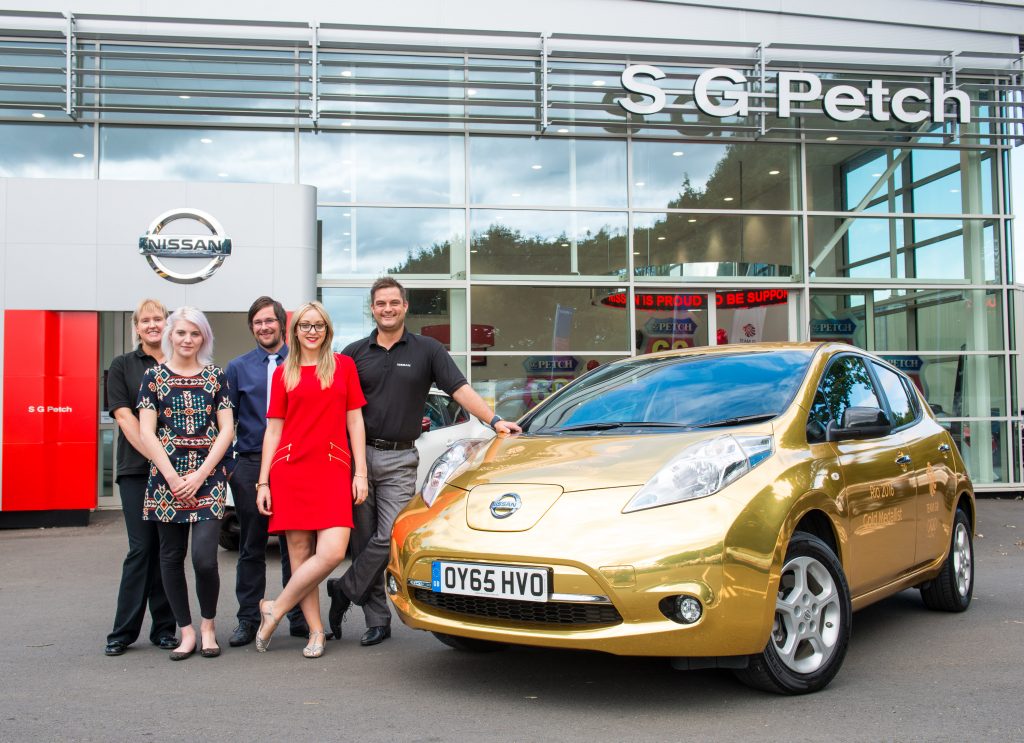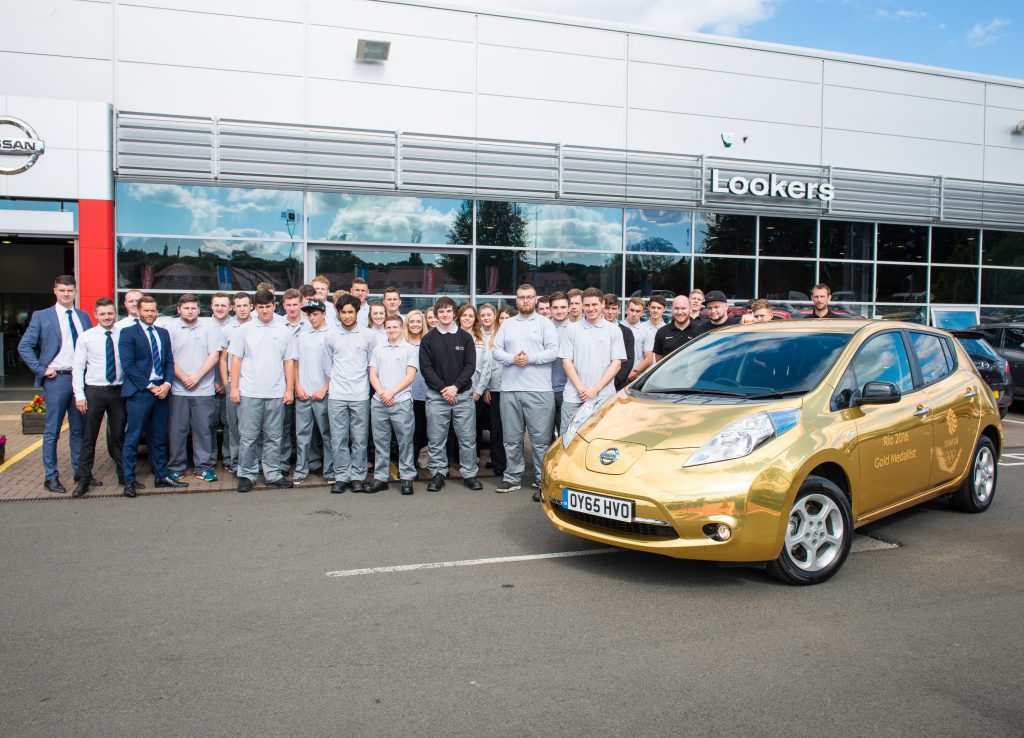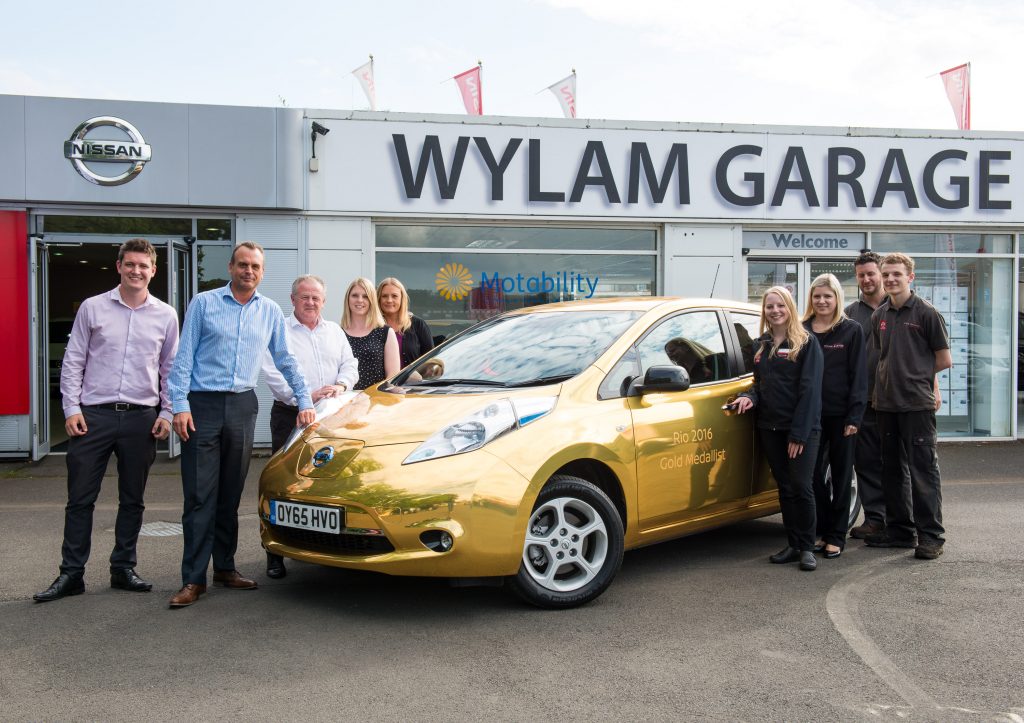 DAY 6: Lots of love for the Gold LEAF up north
By Jason Pritchard
As the Gold LEAF tour continues its way up north, the striking vehicle is still capturing the hearts of every driver that passes by.
After a quick top up in Lincoln and taking in the rural scenery, it wasn't long before people began to stare.
I was driving on the M180 towards a service station north of Doncaster when the first of many cars and lorries beeped at me in appreciation.
And it continued as soon as I got out of the car when an elderly couple approached to offer their congratulations on winning a medal in Rio.
I'm sporty in every sense of the word but when I politely replied that I wasn't an athlete and just taking the Gold LEAF on a tour of the country, they were still delighted to see it and took pictures to show family and friends.
It was after my final leg of the journey in the picturesque town of Keighley that I had my own personal best for the day.
Driving back through the town, a car was going rather slowly in the fast lane on a dual carriageway and I could tell they wanted to capture their brief moment of a 'star in a gold car'.
As I pulled away to go past them, I was amazed to see a family with three teenage girls who began waving at me and broke into a chorus of cheering.
It was an incredible feeling and what's more, they overtook me and had stopped in a layby until I caught them up so they could continue driving alongside me to take more pictures and videos.
So altogether I've been photographed, video recorded and had shouts of appreciation for Rio 2016 come my way. It's been brilliant.
I managed to cover an incredible 182 miles on today's leg of the journey, which included just two top ups.
I visited Marshall Nissan in Lincoln, Thurlby Motors in Louth, Trenton Grimsby, Harratts Pontefract, Pentagon Huddersfield and Colin Appleyard Keighley.
And the reception I received from staff at these dealers was absolutely tremendous.
Everyone was so enthusiastic now that Rio 2016 is nearly upon us again and staff spent a good five minutes taking pictures of the car outside their dealership when I turned up.
It was a great reaction and I could tell everyone was really pleased to see it.
My colleague Mal is back behind the wheel as he heads further north to Mill Garages, Knaresborough, Alexanders in York, SG Petch, Durham, Evans Halshaw Sunderland and Wylam Garages in Hexham.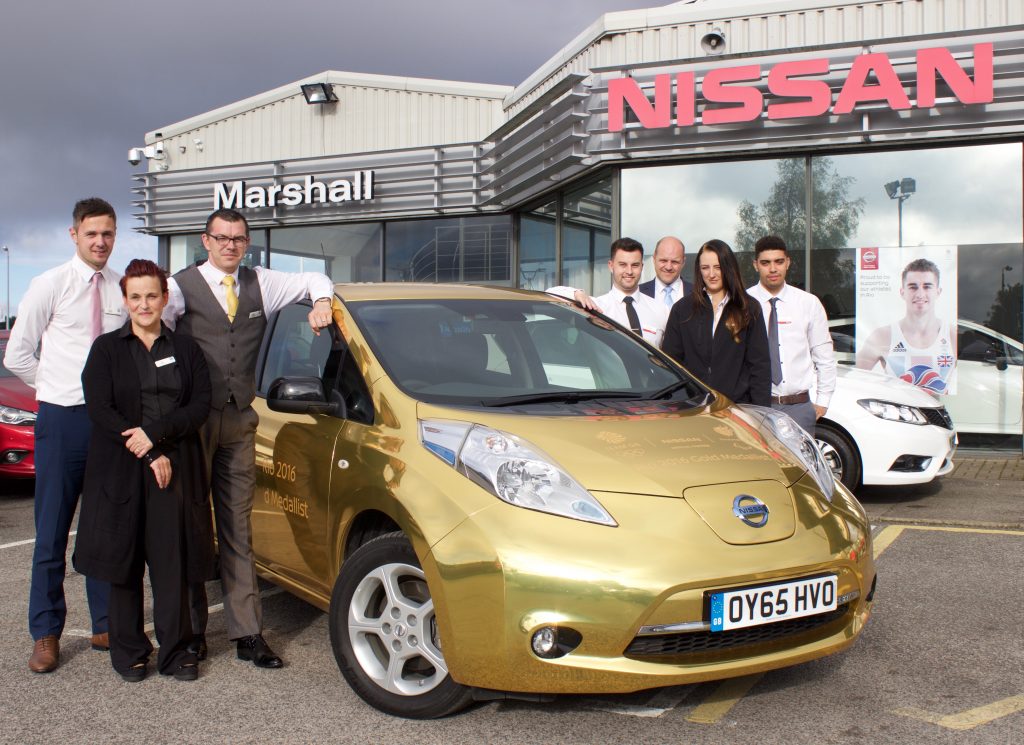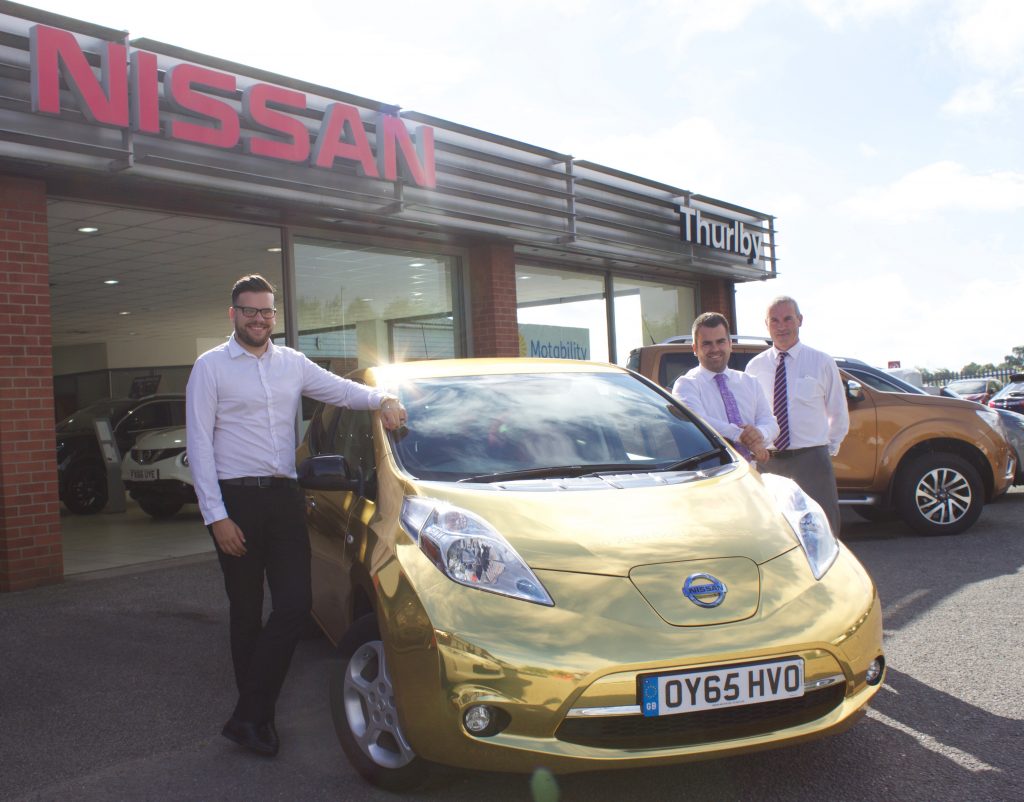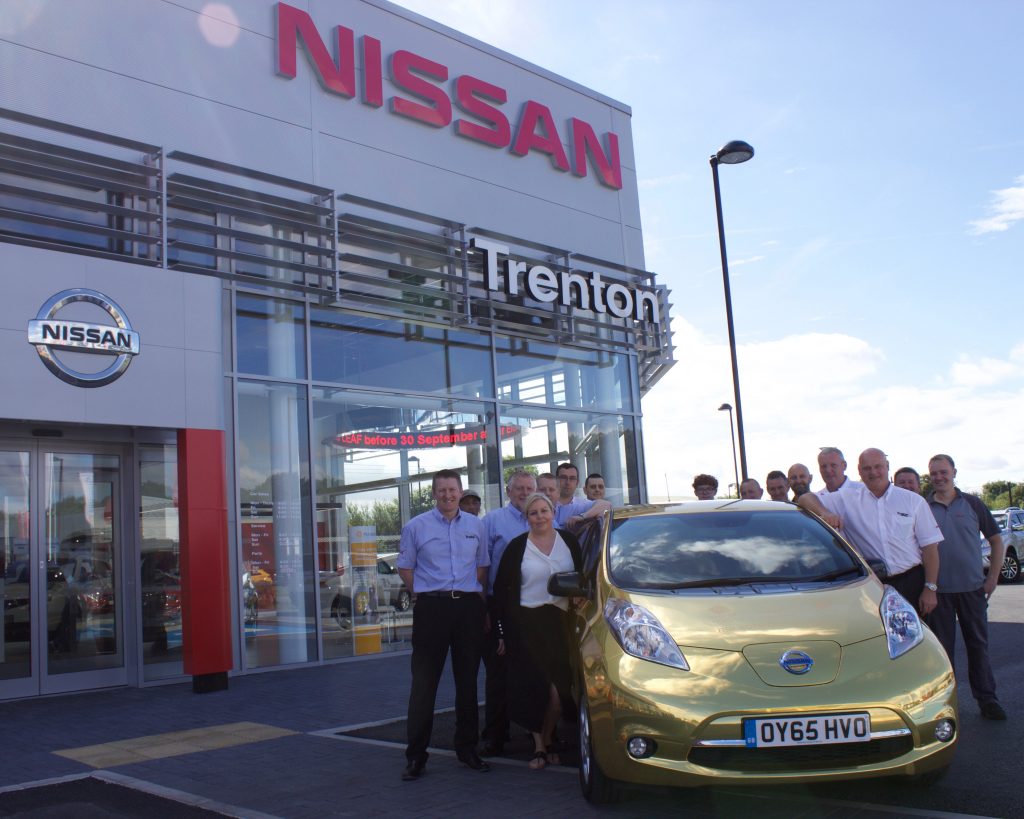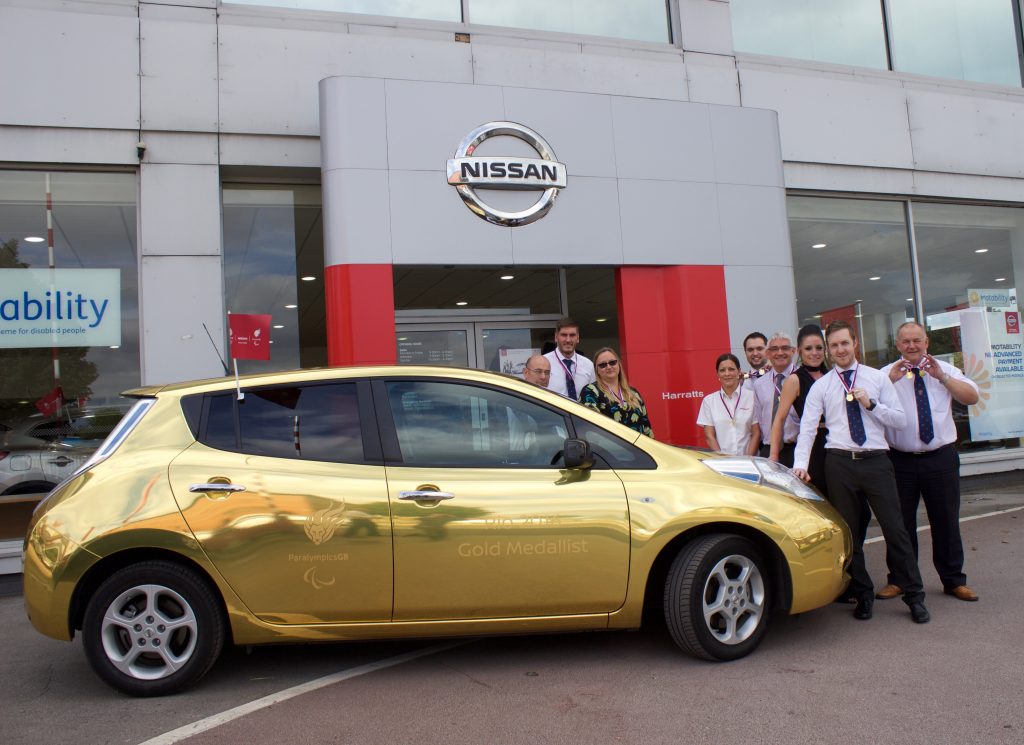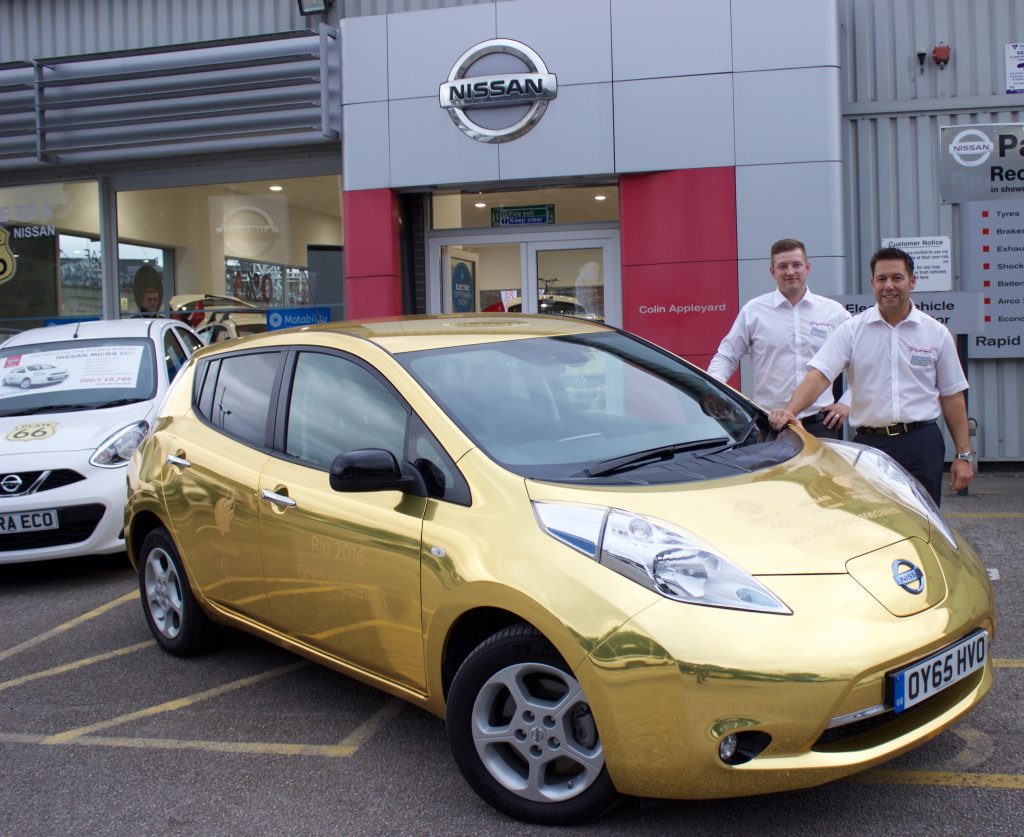 DAY 5: Northern exposure for Gold LEAF
By Mal Hay
As our Gold LEAF tour continues, the people I'm meeting along the way are becoming more and more forthright in their observations about my decidedly non-athletic physique.
I had been buoyed by a couple of people last week who had said perhaps I could pass myself off as a weightlifter or wrestler.
But, as the tour's taken me north into more sharp-tongued territory, the wit's become a little more direct.
So far today I've had, 'well, there's no way this car belongs to you,' and 'who'd you nick the car off mate?'.
My favourite though, outside a service station in Tamworth, was 'which gold medallist did you eat pal?'
Having spent five days behind the wheel of the Gold LEAF I'm getting used to all the attention though. It goes with the territory.
Remarkably, despite the occasional bit of banter, the number of conversations the car sparks is incredible. At every stop I make, I can guarantee at least five or six people are going to approach me and, once the initial questions are out of the way, the talk invariably turns to their experience's of watching Team GB's triumphs in Rio or the hopes they have for our Paralympic athletes. It's fabulous to be a part of.
Today, the tour took me from Ban bury to Arbury in Leamington Spa, then West Way Nissan in Coventry, Colliers in Birmingham, Nissan Birmingham Central, Polesworth Garage near Tamworth, Sandicliffe in Nottingham and Stoneacre in Worksop.
Today I covered a total of 146 miles. I charged just once for the journey and then added a second top up charge at the end of the day so we're ready for tomorrow's leg.
Tomorrow my colleague, Jason, will be picking up the baton and will visit Marshalls in Lincoln, Thurlby in Louth, Trenton in Grimsby, Harratts in Pontefract, Pentagon in Huddersfield and, hopefully, Colin Appleyard in Keighley.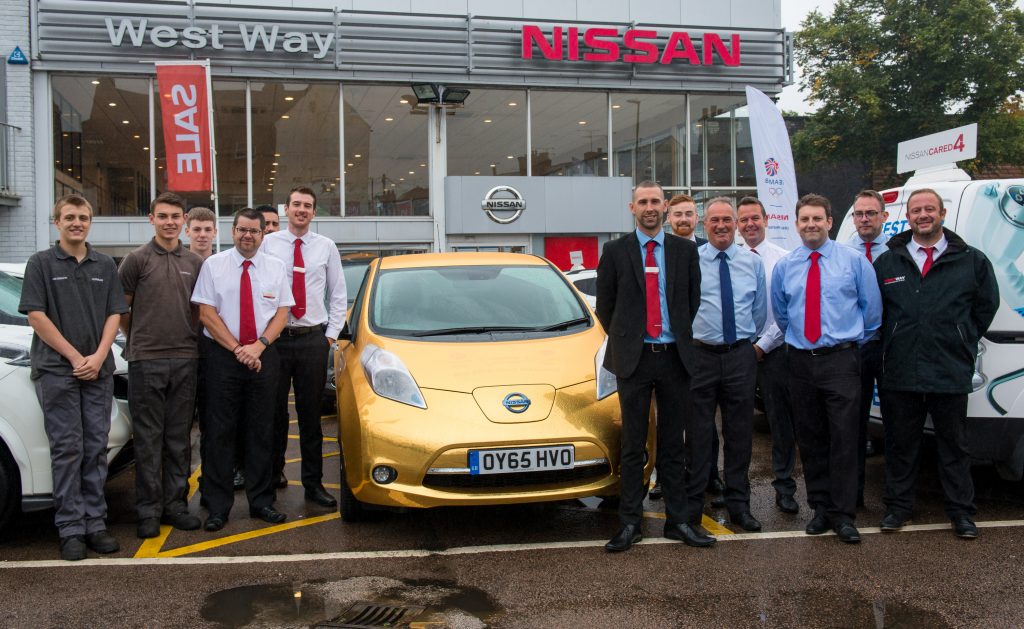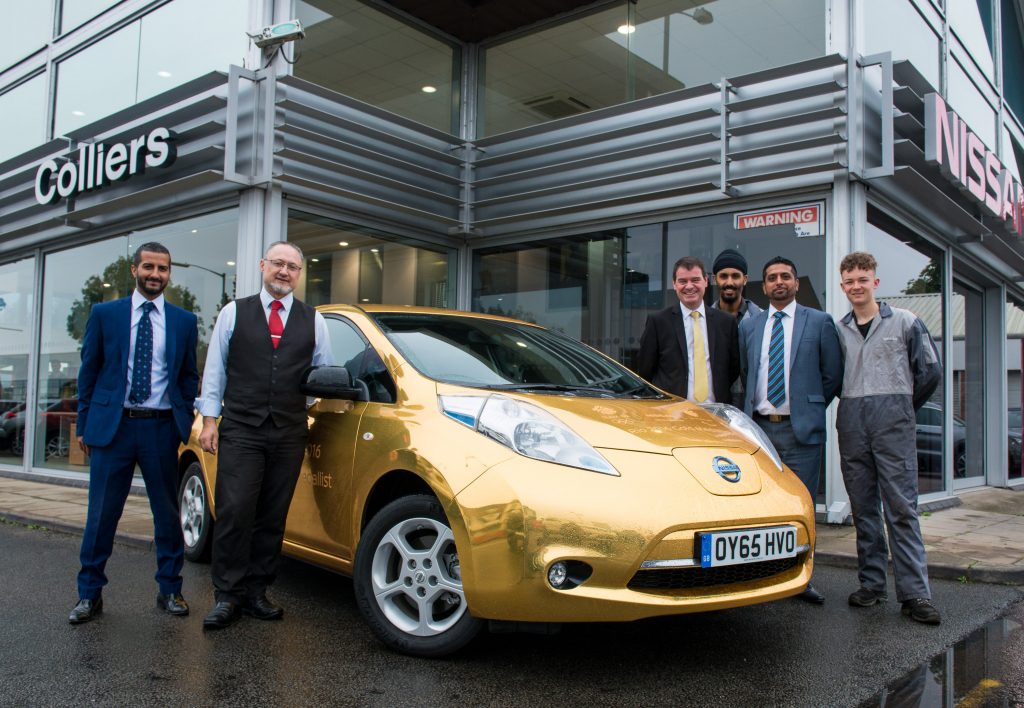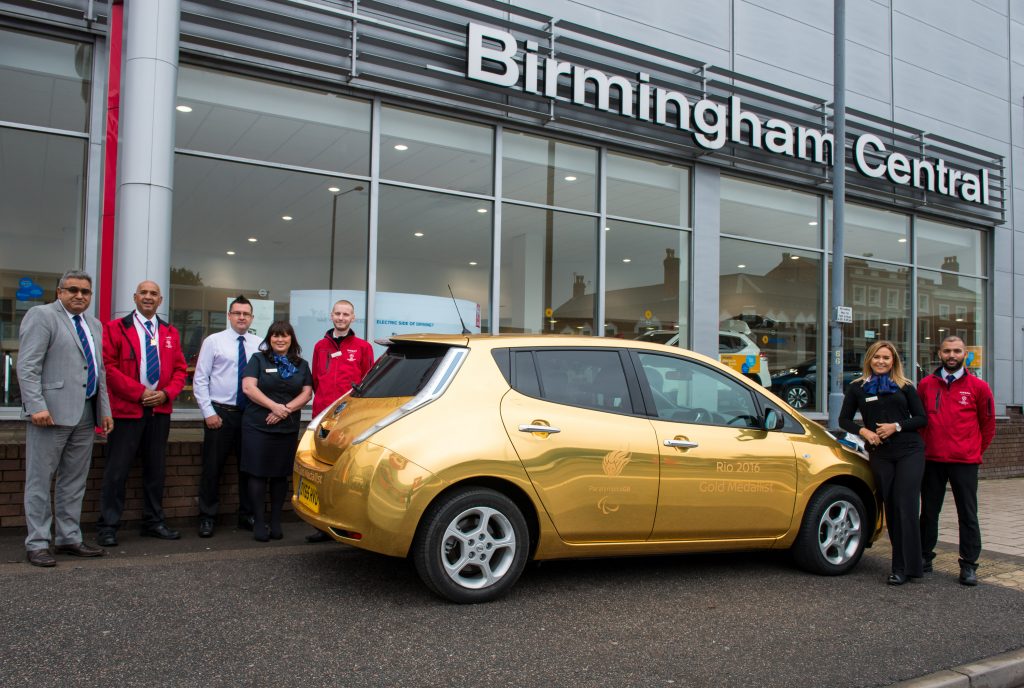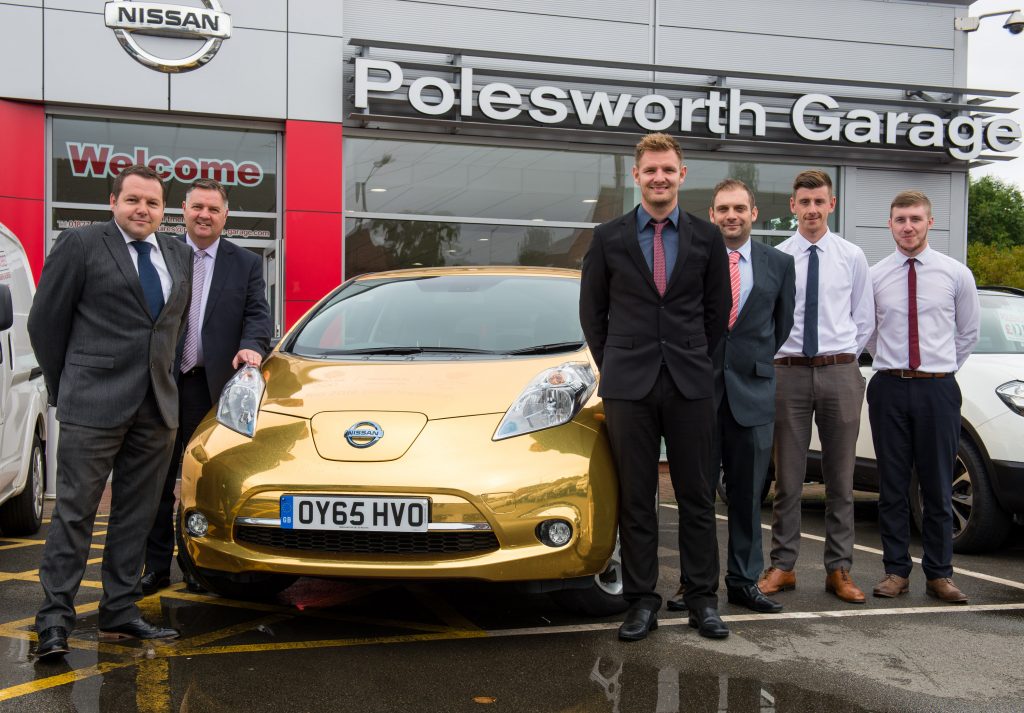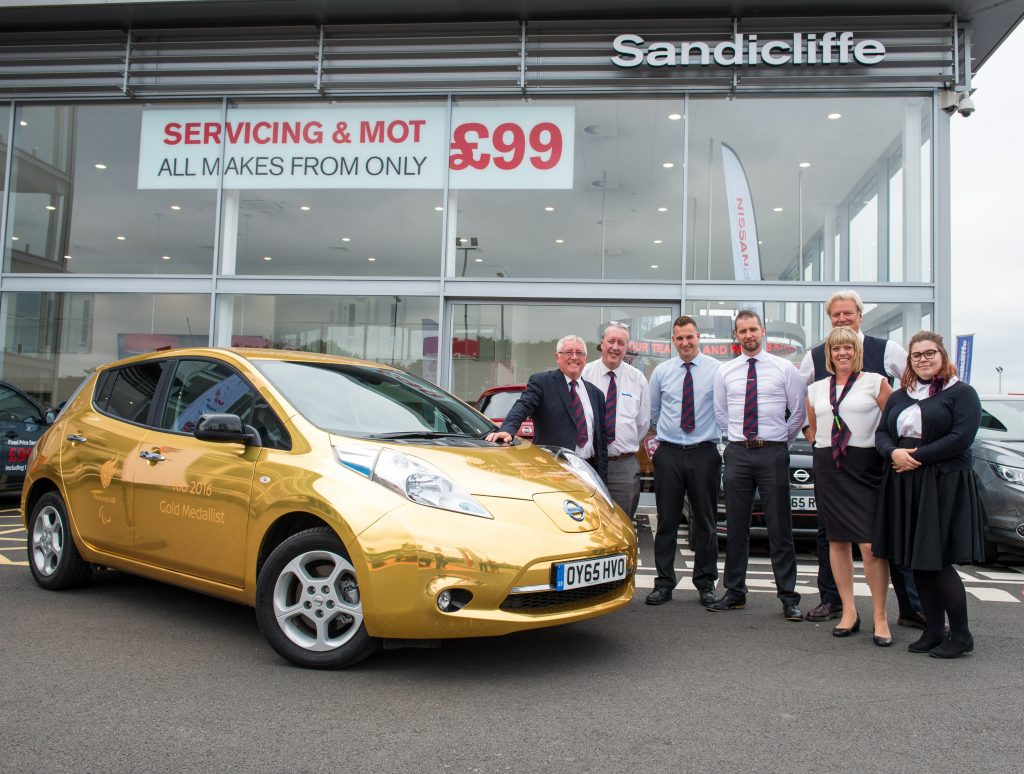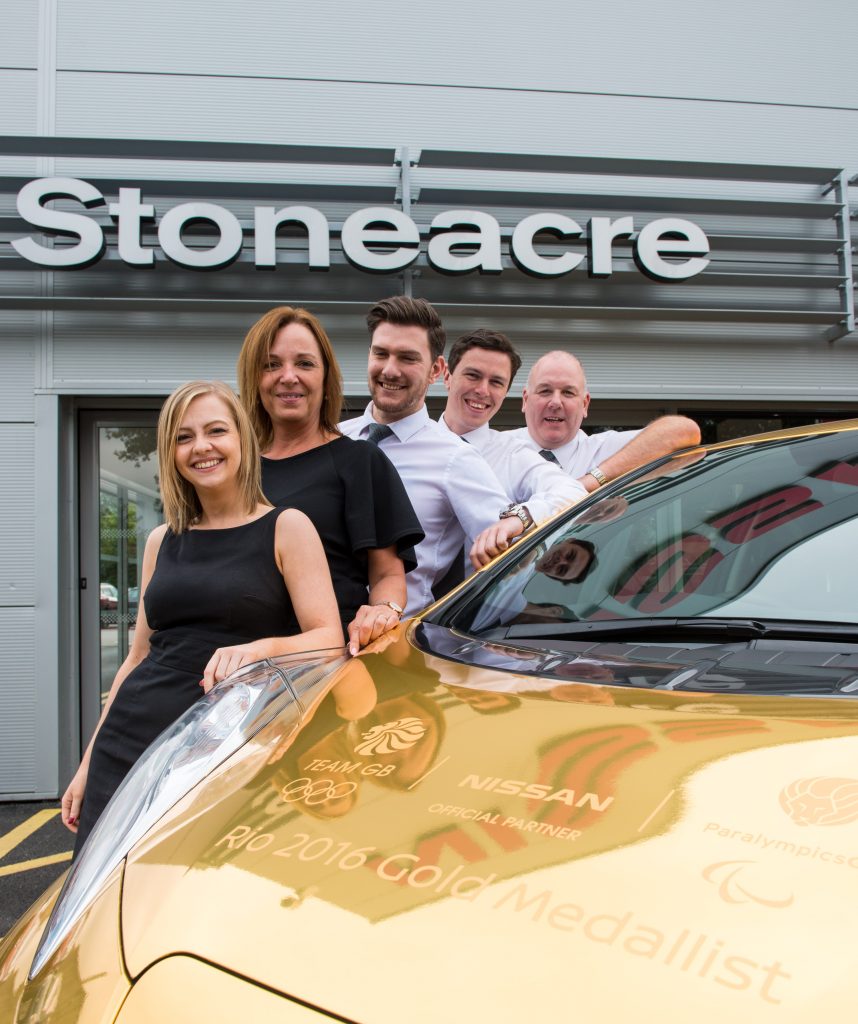 DAY 4: Getting used to the celebrity status
By Mal Hay
I'm only four days in to our LEAF tour and already I've got the whole celebrity thing down to a tee.
And, I'm pleased to report that I'm not one of those self-centred celebs with no time for the people around them.
Instead, I like to give the public what they want.
So, when I'm driving the Gold LEAF and a fellow motorist or pedestrian shows their appreciation for the Team GB or ParalympicsGB star they like to imagine I am (and it happens often) I make sure I acknowledge them.
That meant that on some legs of today's journey I was nodding, winking and waving so often it felt as though I had developed a tic.
Today I was also struck by just how easy electric motoring has become thanks to a massive expansion in the charging network and the extended range of the 30kWh LEAF.
Over the past few days I've covered some pretty rural areas – Norwich to Wisbech or Thetford to Cromer for example – but never was I far from the nearest rapid charger and never did I experience anything close to 'range anxiety'.
In fact, every step of the trip so far has been an absolute breeze. I can't wait to put the car through its paces on more extreme routes like those in the Highlands of Scotland.
Today, my journey began in Norwich and took in an early morning stop at JS Holmes in Wisbech St Mary. After that it was on to Smiths Nissan in Peterborough, Nissan Leicester, Richard Sanders in Kettering and Bristol Street Motors in Northampton.
In total I travelled some 206 miles, charging just once along the way.
It's been a great first week.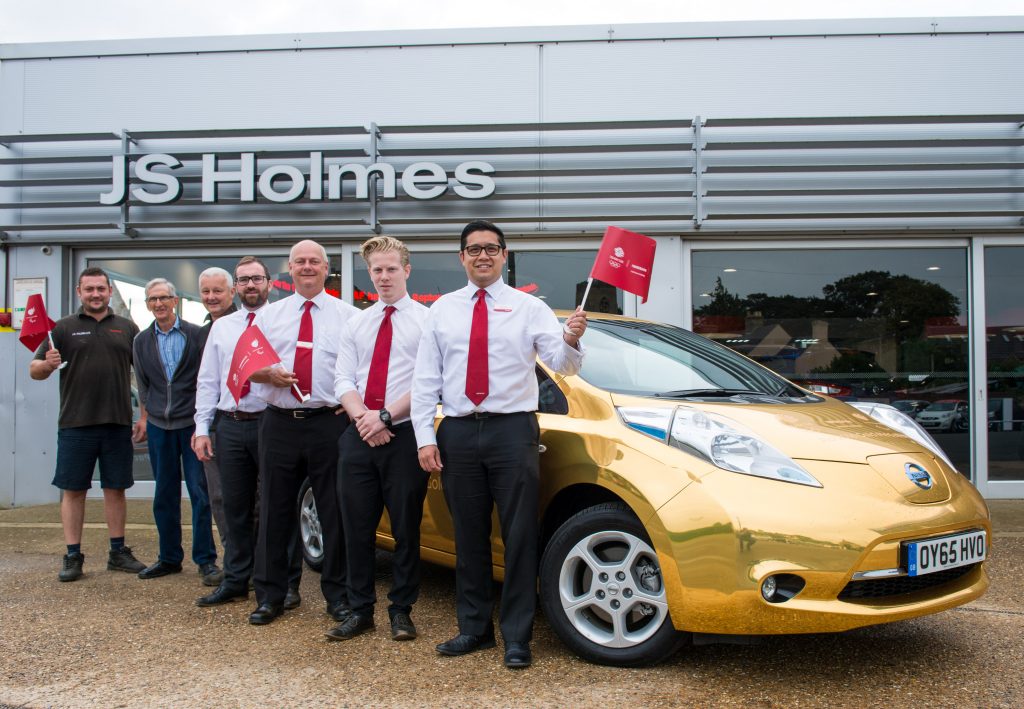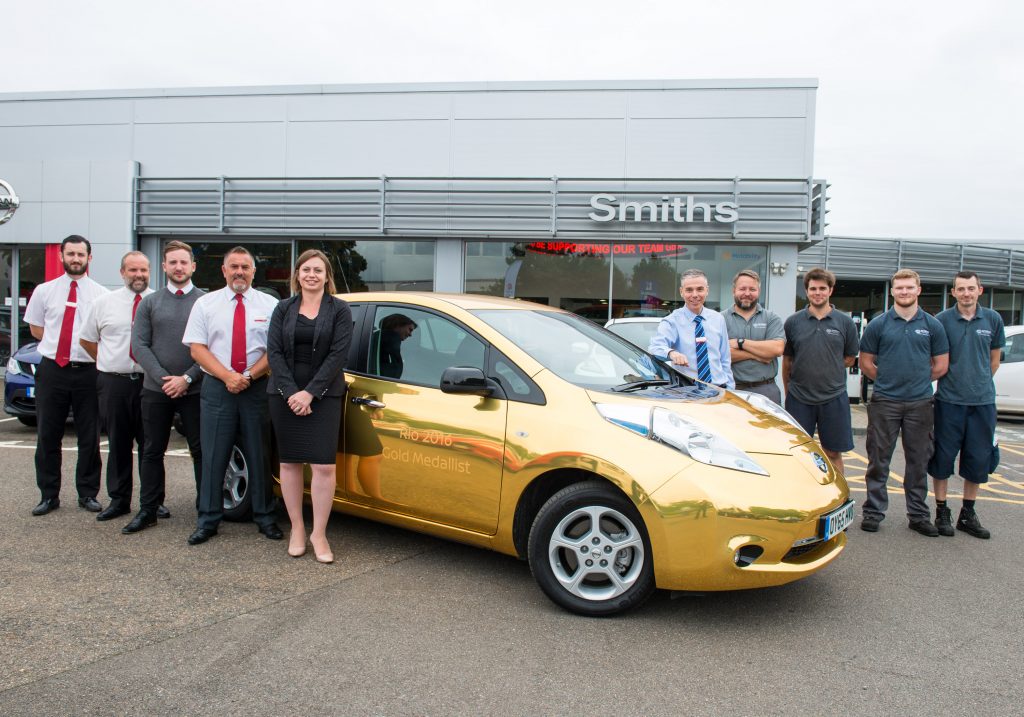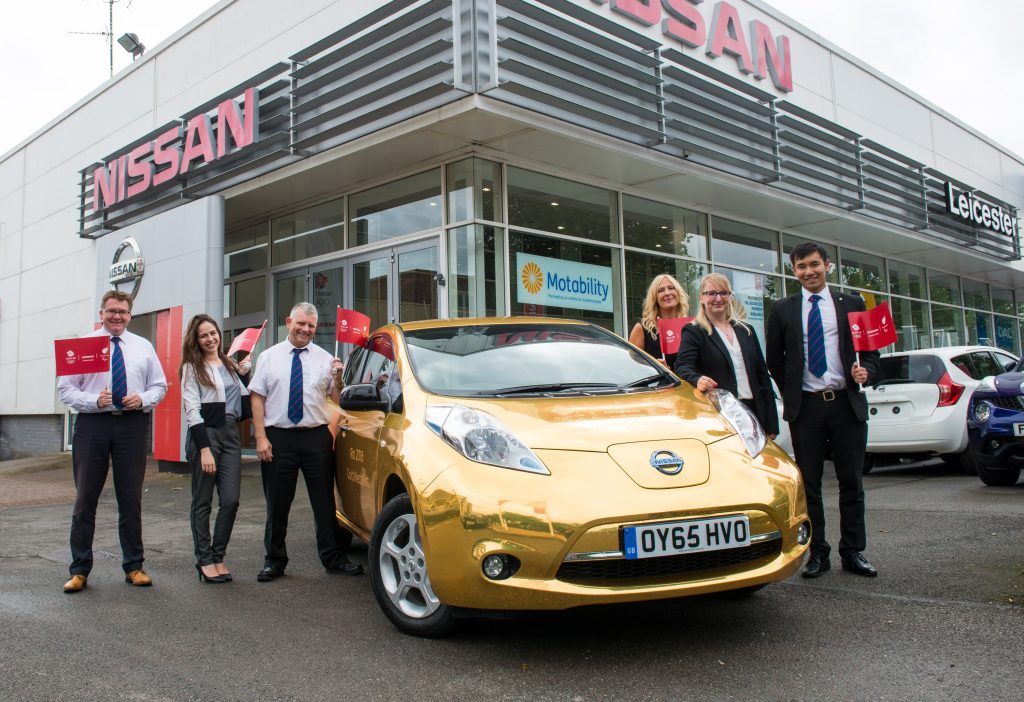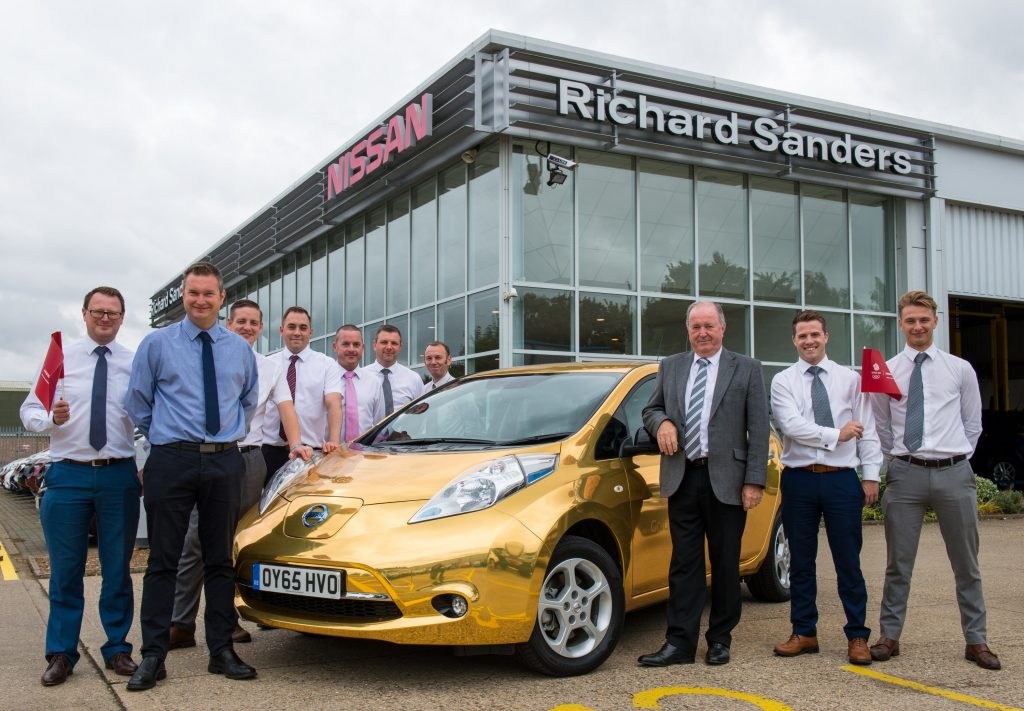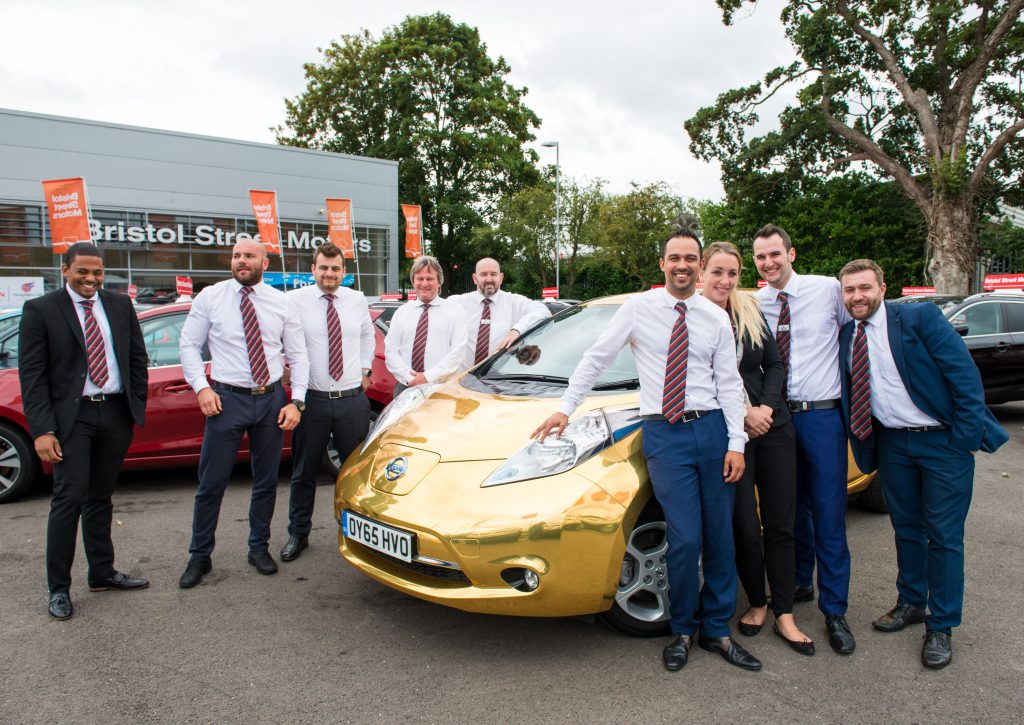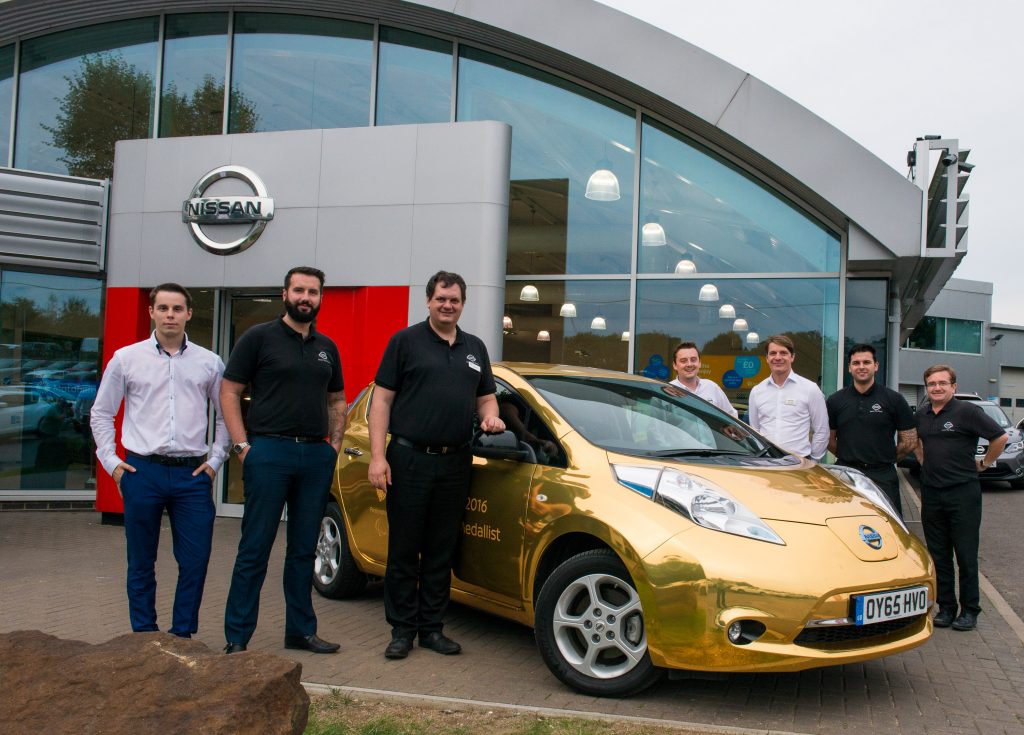 DAY 3: Gold LEAF gets an impromptu ovation
By Mal Hay
In my job I drive tens of thousands of miles a year and thought I'd seen most things there was to see on the road.
But, until today, I'd never received a spontaneous round of applause at traffic lights.
Picture the situation.
I had just stopped for a red light at a busy crossing in the centre of a sleepy Norfolk town at lunchtime and I was minding my own business as best as one can in a bright gold electric car with the words 'Gold Medallist' emblazoned all over.
Then, out of the corner of my eye, I noticed one pedestrian excitedly notice the car and peer inside. Then more looked through the window, then a few lifted out their phones and began recording.
Not wishing to disappoint and not having the time to explain, I offered a nod, a wink and the odd thumbs-up just as any obliging 'celebrity' would do, all the while hoping the lights would change to green at any minute.
So, with the lights stubbornly refusing to change, and with the crowd on both sides of the car having swollen to around 30, the nightmare scenario presented itself…SHOCK HORROR…someone started to clap.
And yep, you've guessed it, those around him soon joined in and before you could say 'on your marks, set, go' I was at the centre of what can only be described as a guard of honour.
Yes, that's right. An actual guard of honour.
After what felt like an eternity of sucking in my stomach and trying to look more athletic than Neolithic, the lights finally changed and I was on my way.
It wasn't the only time the Gold LEAF attracted attention today though. First thing, a man who introduced himself as 'The King of Bling' and wearing more gold chains than Mr T approached me to enquire how he could get the same gold finish for his mini cab.
Other than that, it was a third fabulous day on the road – again in glorious sunshine.
And even though I was turning up on arguably the worst day of the year – new reg day – our dealers proved once again what a lovely and welcoming bunch they are.
Today I visited Glyn Hopkin Romford, Toomey in Basildon, Hammonds in Bury St Edmunds, Ames in Thetford, Crayford and Abbs in Holt and finally Desira in Norwich. I charged twice – one at Birchanger Services and again at Desira, with a very short top up at Hammonds in between. In all I covered 196 miles.
Tomorrow, it will be an early start, with visits to JS Holmes in Wisbech, Smiths Nissan in Peterborough, Richard Sanders in Kettering, Bristol Street in Northampton and possibly Nissan Leicester.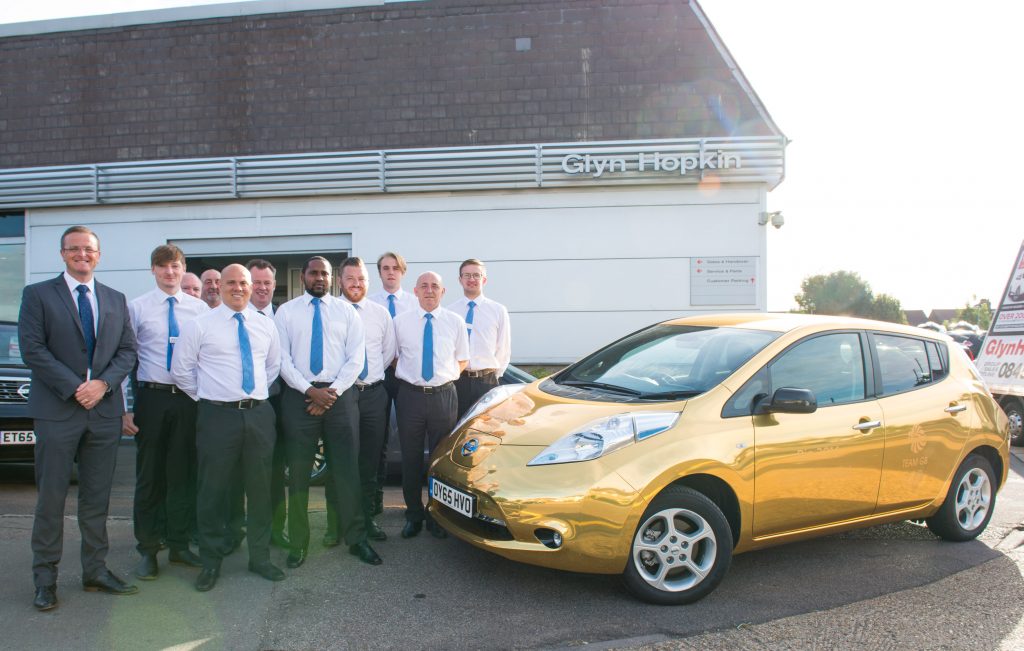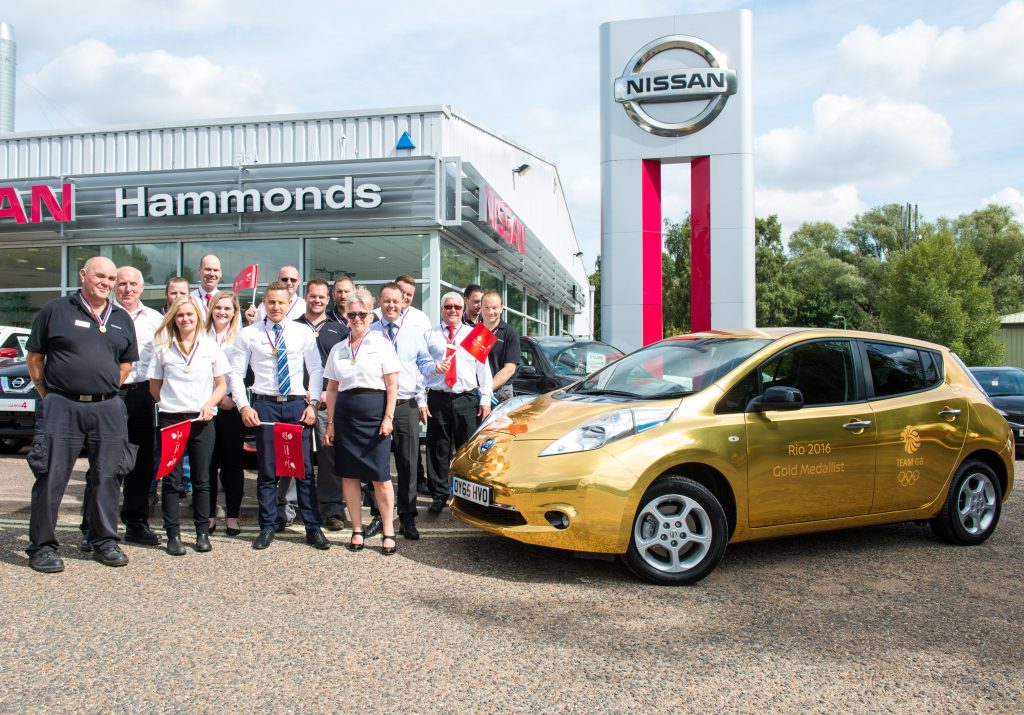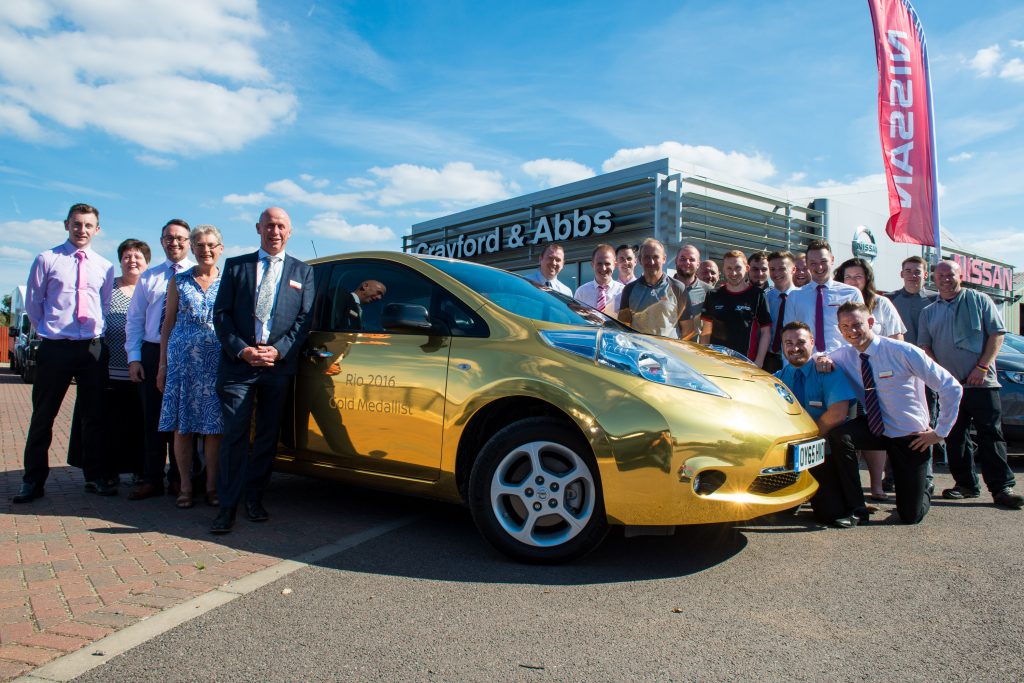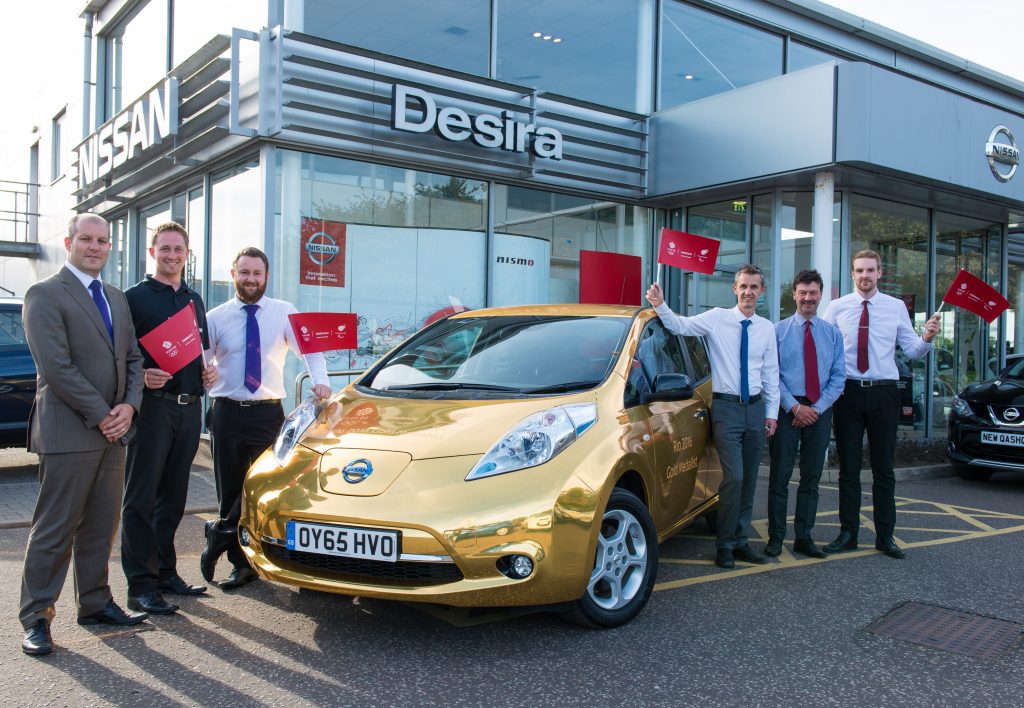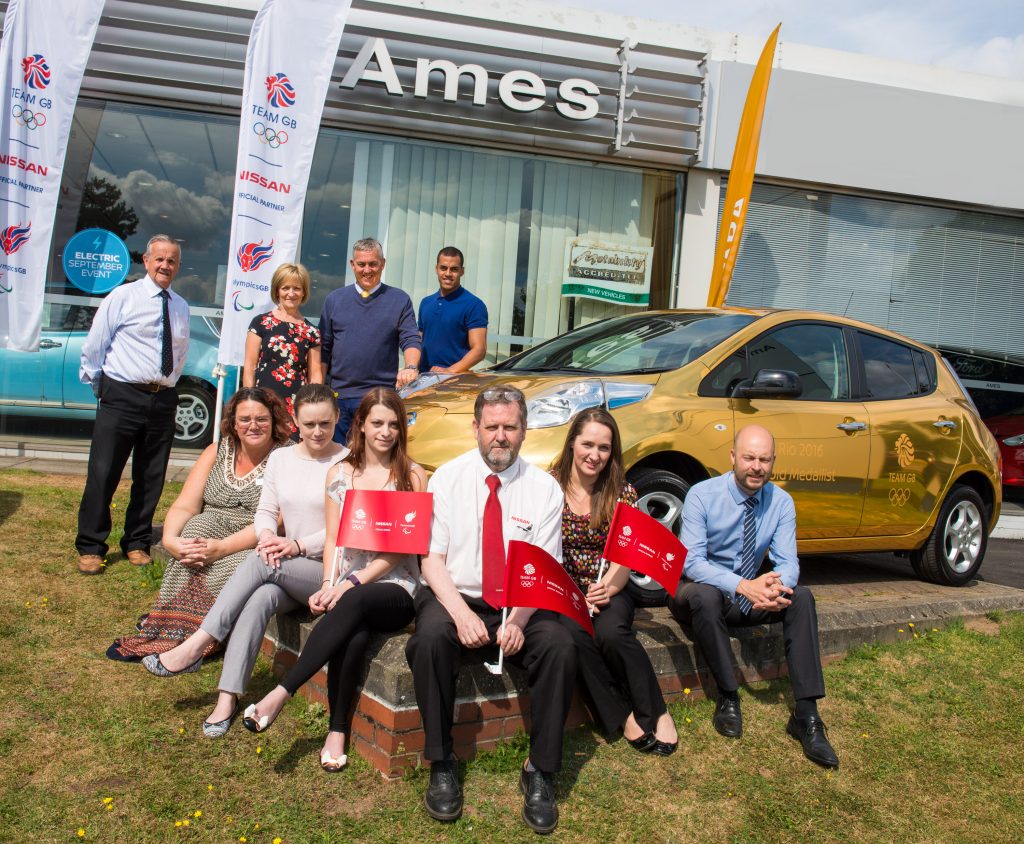 DAY 2
The highs and lows of another brilliant day on our tour of the dealer network.
By Mal Hay
It's only day two of Nissan's Insider's Gold LEAF tour and already the visible sense of disappointment people show when they see me rather than one of their Rio 2016 heroes emerge from the car reached a new high (or should that be low!).
I'm sorry to admit I actually made a little girl cry.
The day had started brilliantly when I emerged from my hotel in Eastbourne to find a group of old ladies admiring the LEAF.
"Ooh, what's this for?" and "Doesn't it look lovely, Mabel?" they cooed, before taking turns to pose for photos (sadly, they were all too shy to allow me to share them) and boarding their coach.
But then, after a short drive along the coast to Hastings where I plugged the car in for a seaside rapid charge, the day took a turn for the worse.
As the Electric Highway powered up the car I took a stroll to grab a coffee. When I returned, I found a young girl, a seven-year-old called Katie, waiting by the LEAF with her family stood nearby.
After some coaxing from mum she plucked up the courage to speak to me and asked politely and expectantly which gold winning Olympian would be turning up to drive the car away.
When I told her the only person she'd be meeting was me, she burst into floods of tears.
Only my promise to send her Max Whitlock's autograph stopped the waterworks and, thankfully, we parted on good terms.
This, though, was the only blip in another outstanding day touring the Nissan network.
Again, the car was honked at and the number of thumbs-up, cheers and waves received from other motorists keen to share their pride in Britain's best athletes was brilliant.
The reception received at all of the dealers visited was also fantastic, with entire showrooms and workshops emptied on to forecourts to admire the shiniest LEAF they're ever likely to see.
Today, we visited SLM Nissan, partner dealership of track cyclist Ciara Horne, KAP in Folkestone, Dumpton Park Nissan, Baileys in Canterbury and Motorline in Maidstone. The Dartford Crossing wreaked havoc with our plans to visit Toomey Nissan in Basildon, but we'll catch them tomorrow.
In all, we covered 199 miles, charging twice along the route and topping up quickly before leaving Maidstone.
Tomorrow, we'll be visiting Toomey Basildon, Glyn Hopkin Romford, Marshall Bury St Edmunds, Hammonds in Halesworth, Ames in Thetford and Desira in Norwich.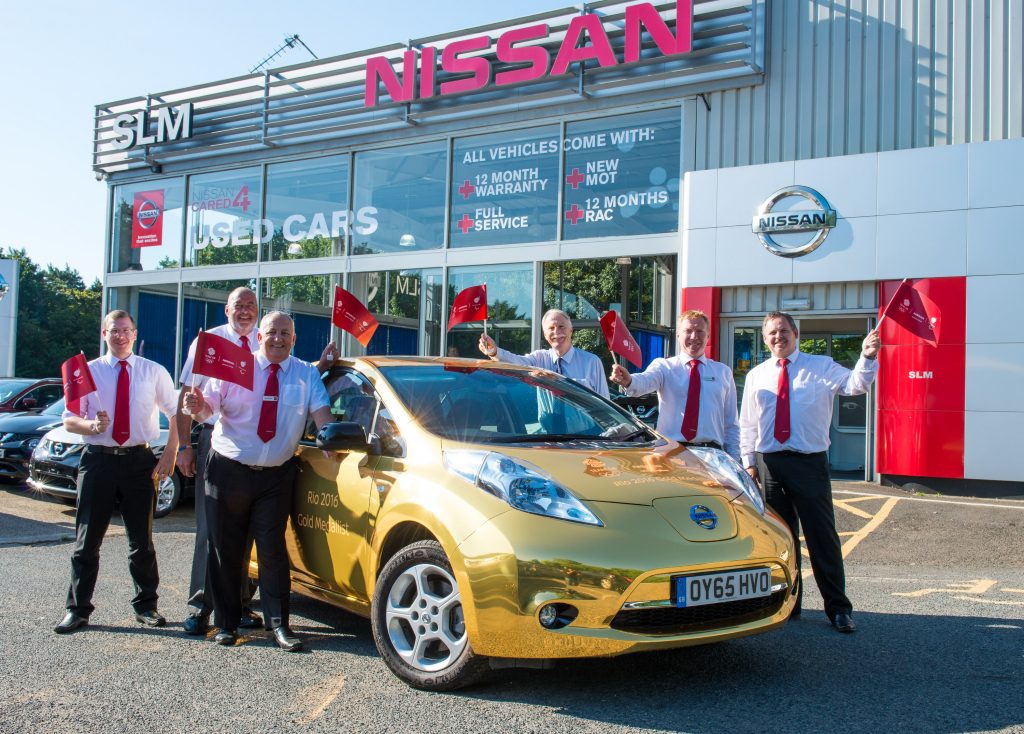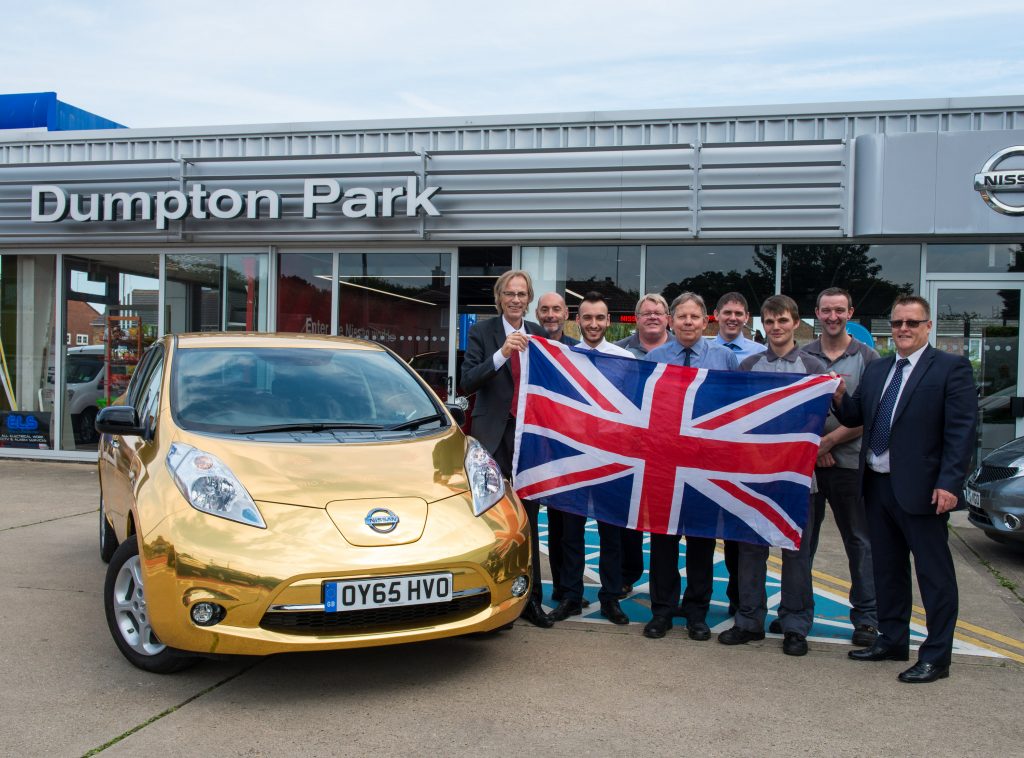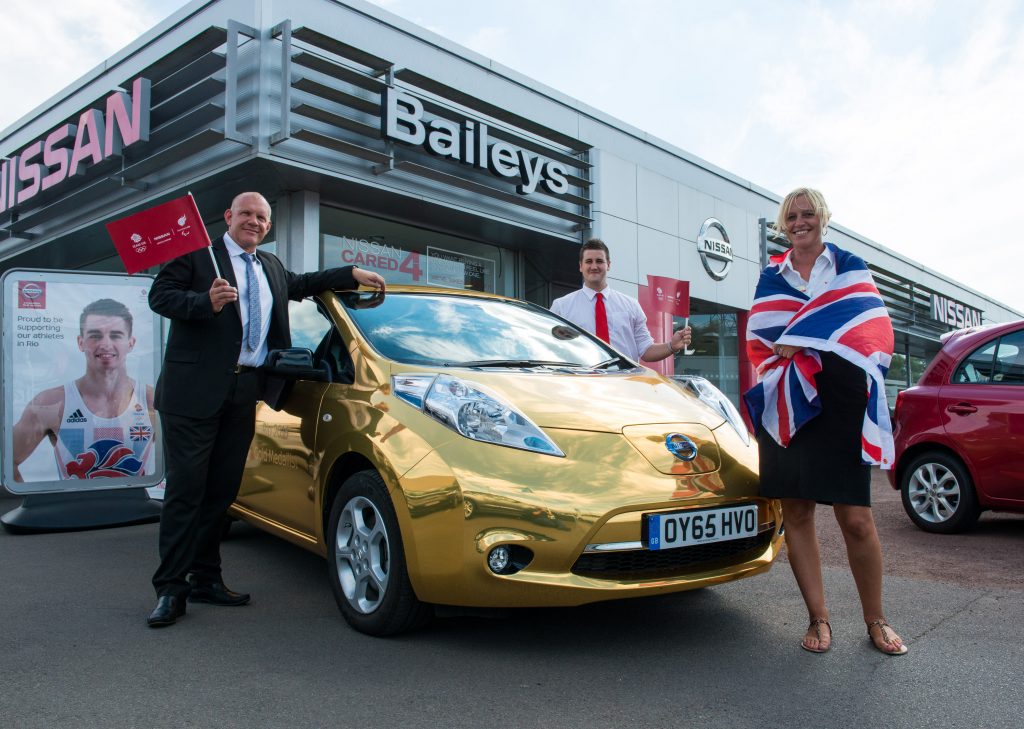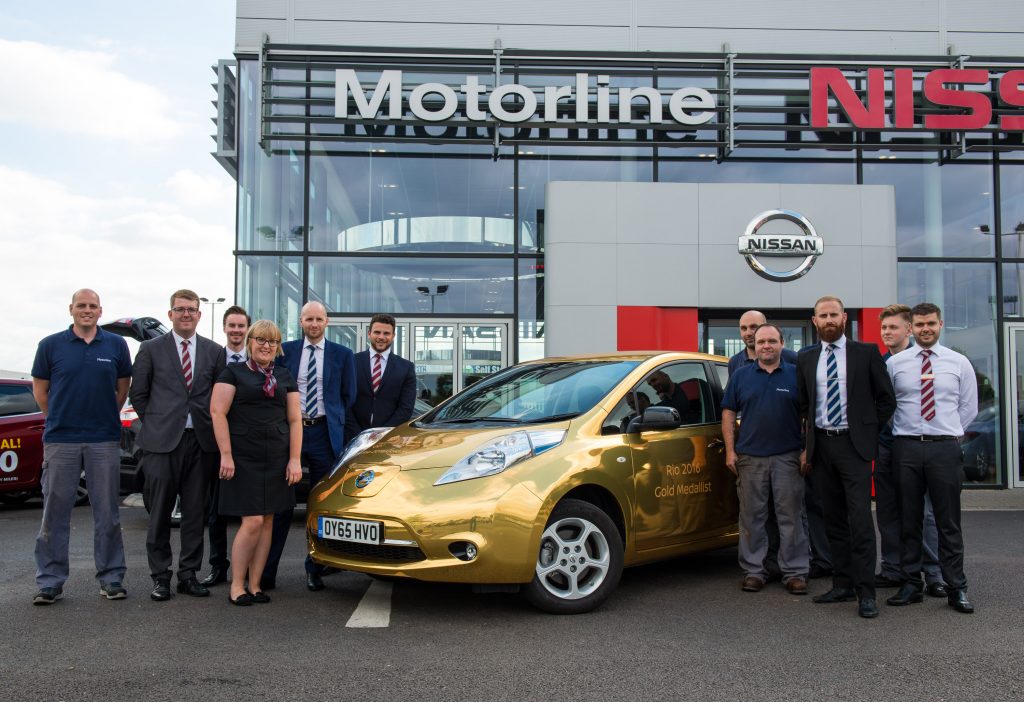 DAY 1
Fist pumps, cheers, kisses and salutes as Nissan Insider embarks on its Gold LEAF tour of UK dealerships.
By Mal Hay
AS A fat forty-something my days of dreaming about sporting stardom are well and truly behind me.
But today, for the first time, I got the chance to experience first-hand a little of what it must feel like to be a triumphant athlete returning from Rio 2016 with a gold medal.
And it felt AMAZING!
Everywhere I drove in the gold LEAF I was aware of heads being turned and phone cameras being pointed in my direction.
Just one day in to Nissan Insider's Gold LEAF tour and I've had honked horns, blown kisses, fist pumps, a salute from a policeman and loud cheers from a group of builders.
It's given me an understanding of the very real and tangible sense of pride and admiration ordinary people feel for the athletic heroes who represent the nation with such distinction.
That same pride was present in abundance at each of the dealerships visited on day one as whole teams poured onto forecourts for a glimpse of our very special car.
But it's not just the bright gold exterior that makes the car special. The 30kWh LEAF has performed brilliantly, easily covering more than 170 miles with just one half an hour top up charge on the M25.
Our route today took us from Banbury to Aylesbury Nissan, partner dealership of double gold medallist Max Whitlock, then onto Ancaster Nissan in Slough, which supports legendary Paralympian, David Weir CBE.
After that it was on to Bishops Nissan in Guildford, partners of gold medal winning rower, George Nash, before heading on to Barnard and Brough in Haywards Heath and then Yeomans Nissan in Eastbourne.
Tomorrow it's on into Kent and, all being well with the traffic, Essex.