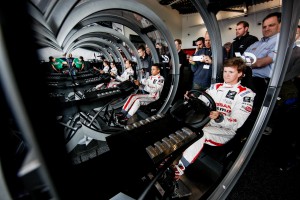 THE online phase of the GT Academy virtual-to-reality competition closed with more than 765,000 entries from the 18 participating European countries.
The UK had the highest number of entries with 148,984. Worldwide, more than 1.3 million people downloaded the special demo of the forthcoming Gran Turismo 6 game that featured ultra-realistic recreations of Silverstone Circuit, the all-electric Nissan LEAF and Nissan 370Z.
National Final events across Europe will feature a Gran Turismo gaming competition, before competitors are tested behind the wheel of a real Nissan Nismo performance car, as well as for fitness and personality.
The best of the gamers will be selected to represent their country at a European 'Race Camp', taking place at Silverstone in September.
At Race Camp, the PlayStation gamers will be put through a series of tough driving, mental and fitness challenges under the watchful eye of high-profile, experienced country mentors and judges.
Now in its fifth year, the GT Academy programme has evolved its selection process to ensure the gamers with the most racing potential will have their chance to become GT Academy Champion and a 'Nismo Athlete'. The winner of the 2013 European competition will be rewarded with a full season's racing in a 500+ horsepower Nissan GT-R Nismo GT3 race car.
The GT Academy Driver Development Programme has evolved into one of the most sophisticated in the world. Its success has been evidenced in championship wins as well as notable LMP2 Class podiums at the Le Mans 24 Hours for former GT Academy Champions Lucas Ordoñez (SPA) and Jann Mardenborough (UK).
Only recently, Jann and Lucas teamed up with the 2012 GT Academy winners from Europe and Germany, Wolfgang Reip and Peter Pyzera, to record a Pro-Am podium (seventh overall) in the famous Spa 24 Hours in the Nissan GT-R Nismo GT3. Jann had a busy weekend, having also recorded second place in a Formula 3 race at Spa.
Fantastic racing talent
Nissan's Director of Global Motorsport, Darren Cox, has been a passionate advocate of the GT Academy Champions, now Nismo Athletes, and is keen to assess the 2013 crop.
'GT Academy has been responsible for unearthing some fantastic racing talent and we have the results to prove it. With so many entrants this year and increasing levels of realism from GT6, we are absolutely confident that there will be some huge talent among these gamers.
'With our experience over the past five years of GT Academy, and increasingly sophisticated and innovative tests developed in conjunction with Nismo, we know how to ensure that the best talent will rise to the top over the coming weeks. There is a lot to play for.'