A Nissan dealer group with showrooms in Somerset and Devon has won a highly sought after Global Award from the manufacturer.
The trophy was awarded to South West Nissan, which operates dealerships in Wellington, Barnstaple and Exeter.
The business triumphed after undergoing a tough judging process in which it was assessed against the best of the best in key Nissan markets around the world. South West Nissan won praise for delivering consistently excellent customer service and showcasing the cars in the Nissan range in the best way possible.
Amazingly, it is the third such award the company has won in recent years, with previous successes coming in 2015 and 2017.
The company has underlined its commitment to the Japanese manufacturer this year by introducing Nissan's new corporate identity at its three sites. After a significant investment, work has been completed at Wellington and Exeter, with Barnstaple next in line.
Nissan's new look is nothing if not striking, with the modern, flat and two-dimensional design of its logo indicating the company's ongoing commitment towards becoming an innovative mobility brand of the future.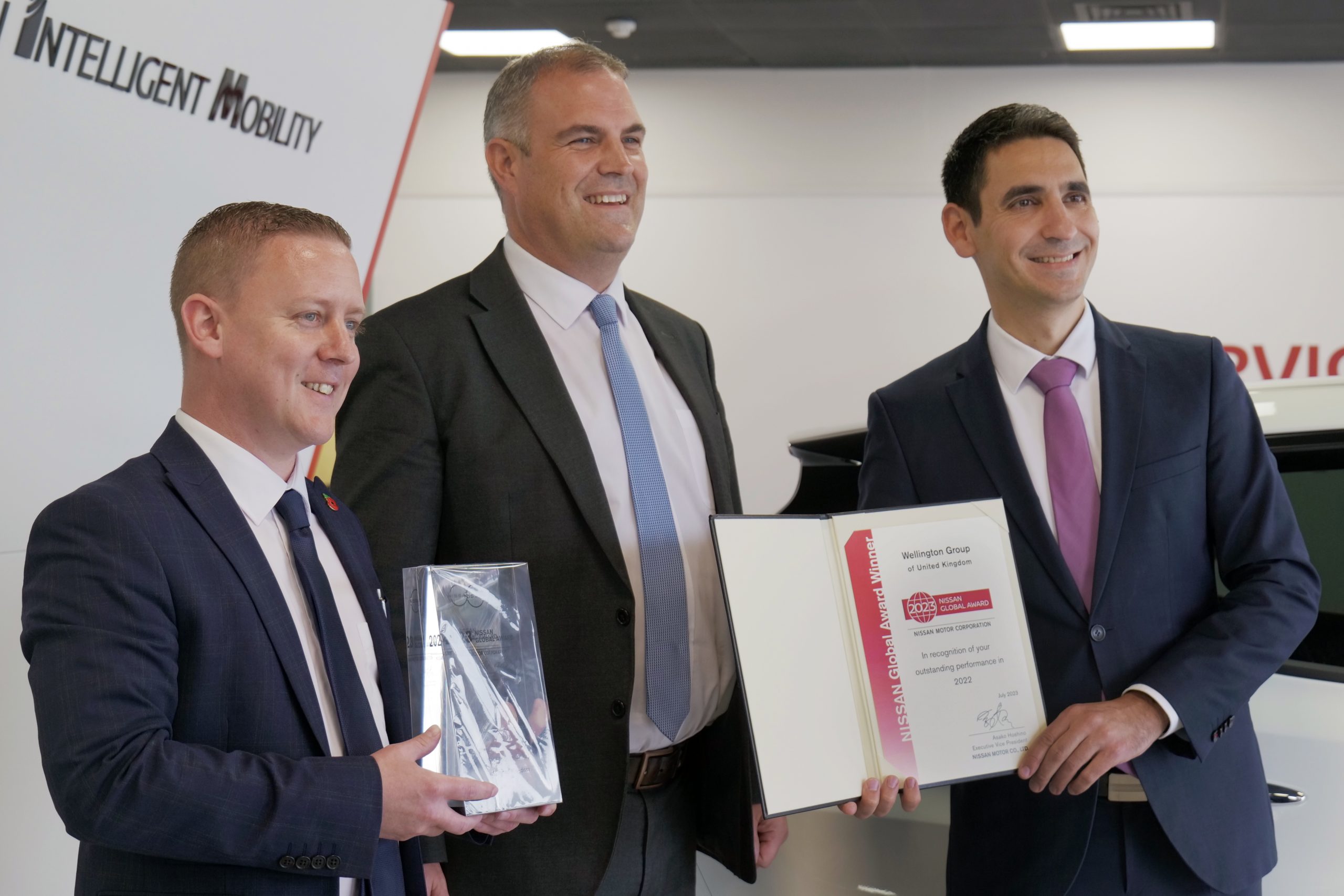 Csaba Vincze, Nissan's Network Development and Customer Quality Director, recently presented South West Nissan's Global Award to Matthew Holcombe, Group Managing Director, and Craig Jolly, Aftersales Director.
Mr Vincze said: ''Many congratulations to South West Nissan on this well-deserved accolade. I have three things to thank them for. Number one is the attention they pay to their customers – an excellent level of customer service is our ultimate goal.
''The second is the investment the company has made in its sites. This not only helps attract more customers, but also provides a very good working environment for colleagues. And the third is simply a consistently high level of performance. Very well done to all concerned.''
Long-term relationships
Matthew Holcombe said: ''Naturally, we are delighted to receive this award. We see it as recognition of the hard work of everyone at South West Nissan. All three of our dealerships have extensive repeat client databases and we genuinely care for our customers, forming long-term relationships with many of them.
''We're passionate about customer care, passionate about representing Nissan and it's wonderful that our efforts have been recognised in this way.''
To find out more about the great cars available at South West Nissan, such as the electric pairing ARIYA and LEAF; and crossovers Juke and Qashqai, click here.