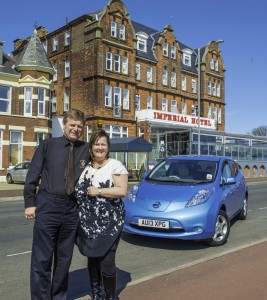 AN AWARD-WINNING Great Yarmouth hotel praised for its environmental efforts is blazing a trail for eco tourism in the region after taking delivery of a 100 per cent electric Nissan LEAF.
The four-star Imperial Hotel in North Drive will use the state-of-the-art zero-emission model – the world's best-selling all-electric vehicle – to promote its impressive green credentials and attract to a new breed of environmentally-conscious traveller.
Owners Nick and Aileen Mobbs, who this summer celebrate their family's 80th year in the prominent seafront hotel, are also in the process of installing a dedicated charging point for use by guests with their own electric vehicles.
It's another major step in the hotel's £60,000-plus environmental makeover – including the use of cutting-edge technology to reduce the property's electricity and water usage and increase recycling – which saw it awarded the 'Great Environmental Contribution Award' by Enterprise Great Yarmouth in 2012.
A delighted Nick said: 'I'd wanted an electric car for the business for some time. We've already done so much to reduce the environmental impact of the business that it seemed silly not to at least explore the options.
'Since taking delivery of the LEAF it's been like Great Yarmouth's newest tourist attraction. So many of our guests are absolutely fascinated when they see it charging outside and they often request a quick spin.'
A spacious and generously equipped family hatchback, the Nissan LEAF was named World and European Car of the Year in 2011.
Capable of travelling up to 124 miles on a single charge, which could cost as little as £2.03 on an overnight electricity tariff, the LEAF's battery-powered motor means it's completely exempt from road tax and the London Congestion Charge.
Rapidly expanding
What's more, the model can be charged from an ordinary domestic electrical socket or at a rapidly expanding nationwide network of specialist charging points.
Craig Gibson, general sales manager at Desira Nissan on North Quay, Great Yarmouth, said: 'More and more businesses and individuals are being switched on to the benefits of electric vehicles and, in particular, the Nissan LEAF.
'Basically, if you drive around 100 miles a day or less, the Nissan LEAF could save you a small fortune in fuel bills as well as reducing your carbon footprint.'
Our picture shows Nick and Aileen Mobbs with the Imperial Hotel's new Nissan LEAF.