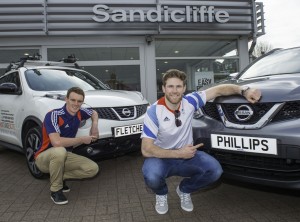 A NOTTINGHAMSHIRE Nissan retailer is the new driving force behind two Team GB cycling hopefuls as they gear up for the Rio 2016 Olympic Games. 
Sandicliffe Nissan on Portland Road in Hucknall has supplied World Champion BMX racer Liam Phillips with a stunning all-new Nissan Qashqai and Clipstone-based mountain bike cross country hopeful David Fletcher a stylish Nissan Juke as their build-up to Rio intensifies.
The models will be a huge boost to each athlete as they travel thousands of miles a year in the course of their training and competition schedules, often carrying a huge haul of equipment including bikes.
Collecting the keys to his new car, a delighted Liam was clear just how much of an impact it would have as he seeks to put the heartache of crashing out in the BMX final at London 2012 behind him.
He said: "Since London 2012 I've become World Champion so I know how to get it done now and I'm focused on it 100 per cent.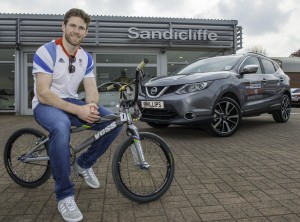 'Having the Qashqai is massive for me. I make a conscious effort to try to eliminate things that stop me going faster on my bike so the fact I don't have to worry about a car and my car breaking down will be a huge help.
"Also, just knowing you have the support and belief of companies like Nissan and Sandicliffe gives you the belief you can be successful."
He added: "For an athlete, the knowledge that you have a safe, comfortable and reliable car to use takes a huge weight off your shoulders and just allows you to focus on your training.
Having the Qashqai is massive for me
"Having the support of Sandicliffe Nissan is amazing and I'm really grateful to have their backing."
Local lad David Fletcher is also thrilled with his new car.
He said: "Rio is a huge focus for me but it's really hard to find proper sponsors that will help you out and give you the time and equipment you need to perform well whether it be a car or bike or something else.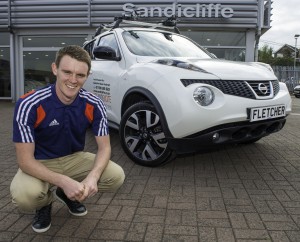 "Having the Juke is massive for me. It helps me get to training sessions and racing and driving to the race in a comfortable car that you know is reliable is one less stress of your mind. It's an enormous help."
Dean Radford, Dealer Principal at Sandicliffe Nissan, said: "We are absolutely thrilled to be able to support Liam and David on the road to Rio and I'm sure they'll both absolutely love their new cars.
"Everyone at the dealership is behind the lads and knowing that we are playing some part in helping them achieve their goals and hopefully pedalling to gold in Rio is a real source of pride for us all."
The partnership between the dealership and the athletes was formed through Nissan's role as the Official Automotive Partner of Team GB and ParalympicsGB on the road to the Rio 2016 Olympic Games. As part of this, Nissan has launched the #UniteAndExcite campaign which will provide fans with exclusive behind-the-scenes access to athletes' stories and news of how Nissan's innovative technology could improve performance.