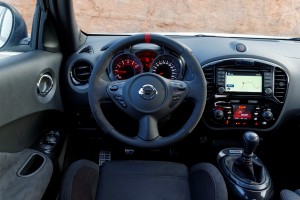 TAKE something with a totally unique visual character… and then give it a new and exciting twist. That was the challenge facing Nissan's design team when creating the all-new Juke Nismo.
The starting point in developing the first Nismo model was the standard Juke's radical design, with its distinctive blend of sports coupé lines and SUV styling.
Nismo is about taking inspiration from Nissan's decades of motorsport heritage and bringing it to European road cars. But creating a Nismo model isn't just about adding a body kit and sporty cabin styling. Every element of the design that has been modified has been done so for a reason.
Engineers developed a new aerodynamic exterior, giving the Juke Nismo an even more efficient, powerful and dynamic look. The new car features lower front and rear bumpers, wider wings and sill side skirts, plus a modified grille and tailgate spoiler to better control airflow.
These upgrades reduce front and rear lift without increasing drag, enhancing all aspects of its on-the-road performance. Combined with eye-catching new 18-inch alloy wheels shod in wider tyres, the changes add to the car's bold stance and boost grip.
Dynamic improvement
Red door mirror caps and a pinstripe around the base of the car – trademark design cues that will be seen again on future models – instantly mark it out as a Nismo machine.
Darryl Scriven, digital manager and project lead designer for Nissan Design Europe, said early input on the overall look came from Nissan's European design studio in Paddington, London.
'It was really important to make something that looked stronger but wasn't more complicated. Nismo is not about adding shape and surfaces for no reason, it's about genuine aerodynamic and dynamic improvement. So the design has to add something, and that was a challenge. But I think we have a front end that's dramatic and bold, but also distinctive.'
The Nismo makeover continues inside the cabin, where the steering wheel, pedals, gauges, gear knob and door trims have been redesigned.
Scriven continued: 'The brief for the interior wasn't to strip everything out. We weren't creating a pure and lightweight racing machine. Don't forget, this has got to be something that people are going to use every day, but feel genuinely engaged with when driving. Juke Nismo is premium, it's about feeling special, engaged and excited.'