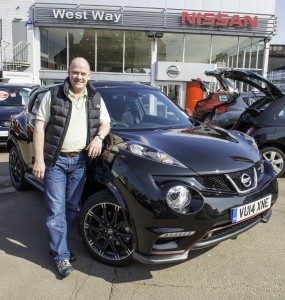 A DUNCHURCH man has won a stunning Nissan Juke Nismo in a competition staged as part of the carmaker's sponsorship of the nationwide Thrillseekers Adventure Film Festival.
Keen skier Paul Sambrook entered the prize draw while on his annual pilgrimage to see the latest movie from legendary ski and snowboard filmmaker Warren Miller and promptly forgot all about the contest.
But weeks later the 50-year-old Warwickshire commercial director received an email telling him he'd won the striking model – the sportiest in the Juke line-up – worth more than £20,000.
And on Saturday, still in a state of disbelief, he collected his new thrill ride from local dealer West Way Nissan in Spon End, Coventry.
A delighted Paul said: "I've been going to see Warren Miller's movies for a few years now as it's a great way to get in the mood for the new ski season, and when I was there I filled in a form to enter the competition and thought no more about it.
"You enter these competitions and send them off and you never really think you're going to win, but here I am. It's amazing – I'm absolutely delighted."
He added: "I'm still absolutely gobsmacked, but this couldn't have come at a better time as I was looking to replace my three-year-old Audi.
"I hadn't really considered Nissan before but the Juke Nismo's an awesome car."
David Short, General Manager at West Way Nissan, said: "I'm sure Paul's going to love the Juke Nismo – it's been developed by Nissan's legendary motorsport division and is the perfect thrillseeker's car."
For more information about the Nissan Juke Nismo or other models in the Nissan line-up or to book a test drive, visit www.westwaynissan.co.uk.
Paul Sambrook is pictured collecting his new Nissan Juke Nismo from West Way Nissan in Coventry