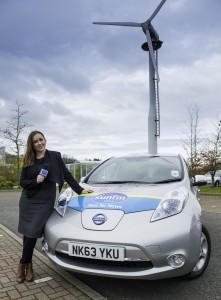 THE Sunderland-built Nissan LEAF – the world's bestselling all-electric car – is making headlines in its home town.
The pioneering model has become a frequent fixture in news reports around the world as it's broken record after record and clocked up in excess of 111,000 global sales.
But now it's making a splash closer to home…helping the 103.4 Sun FM news team get to the thick of the action and deliver the very latest stories from across Sunderland and Wearside.
The multi award-winning radio station has been loaned the car, which has been signwritten in its striking colours, by local Nissan retailer Evans Halshaw on Wessington Way.
And its ultra low running costs of just two pence per mile has helped the station slash its fuel bills.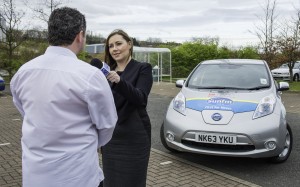 Stephen McCabe, News Editor at 103.4 Sun FM, said: "We're absolutely delighted with the LEAF. Everyone's really taken to the car and the way it drives and the fact it's so cheap to run is fantastic."
He added: "The LEAF is a local hero in Sunderland as hundreds of local people are employed in its production and so having it on our fleet is a real source of pride."